A well-formulated foreign policy is essential in an age of globalisation when new challenges have emerged.
A coherent, well-formulated and popularly supported foreign policy is essential, especially in an age of globalisation when new and daunting challenges have emerged. Foreign policy cannot be seen in isolation, for it is only a reflection of a country's domestic policy.
The two are linked inextricably, as foreign policy cannot be effective and credible unless backed by a domestic policy that promotes harmony and good governance at home.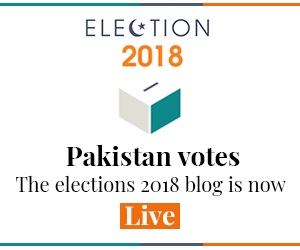 The preceding sentences are drawn from the PML-N's electoral manifesto in 2013. They make for sensible reading. But 'National Security and Foreign Policy' was only the 12th section in the PML-N manifesto of 14 parts.
And while the measures and initiatives the PML-N pledged to undertake were mostly non-controversial, attempting to assert itself in the national security and foreign policy domains proved disastrous for the PML-N government, and may have contributed to Nawaz Sharif's ouster.
In hindsight, the collision between the military-led establishment and the Sharif-led PML-N government may have been foretold in the party's election manifesto. "Pakistan today is at war within, while isolated abroad," the 2013 manifesto stated. "Consequently, a deep malaise afflicts the country; its social, economic and political schisms creating grave doubts and misgivings even in the minds of our friends."
In 2018, the challenges in the national security and foreign policy domains remain numerous and complex. But there are significant opportunities too. Whichever party or coalition takes charge of the federal government after the elections, the conduct of foreign policy will be fundamental to its success.
The internal dimension i.e. managing civil-military relations will perhaps be as important as the external dimension. Ultimately, much will depend on how Pakistan manages its ties with four countries: China, the US, Afghanistan and India.
China is central to Pakistan's medium-term economic future. As a maturing world power, its importance in regional security will grow.
With CPEC an original pillar of the Belt and Road Initiative, many of the early CPEC-related projects set to mature during the next parliament's term and Pakistan almost certainly needing external financial aid, the economic dimension of the relationship will need further attention.
In particular, the growing criticism that the PML-N government was unnecessarily secretive and opaque in agreements reached with China and that the commercial terms of many agreements may not be favourable to Pakistan need to be addressed.
Surely, given both states' commitment to strong bilateral ties, an economic rebalancing can be achieved in a constructive manner.
In addition, Pakistan should heed the well-meaning Chinese advice that the regional security environment be improved.
The Chinese examples of developing robust trade ties with India and not allowing the Doklam stand-off to derail ties are instructive.
The growing economic and military strength of South and West Asia and of regional countries should be seen as an opportunity for engagement for Pakistan just as China has done.
The deepening of Pakistan's ties with China contrasts poorly with the worsening of ties with the US. President Donald Trump has proved as disruptive as candidate Trump had promised, and in the case of Pakistan, there has been a downturn in ties.
America's so-called South Asia strategy announced in 2017 and Mr Trump's New Year Day tweet combined with the state here bristling at the tone and substance of some of the American accusations against it have caused ties to further deteriorate.
If there is to be improvement, it will almost certainly centre on Afghanistan. There Pakistan continues to have a historic opportunity to help put an end to what next year will be 40 years of near-continuous war.
The next government's focus should be to work with the military leadership to help achieve a political settlement in Kabul with the Afghan Taliban. Lasting stability in Afghanistan is the stated desired outcome for all actors and it is within the realm of possibility.
Finally, India.
Recent overtures by our military leadership should be taken seriously and the civilian government that takes charge after the election should move quickly to try and restore dialogue with India.
It is not clear if Indian Prime Minister Narendra Modi will easily accept a fresh Pakistani outreach to his government, but the logic of engagement and dialogue must eventually prevail.
All this will hopefully be reflected in the new manifestos. May the next government achieve more than its predecessors on the foreign policy front.
Published in Dawn, June 5th, 2018