KARACHI: Different indigenous crafts of Sindh were on display at Karachi Haat, an open air crafts centre at the National Museum of Pakistan on Friday which is designed like a contemporary village market.
An ambitious project organised by Sindh Indigenous and Tradi­tional Crafts Company (Sitco) in collaboration with the department of culture, the crafts village boasted of a panorama of crafts, cuisine and cultural activities.
Sitco works to encourage young craftsmen by extending trainings, financial assistance and market strategies, setting up of outlets and encouraging craftsmen cooperatives. Karachi Haat brought forth genuine craftspeople and their different handicrafts, allowing them free interaction between buyers and sellers.
At one of the stalls, Shireen spoke about how she learnt the art of Hyderabadi embroidery where different items, including clothes, bags and shawls with intricate and colourful embroidery were displayed. "Each item takes a different amount of time to be completed; usually around a few months. Each item represents the cultural traditions of Sindh."
She recounted how she had learnt the skills at a Sitco centre in Hyderabad, where she currently works and was paid a monthly salary. She also gets a cut from the proceeds of her items once they are sold.
"Poor and unemployed young women are given a safe haven at Sitco where they are taught a skill through which they can earn money," said Waheeda, who is also a trainer at the same centre. She has been training girls for the past seven years.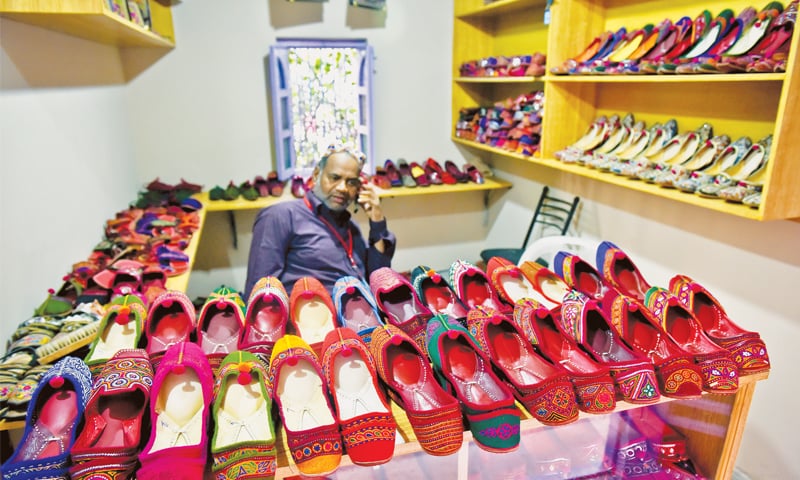 Assistant director of Sitco Abdur Rehman Shaikh spoke about the reason why Karachi Haat was organised. "The purpose is to give artisans a weekly platform of selling their craft. Artisans face problems in getting raw material for producing their crafts and in marketing their crafts and skills. Sitco is helping them (artisans) to overcome their problems, which are providing raw materials and sponsoring their participation in a weekly exhibition where they can sell their crafts."
Moenjodaro replicas made in mud and clay were available in some stalls. The currency used at the time, the bust of the priest king of the civilisation, as well as replicas of the city in its current state were all for sale.
In the middle of the crafts show sat Sara, from Umerkot, weaving thread.
Chunri dupattas and suits, handmade natural dyed ajraks, and block print suits were also part of the offering. A shopkeeper proudly displayed his block prints while his indigo dyed hands indicated how he himself worked to get the colours right. The distinctive blue of Hala was also present in the form of terracotta pottery.
Karachi Haat is open to public every week from Friday to Sunday 11am-9pm.
Published in Dawn, April 22nd, 2018