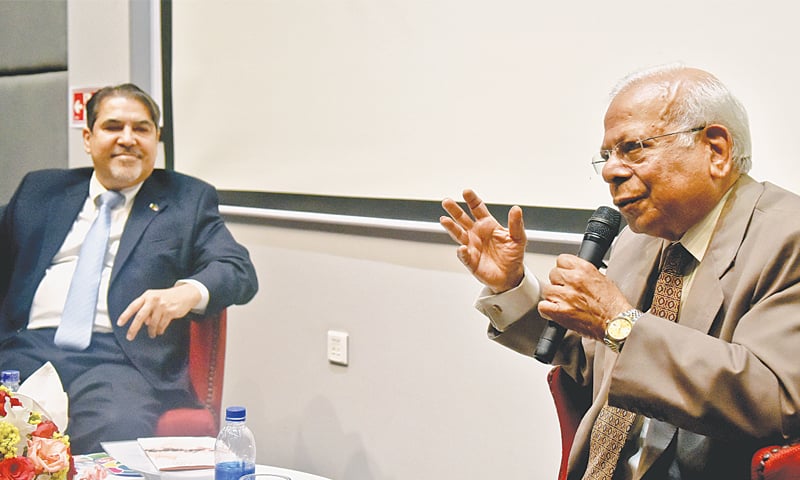 KARACHI: "There should not be a military government as it is an aberration and extraconstitutional. They are destabilising for the country and therefore we must not even think about any military interventions. If you create a vacuum and allow the space, stronger institutions will walk in," said former governor of the State Bank of Pakistan Dr Ishrat Husain.
He was speaking at a special lecture organised at the IBA on Friday to discuss his latest book, Governing the Ungovernable.
Institutional reforms for democratic governance are the way forward, said Dr Husain.
All economic indicators show Pakistan declining; India, Bangladesh rising, says Dr Ishrat Husain
"Don't blame them but try to strengthen your politics and different institutions so that they become powerful and nobody can threaten them."
Dean of IBA, Dr Farrukh Iqbal, steered the conversation with Dr Husain and gave an in-depth synopsis of the book.
He lauded Dr Husain's ability to learn from international economic examples and measures, and apply them domestically, a perspective he picked up while working for the World Bank.
"Throughout the book there is a respect for evidence, and for providing sources. The book has a motivating observation that Pakistan's growth rate in the period 1960 to 1990 was high enough to place the country in the top 10 global performers among developing countries.
"In the next 25 years Pakistan lost that spot and our growth rate dropped. In the book, Dr Husain reviews a number of possibilities and suggests that the decline was primarily due to the weakening of governance."
Declining standards of performance of the legislature, judiciary, civil service, police and even the private sector were discussed by Dr Husain.
"Governance permeates all of these groups and institutions, and the book strives to find out why are things the way they are and what can be done. According to Dr Husain, the need of the moment is to get the civil government institutions back in good working order; the goal is to get these institutions working on the basis of merit, integrity, accountability and transparency," said Dr Iqbal.
Responding to a question about the empirical evidence of declining governance in Pakistan in the last 25 years, Dr Husain spoke about cross-country regressions done by the IMF and the Asian Development Bank. There is also plenty of academic literature available to suggest this downward trend.
He said that research and indicators such as world governance, human development, transparency, economic and prosperity index all depict a declining ratio for Pakistan, and an upward and inclining ratio for India and Bangladesh.
"My hypothesis is in these two countries the institutional structure of governance has improved; however, while we started much higher than them, [ours] has gone downwards. This has been corroborated by independent research studies."
Dr Husain also shed light on devolution and decentralisation of power in Pakistan.
"I am a believer of devolution of power to district governments. In my opinion the 18th Amendment devolution is incomplete and power must be further shared with the district governments.
"If you look at 34 districts in Balochistan, they are among the most deprived in human welfare. Quetta, on the other hand, is way above the other districts. And if everything is controlled by Quetta, then the other districts are not going to get resources and thereby reduce the income gap. Same is the case in Sindh."
Only the Khyber Pakhtunkhwa government, said Dr Husain, has retained a level of decentralisation.
Dr Husain criticised how society has become increasingly polarised and divisive, not just politically but also in other facets including sectarian, ethnic, provincial and linguistic, falling prey to identity crises.
He underscored the need of the government to improve education indicators in the country and that different sectors, institutions and organisations need to work together to uplift Pakistan's future.
Published in Dawn, March 31st, 2018