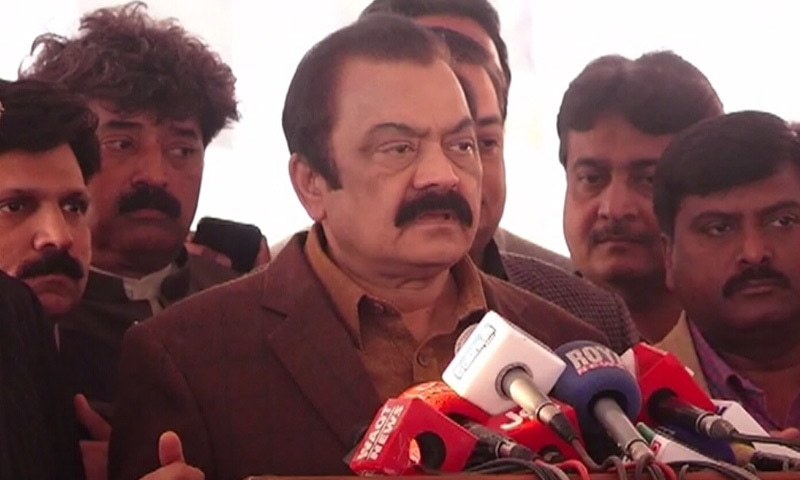 Punjab Law minister Rana Sanaullah on Monday implied that the 'elements' behind Dr Shahid Masood's recent claims about Zainab's murderer and the January 17 gathering in Lahore led by Dr Tahirul Qadri were "the same."
Sanaullah noted that the Kasur rape and murder suspect was being linked to an international group and claims were being made about him having 37 bank accounts, but so far no evidence has been presented to back up the claims.
"Everyone knows from where these people's strings are pulled," the provincial minister said.
"It needs to be investigated who gave this [the information] to him [Dr Masood], and on whose signals these people try to make a fool out of the people and mislead them," Sanaullah said while speaking to media in Lahore.
Masood had claimed during a late night show that Zainab's suspected rapist and murderer was a member of a child pornography ring which also includes a federal minister. He also told the court that the suspect has 37 foreign currency bank accounts, a claim denied by the State Bank of Pakistan (SBP).
Asked today whether he was referring to an institution or someone in particular, Sanullah said he was referring to 'the place' involved in spreading chaos and disorder in the country, which media knows very well about.
He said that the dates of the Pakistan Awami Tehreek (PAT) led protest kept changing constantly as a part of a plan. "Is all of this happening on its own?"
"Look at how on the 17th, those who used to abuse each other were brought together," he said, hinting at a larger conspiracy. "The robots that came from Karachi, can they come on their own? They walk for as much as they are wound up and then come to a halt."
"And when they got together, they abused the parliament," he recalled, stressing on the importance of parliamentary system and the sanctity of vote.
He also criticised the plans "being adopted to make everyone — be it the pirs or the maulanas — protest without any real demands."
Sanaullah claimed that the Punjab government has information about money being doled out to sugarcane growers to burn their fields and protest in Lahore despite Punjab Chief Minister Shahbaz Sharif personally ensuring action against those not giving a fair price.