January 04, 2018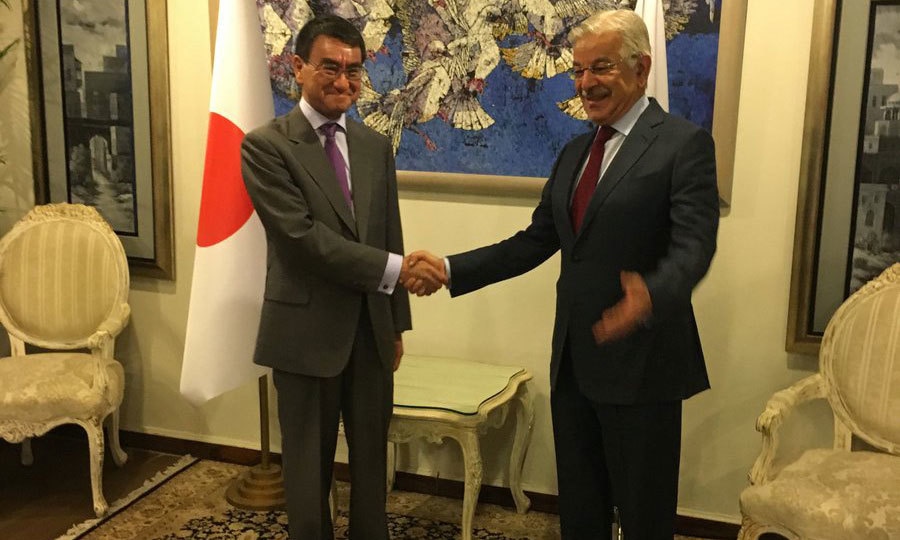 Japanese Minister for Foreign Affairs Taro Kono came to Pakistan for a two day visit on January 3.
During this time FM Toro discussed bilateral relations with Foreign Minister Khawaja Muhammad Asif, paid a courtesy visit to Prime Minister Shahid Khaqan Abbasi and met Chief of Army Staff General Qamar Javed Bajwa.
The visit came just after the 65th anniversary of the establishment of diplomatic relations between Pakistan and Japan.
During their meeting, the two foreign ministers agreed that the relations between Pakistan and Japan are marked by an upward trajectory and agreed to maintain the momentum in the exchange between the two countries.
FMs Asif and Kono also exchanged views on the evolving peace and security situation in their respective regions, and FM Asif reiterated Pakistan's commitment to a peaceful, stable and secure Afghanistan and support for an Afghan-led and an Afghan-owned reconciliation process.
FM Kono was also briefed on Pakistan's efforts to enhance regional connectivity and development, especially through China-Pakistan Economic Corridor (CPEC).
The Japanese FM was also briefed about Pakistan's credentials for membership of the Nuclear Suppliers Group.
While calling on Gen Bajwa, FM Kono said that his country looks forward to enhancing its cooperation with Pakistan, especially in the field of counterterrorism.
The Japanese foreign minister was presented a guard of honour. He visited the Shuhada monument where he laid a floral wreath.
During his meeting with the COAS, the foreign minister was given a briefing on Pakistan's ongoing struggle against terrorism and the country's contribution towards regional peace.
FM Kano appreciated and acknowledged Pakistan's efforts towards regional stability and said that Japan looks forward to enhancing its cooperation with Pakistan, especially in the field of counterterrorism.
The visiting foreign minister also talked about Japanese assistance in rehabilitation of the temporarily displaced persons and the provision of scanning equipment for border crossing points.
This is the first visit to Pakistan by any Japanese Foreign Minister since 2009 when Katsuya Okada, the then FM visited the country.