Written on the bamboo gates of the school, in blue and pink, is the word 'Welcome' with several happy yellow smileys drawn around it. In yellow is the word 'Khel'. Inside, under an airy, thatched roof there are several tables and chairs occupied by children of various ages. Some are busy doing mathematics. Those looking to improve their handwriting scribble away in their four-lined exercise books, while a few others draw.
Conspicious by their presence among the class are 15 children dressed in yellow shirts. These are the budding gymnasts of the school. And almost on cue, two little boys, barely six and five years of age, step into the open area of the classroom and start doing somersaults and cartwheels. Five minutes later they are upside-down, smiling away as they stand on their heads. They want everyone to look at them.
This is Machhar Colony, home predominantly to Bengali and Burmese fishermen (Machhar here refers to machhairay or fishermen), most of whom are shrimp and prawn catchers. Machhar Colony itself was a katchi abadi till recently, before it was regularised. Most residents here are conservative people; most women and girls here stay indoors.
Children from Karachi's Machhar Colony slum exhibit a new spirit after winning surprise laurels in gymnastics
This school is a project of Imkaan Welfare Organisation which, among other things, works on bettering the lives of out-of-school children. They are given basic education along with providing a secure and nurturing environment. And Khel is Imkaan's project in support of involving these children in healthy sports. Working with the children in Machhar Colony, they have been able to work miracles.
One such miracle took place recently during the 1st Everest Inter-School Gymnastic Championship organised in collaboration with the Sindh Gymnastics Association where four young boys from the Khel project bagged individual medals in different categories.
"He got the gold medal," says Parvez Akhtar, Imkaan's field operations manager, pointing to the bigger of the two boys doing cartwheels.
"The championship was not open to girls otherwise they too wouldn't have returned without honours," he says, adding that the Imkaan school starts at 9am and runs till 2pm daily. For those students who are interested, the school offers two-hour gymnastics classes three times a week.
"There are 12 levels of gymnastics. Sadly, some children here leave school before reaching level four or five," says Nasira Sanaullah, a coordinator at Imkaan.
Sanaullah exp­lains that the school gets permission from parents when taking on a child in the gymnastics team.
"In fact, we have them over to demonstrate to them what it is and they seem to like it at first," she says. "Some families, after giving their approval, change their minds. The girls' families, in particular, change their minds after discussing it with other people in their community. Then they are concerned about their daughters doing the splits," she points out.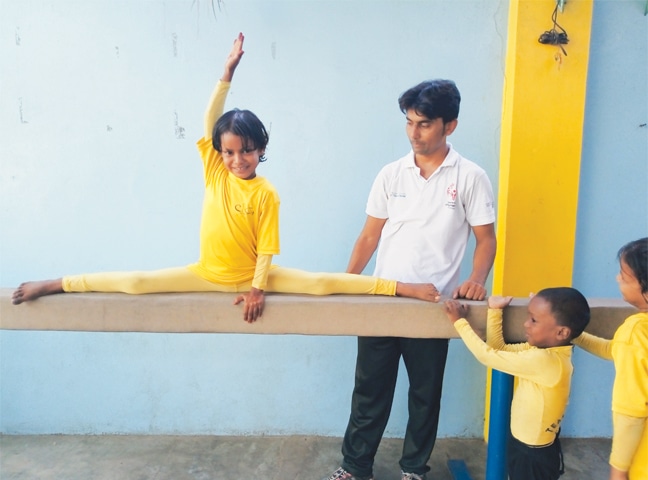 A green wicket-like strip painted on the floor catches one's attention. Soon the children's coaches, themselves national gymnasts, arrive at the school. The children in yellow drop their school work to greet them at the gate. Mohammad Furqan, the senior of the two, also coaches the Sindh gymnastics team, and he is assisted by Adeel Abbasi.
"Young children do very well in gymnastics as their bodies are flexible. Also, they learn more quickly and have a lot of stamina," he says, looking at his young students.
"But here we had to see if the children who wanted to join gymnastics were strong enough as several could be malnourished, too," he says.
Mohammad Ayan, who walked away with the consolation prize, has a crooked left foot but he has not let it affect his performance. "He was born with the condition and has been operated on when he was a baby. He needs one more surgery when he is 12, which will hopefully fix his foot completely," the coach explains.
About the recent championship, Furqan said it was tough for his young Khel students as they had not had any experience of big competition. "The exposure was good for them. They were a bit nervous initially but settled down eventually, before their events, thankfully," he smiles.
Mahmood Hasan took gold in floor exercise, Shahzad Nur Alam took silver on the vault, Sagar Jafar took bronze in the springboard category and Mohammad Ayan walked away with the consolation prize.
Ayan has a crooked left foot but he has not let it affect his performance. "He was born with the condition and has been operated on when he was a baby. He needs one more surgery when he is 12, which will hopefully fix his foot completely," the coach explains.
The children when asked to comment just smiled and shied away. They didn't want to speak and started playing among themselves. Still, their coach says that the success brought much change in their as well as their parents' attitudes.
"Usually, the parents here want their children to study. They believe that sports are a waste of time. But after they prove themselves as being really good by winning cups and medals, things change," he says.
"That's how it was for me, too," he says. "I am a Lyari kid, too. I joined gymnastics out of love for the sport when I was 12 years old in 1998 but left it after a few years as my family taunted me for wasting my time, and not getting a decent job," he shares. "I worked as a cleaner at Karachi Port Trust to make my parents happy," he adds.
"But then my coaches Mohammad Ahmed and Imdad Hussain brought me back towards gymnastics. They convinced me to take part in the national championships. And when I started winning medals, my family also started seeing this sport in a different light," he says before turning to his students and helping them warm up ahead of their workout.
The writer is a member of staff
She tweets @HasanShazia
Published in Dawn, EOS, October 22nd, 2017