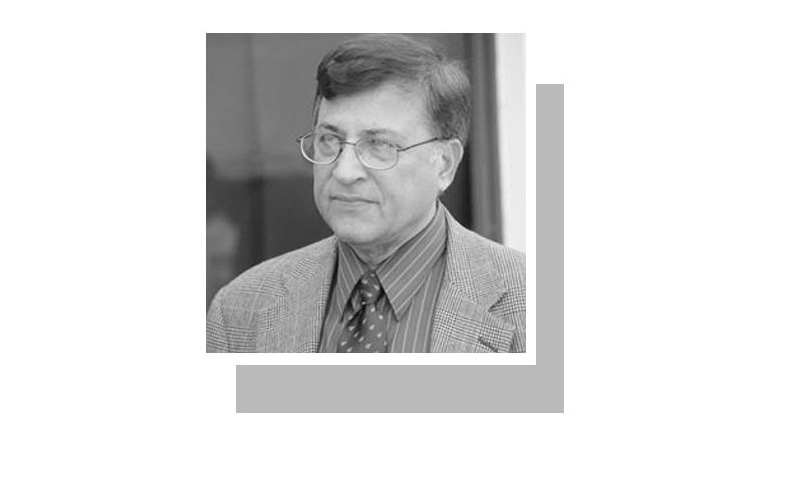 LAST week's exposure of a terrorist hive inside Karachi University (KU) prompted a remediation proposal by the chairman of the Higher Education Commission. His solution: if parents "switch off TV and internet early at night and send children off to bed", university students could be shunted away from terrorism. (The reference to adult students as bachas [children] is not unusual — university-going adults are generally considered kids incapable of independent thought.)
If flippant, this proposal trivialises terrorism. But if meant seriously, one fears for the future. HEC's current counterterrorism strategy is to establish a "directorate of students" within universities so that challenges faced by "students and staff would be registered, analysed and resolved". Extracurricular activities — football and cricket chiefly — will supposedly keep students away from guns and bombs. Should one laugh or cry?
Down the chain of command it's no better: Karachi University's vice chancellor denied responsibility even after being presented police evidence that a terrorist network Ansarul Sharia Pakistan (ASP) was operating from KU. The ASP has killed several policemen and a retired army colonel. But the vice chancellor and KU's faculty say terrorism is the security agencies headache, not theirs.
Security agencies disagree, having encountered well-educated terrorists now for many years. The police chief says the ASP's head and fellow militants received BSc/MSc degrees from the applied physics department at KU. Others are from various universities in Karachi and Balochistan. The unsuccessful assassination attempt on Sindh Assembly's leader of the opposition led to one suspected attacker being killed. He held a PhD.
Football and cricket are supposed to keep students away from guns and bombs. Should one laugh or cry?
GHQ is worried — as it should be after losing thousands of soldiers in anti-terrorist operations. So last May ISPR organised a meeting 'The role of youth in rejecting extremism'. It was addressed by the COAS and DG ISPR. The COAS demanded "cleansing these barbarians from their potholes". Surprisingly, some well-respected liberal voices were also invited to address the army audience. But disappointingly — judging from contents posted by ISPR — their meandering analyses did not point to anything actionable. The exception came from the single invited student speaker (who I'll mention later).
Why is terrorism growing by leaps and bounds in Pakistani universities and colleges? Common sense — not rocket science or high erudition — is enough for an answer. What must be done is also pretty clear.
First, dismiss the activist preacher-professor. He wields authority over captive audiences and broadcasts his message inside classes and outside. Students from various universities complain that some begin class with long prayer recitations, turn briefly to whatever technical subject they are paid to teach, and then return to proselytising. Certain radical websites and Facebook pages are suggested as follow-ups.
How rampant is this? There's abundant anecdotal evidence, present and past, but no real data. I got to know well in the 1980s an activist colleague at Quaid-i-Azam University (I quite liked this Columbia-educated guy!). A staunch Jamaat-i-Islami member, he left for jihad in Afghanistan. Little else was known until one day some newspapers reported his arrest for having facilitated the attack on GHQ in 2009. As with Ehsanullah Ehsan — the man who oversaw the Army Public School massacre — official silence means one cannot say exactly what has happened to these individuals. They may well be thriving.
No less dangerous are certain 'motivational' guest speakers. Brought weekly onto campus by jihadist professors colluding with sympathetic university administrators, they stir up students with concocted conspiracy theories and jingoistic hype. Earlier years saw the fanatical laal topi wala who described Hindus as paleed (unclean), 9/11 as a Jewish conspiracy, and called for eternal war with the West. Presently popular speakers hide their militancy under a fig leaf. University administrators — in cases I am aware of — fiercely resist deradicalisation speakers from visiting their campuses.
Second, the boundary between religious devotion and religious radicalism is blurry and badly needs demarcation. While there is deep reluctance to debate religious issues, ignoring them doesn't make them vanish. Surely fighting with arguments is better than with guns.
Take the case of Ansarul Sharia Pakistan. The organisation's name bespeaks its goal — that to make Pakistan a Sharia state. Although deemed terrorist, ASP shares this objective not just with banned organisations like TTP, Al Qaida, and the militant Islamic State group but also with legal parliamentary parties such as JUI-F and JI. Indeed, a PEW survey showed 86 per cent of young Pakistanis want Sharia. So, on democratic grounds, what precisely did ASP do wrong?
Until such questions are satisfactorily debated, young minds will remain befogged. Universities are precisely where these debates must happen. Confusion can be reduced through properly moderated open discussions. Student unions must be unbanned, albeit conditionally.
Depoliticisation and reduction to helpless apathy — such as Mashal Khan's lynching being left undiscussed on any campus except at QAU — is not the answer. Consider that KU is pondering whether to demand a police certification from each new student applicant. So imagine that a student is interviewed for his political views. He knows he'll be in trouble if he says Pakistan should be secular. But after the ASP crackdown he might now be in hotter water if he says he wants Sharia. His safest bet is to claim that he is tabula rasa — a blank slate to be written upon at will. Is such apathy good?
Third, culturally deprived young Pakistanis are desperate for joy and freedom. The lone student invited to the GHQ meeting was brilliant. This hijab'ed young woman from Islamia College (Peshawar) spoke wistfully of a Peshawar that her generation has never known — one where there were cinemas, sports galas, fun fairs, and declamation contests. Her dad tells her that doctors from Khyber Medical College (both females and males) could once set up a fun fair on campus. Yes, there were music events, theatres, colours, and poetry. Even dancing! Cultural desertification is now so total that no foreign tourist wants to — or dares — visit.
Nature is said to abhor a vacuum. The likes of Taliban, Al Qaeda, and IS through their less violent cousins such as JI and JUI-S are filling the cultural vacuum on campuses. No, Mr HEC Chairman, please wake up! Sleep is not an option. There's real work to be done.
The writer teaches physics in Lahore and Islamabad.
Published in Dawn, September 23rd, 2017