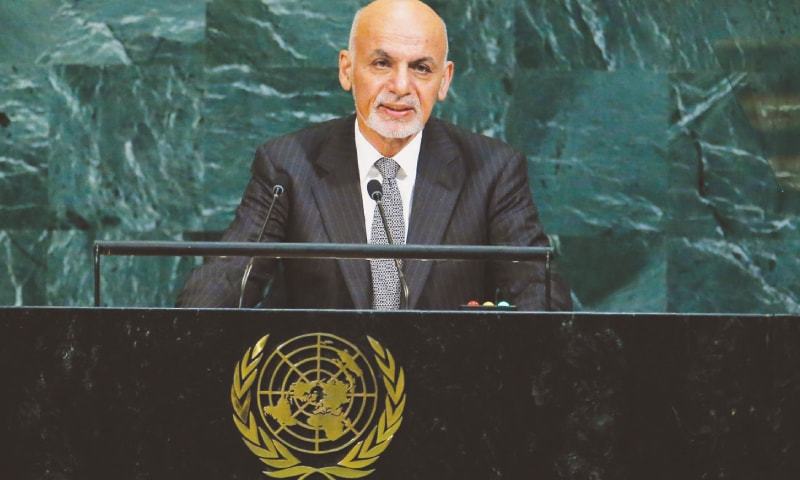 UNITED NATIONS: Afghan President Ashraf Ghani, who rescheduled his meeting with Prime Minister Shahid Khaqan Abbasi, urged Pakistan on Wednesday to hold a state to state dialogue with Afghanistan.
In his address to the UN General Assembly in New York, President Ghani described the Trump administration's new strategy for South Asia, which requires Pakistan to eliminate all alleged terrorist safe havens inside its territory to bring peace and stability to Afghanistan, as an opportunity for reviving bilateral talks with Islamabad.
"We now also have an opportunity for a dialogue with our neighbours on how we can work together earnestly to eliminate terrorism and contain extremism," he said.
"I call upon Pakistan to engage with us on a comprehensive state to state dialogue on peace, security and regional cooperation leading to prosperity."
President Ghani had earlier scheduled a meeting with the prime minister on Tuesday but Foreign Secretary Tehmina Janjua later told journalists that the meeting had to be rescheduled because of US President Donald Trump's address to the UN General Assembly.
She explained that since Mr Trump's speech ran into the time set for the Abbasi-Ghani meeting — and both Pakistani and Afghan leaders were inside the General Assembly for the speech — Afghan officials requested a rescheduling.
"The meeting was scheduled on their request and has also been rescheduled on their request," said Ms Janjua but did not explain when would the two leaders now meet.
The explanation, however, did not end speculations about why the meeting had to be rescheduled. But President Ghani's offer for re-engaging Pakistan, indicates a desire to continue the engagement despite whatever caused the meeting to be postponed.
"The Afghan government has proven that we are committed to peace through our own internal processes, as demonstrated by the peace agreement with Hizb-i-Islami," said Mr Ghani who has included Hizb leader Gulbadin Hekmatyar in his government.
"Now, we call on all our neighbours, near and far, to join us through the Kabul process in our comprehensive quest for peace and regional stability," he said.
Unlike his previous statements, Mr Ghani did not urge Pakistan to bring Taliban leaders to future negotiations on Afghanistan, a change evident in the new US strategy as well, which also does not ask Pakistan to play this role.
Instead, he asked Afghanistan's neighbours and international partners to change their perspective of the country, which seems stuck in a fratricidal war.
"For too long, the conflict in Afghanistan has been viewed through the prism of civil war. But this war is not within our soil, it is over our soil," said the Afghan president while voicing Afghanistan's old campaign that its neighbours — particularly India and Pakistan — fight their wars on the Afghan territory.
"Though we may be on the frontlines, the threat knows no boundaries," said Mr Ghani while telling the international community why they need to continue to support the Afghan government's war against terrorism.
"For terrorist groups who are harbourage in the region, an attack in Kabul and an attack in Brussels, Paris, Barcelona, London or anywhere else are equal victories," said the Afghan president, repeating an old Kabul claim — also endorsed by Washington — that terrorists were hiding in and nurtured by Pakistan.
"President Trumps' new strategy includes the disruption and denial of sanctuary to terrorists whose motives know no boundaries," he said. "We welcome this strategy, which has now set us on a pathway to certainty. The Afghan people have looked to the United States for this type of resolve for years."
Published in Dawn, September 21st, 2017