Hot-cross buns, hot-cross buns,
One a penny, two a penny, hot-cross buns,
If you have no daughters then give them to your sons;
But if you should have none of these pretty little elves
You cannot do much better if you eat them all yourselves!
I could keep on singing this old nursery rhyme and I wouldn't be able to stop myself until I stuffed my mouth with a hot-cross bun. The bun, a delicacy of Easter weekend, is not alone. It is followed by Easter eggs.
Bakeries all over the world get busy preparing hot-cross buns and Easter eggs to mark the end of Lent. Hot-cross buns you get fresh on Good Friday, a solemn occasion otherwise commemorating Jesus's crucifixion. But Easter being the day of Jesus's resurrection is about celebration. It signifies new life so the egg is a significant symbol.
---
Care for a hot-cross bun or an Easter egg?
---
United Bakery in Karachi's Saddar area makes both hot-cross buns and Easter eggs. And everything sells very well. First because it is the season for it. Second, it is because it is nice to look at and is nice and tasty. And third, because of the bakery's location and size. It is the largest bakery on a major street in Saddar in Karachi where traditionally many in the Christian community live.
The New JC Misquita Bakery isn't as prominent. Neither is it as big and old as some of the other bakeries. Hidden in one of the back lanes of Saddar it still gets more customers for hot-cross buns and Easter eggs than any other bakery, however, Syed Haider Abbas Zaidi says that his father, Syed Mohammad Asif Zaidi, opened the bakery some 45 years ago and they became known for the two delicacies ever since. "The ingredients, formula, recipes are all our own and, since both hot-cross buns and Easter eggs are made once a year on the occasions of Good Friday and Easter, we don't depend on our employees to make them," says the son, adding that then he along with his father do all-nighters making hot-cross buns and Easter eggs amounting in thousands. "My father gets busy making the buns and I make the Easter eggs," he adds.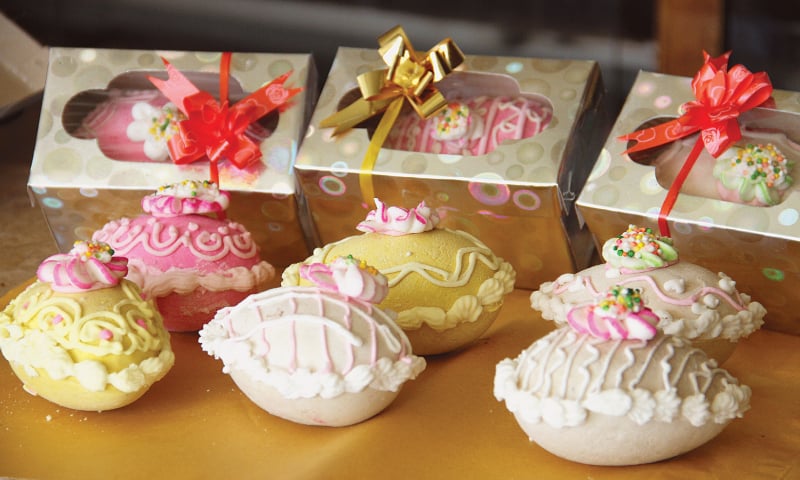 The ingredients for the hot-cross buns include spices with a generous amount of sugar sprinkled on the top. Of course, there is also the cross made of biscuit on the top. "Some bakeries make the cross from marzipan and some make it with cream but we make it from biscuit," says Haider Abbas.
The bakery gets orders for their hot-cross buns from all over the world. "Just last Friday we prepared 25 dozen for someone in Australia. And more orders have been pouring in from Monday ahead of Easter weekend as those sending them to their family and friends abroad need them a little before Easter weekend. But for local customers, almost all the bakeries here start making the buns from Thursday so that they are fresh on Good Friday and the eggs we start work on from Friday. The demand for both continues for a week after Easter so we make sure to make them in quantity," says the baker.
The best part about hot-cross buns is that they don't go bad soon. "You may also freeze them for months," he says.
As for Easter eggs, New JC Misquita Bakery makes chocolate and marzipan Easter eggs in various sizes. "The chocolate eggs are more quantity wise than the marzipan for the simple reason that people like chocolate more," says Haider Abbas. And the filling comprises more chocolate such as mini size Mars, Snickers, Kit Kat bars, etc. "We also put in small toys," he adds.
Though several bakeries, especially those around the Saddar area, where many churches are located, sell hot-cross buns during the Easter weekend, Easter eggs are not as common. "We make around 2,000 to 2,500 Easter eggs every year. After us the other bakeries, which also make them don't make as many and not in as big a variety as ours. Our biggest competitor stops after 600 Easter eggs," he says.
"We are grateful to God to have made two of our products so popular," says Haider Abbas. Asked why they haven't thought about packaging the delicacies, he smiles and shakes his head. "My father says that since both the bun and egg have to do with religious custom and tradition, this should not go to our heads. We are not to cash in on our popularity. Therefore we keep the prices, too, at a bare minimum. The cheapest Easter egg costs hundred rupees and the most expensive is for Rs320. The buns, too, are for Rs280 a dozen," he says.
Until a few years ago, both the Crispo Bakery in Saddar and its branch in Clifton sold hot-cross buns and Easter eggs at this time of year but now it is only their Saddar bakery which caters to Easter. Rizwan Zahid there says that they bake the buns and prepare the eggs from Thursday to Sunday. "We have been serving the Christian community since 1948, when my grandfather opened the bakery. The hot-cross bun is unlike any other bun with spices such as cinnamon powder and dry fruit including raisins. The spices we use may sound like unlikely ingredients for a bun but you have to taste it get to like it. You may call it an acquired taste," he says.
Crispo Bakery also sells Easter eggs. "The chocolate eggs are just chocolate but the marzipan eggs are hollow with sweets and chocolates inside," he says.
Bread Centre is also situated in Saddar. Mustafa Azhar, who runs it, says that for Easter they don't just stop at hot-cross buns and Easter eggs. "We also make rich plum cakes using a variety of dry fruits. And the plum cakes do as well as the other two items," he says.
"The thing is that most women in Christian homes are great bakers, which can pose as our competition. But they are experts at making cakes not buns, and not really hot-cross buns. Then they also like to send over their batter to our ovens for the baking, which makes us feel slightly better as they are still dependent on us for something at least," Azhar says.
Though both the bun and egg are Christian traditions, they are equally relished by people of other faiths as well. I still remember when as a little girl, my father's secretary gave me an Easter egg during Easter. I took care of it making sure it didn't break for days until something put in the fridge in a hurry crashed into it, making it crack open. I didn't know that it was meant to be cracked open to reach the goodies inside it. I didn't even know that the shell was to be eaten also until the dog started munching on a broken piece. Now I just have to go to the bakery to satisfy my Easter sweet tooth.
The writer is a member of staff.
She tweets @HasanShazia
Published in Dawn, EOS, April 16th, 2017