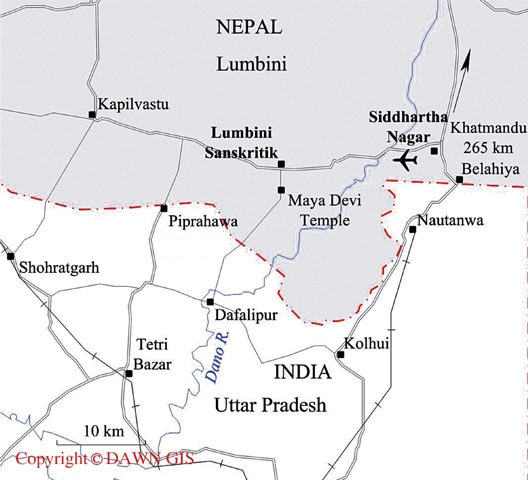 ISLAMABAD: Pakistan on Thursday suspected Indian spy agencies' involvement in the mysterious disappearance last week of a retired Pakistan Army officer from Nepal.
Though Foreign Office spokesman Nafees Zakaria at a weekly briefing did not directly name India for retired Lt Col Habib Zahir's disappearance but said: "We can't rule out the involvement of hostile agencies."
Col Zahir went missing in the Nepalese town of Lumbini where he had gone in connection with a job interview.
Mr Zakaria's assessment was based on the fake accounts used by the officer's suspected abductors for email contacts, while luring him for the job interview in Nepal.
---
Mly commanders signal tougher line on Jadhav's future
---
The FO spokesman decried attempts by Indian media to link the issue of Indian spy Kulbhushan Jadhav, who has been awarded death sentence for espionage and sabotage in Pakistan, with Col Zahir's disappearance.
"One case (Kulbhushan Jadhav's) is about irrefutable evidence of Indian state involvement in Pakistan in terrorism and terror-financing activities," he said, adding that Col Zahir's case, on the other hand, is that of "entrapment".
He also rejected Indian media's speculation that Col Zahir had been part of the team that captured Jadhav. "Col Habib Zahir retired years before Kulbhushan was arrested. Common sense does not suggest that a retired person could be assigned in such a case," he maintained.
It has been regularly speculated in the media that Indian spy agency — Research and Analysis Wing or RAW — could have abducted him because the suspected kidnapping took place very close to Nepal's border with India and furthermore, RAW has significant presence in Nepal.
Mr Zakaria also explai­ned Pakistani position on Indian claims that its 13 requests for consular access to Jadhav were not entertained.
Referring to the bilateral agreement on consular access, he said its Article VI stated that "in all instances of security and political related matters the merit of the case would be considered". It implied that the accord gave Pakistan the prerogative of whether or not to give India access to Jadhav.
Tougher line
Meanwhile, the military leadership at a conference on Thursday signalled that it would take a tougher line on the future of Jadhav, who has been sentenced to death by a military tribunal, saying there could be no concession for anti-state acts.
"The forum was briefed about Kulbhushan Sudhir Jadhav. It was concluded that no compromise shall be made on such anti-state acts," military's public affairs wing, the Inter-Services Public Relations, said in a statement on the corps commanders' meeting held at the General Headquarters with Army Chief Gen Qamar Bajwa in the chair.
The conference is a monthly feature at GHQ during which the top brass deliberates on internal and external security matters and the army's professional issues. This month's conference was held at the end of a week that began with the confirmation by Gen Bajwa of the death penalty awarded to Jadhav through a Field General Court Martial (FGCM).
The sentencing added to strains between Pakistan and India with Delhi vowing to go to every length for preventing Jadhav's execution, which the Indian government cautioned would be seen as a 'premeditated murder'.
Jadhav was captured last year from Balochistan and was accused of espionage and fomenting terrorism in Pakistan. His trial was carried out in secrecy and it became public only after the FGCM verdict had been ratified by the army chief.
Jadhav now has 40 days to file an appeal in the army's appellant court. Subsequently, he can seek clemency from the army chief and the president of Pakistan.
With Jadhav's sentencing happening soon after Col Zahir's disappearance in Nepal, many in India and Pakistan started believing that the matter could end up in an exchange.
As per Indian media reports, the Indian government is working on different options, including legal and diplomatic routes, and possible swap for saving Jadhav, who was described by Indian External Affairs Minister Sushma Swaraj in Indian parliament as "son of India".
Indian Express in a report said statements by Pakistani leaders made Delhi believe that "that there was scope for negotiation".
Published in Dawn, April 14th, 2017