Next to a filling station on a road leading to Haveli Lakha, Okara district, are two run-down shops that share a common wall. Each shop is about 10 x 14 feet in size but their purpose is remarkably different: while the first houses a motorcycle workshop and the grime and grease that comes with the territory, the second collects milk.
It is 11am and Ghulam Murtaza, an agent of a milk collector or a middleman, is visibly tetchy. A carrier vehicle to transport the "white gold" to Lahore should have made it to his shop by now. The room is cramped for space; it can barely accommodate a chiller that stores around 1,000 litres of milk. The tense air is briefly interrupted, thrice, as milkmen approach the middleman's shop to sell their produce.
Clad in a soiled shalwar kameez, Murtaza collects samples in a vial to test the 'quality' of milk brought to the shop. With the help of the milkmen, he empties the brass and blue plastic cans — the latter banned for storing food — in which the milk has been brought into his chiller. There is no lid for the chiller; its mouth is covered with a piece of malmal cloth to 'filter' the milk for foreign particles such as dust, grass, flies, etc.
---
The problems of adulteration and contamination begin from collection.But they are not the only issue in the dairy sector ...
---
In reality, because the shop is constructed off a metalled but narrow single lane road meant for two-way traffic, a cloud of dust rises whenever a speeding vehicle passes by. Even though the chiller is pushed to the back of the shop, there is no arrangement to protect the milk from the dust particles that eventually settle down on to the surface.
The only test Murtaza conducts is to measure the ratio of fat in the milk. The "testing kit" comprises a white, powdery substance spread in a clay bowl and a couple of vials which lay on a slab under the small baikan tree in front of the brick-room. The vials containing the samples are plugged with corks, rolled into the white powder and shaken in a hand-driven vortex mixer standing next to the tree.
"Sadhay chaar [four-and-a-half]," Ghulam tells a milkman Rahim of the fat content in his milk. "Aj punj likh do [Please record it as five today]," pleads Rahim and Murtaza obliges while making an entry into his pocket diary. There are 45 litres of milk in two brass cans, goes the argument, and it would be criminal to let it all go to waste.
The basic purpose of this fat-content test, as Murtaza explains later, is to set the price of the milk supplied by the farmers. To the disadvantage of the end-consumer, milk is poured into a chiller many times before any quality checks are run on it. Murtaza chooses not to reply when asked how milk with varying protein levels will get homogenised in the chiller.
Okara is one of the largest milk districts of Punjab. While shops such as Murtaza's (aarti or middleman) are more permanent establishments, milk is collected in many different ways. These days, vehicle-mounted chillers are often parked at deserted intersections off the highway enroute Okara. These chillers also collect milk but the hygiene situation at these 'mobile' centres is worse.
At 'immobile' collection points, water is often available for the personal hygiene of any staff working in the establishment. But not at mobile chillers — here, hygiene and milk quality both take a beating. As Mian Tariq Javed, an officer at the Okara Tehsil Municipal Administration, puts it, the reason to employ mobile chillers is to avert raids by food authorities against the collection of adulterated milk.
Such unhygienic conditions can be seen at almost all small milk collection points set up by middlemen who connect milk producers from rural areas with milk sellers (including corporate entities) or directly with consumers in cities and towns, particularly Lahore. But the great public concern here is that almost 80 percent of the total milk procured from dairy farmers is collected by these middlemen. In other words, 80 percent of the milk collected is impure and unfit at its source.
Hygiene starts at home
To the misfortune of the dairy sector, there are neither any national hygiene standards for the milk chain — from milking an animal to the delivery of the produce to the end-consumers — nor does any mechanism exist to implement and monitor standards adopted by private operators.
---
The milk extracted from diseased animals is neither spilt nor stored separately, rather it is mixed into the milk obtained from healthy animals. This contaminates the entire produce."
---
On December 27, 2016, a report was filed by the Punjab Food Authority (PFA) Director-General Noorul Amin Mengal in the Supreme Court's Lahore registry, which claimed that the milk packaged by Haleeb, Acha Milk, Al-Fazl Food, Doce, Al-Fajr Food is all unfit for human consumption. The dossier submitted reported that Haleeb's milk contained formalin, a chemical used to preserve dead bodies, as well as sugarcane juice.
Al-Fazl Foods was checked on December 8, claimed the PFA chief, and fungus and dirt was found in their plant. Their license was subsequently suspended. Doce Milk's production was halted on December 16 while a fine of Rs500,000 was imposed on the company. Acha Milk was also fined Rs500,000 while its production was discontinued for a week. Al-Fajr's milk plant has also been sealed.
Subsequently, on January 30, 2017, Science and Technology Minister Rana Tanveer Hussein revealed more details of the enquiry against adulterated milk. Six brands in the Ultra-high temperature processing (UHT) category, including Olper's, Nestlé MilkPak, Day Fresh, Good Milk, Nurpur Original and Haleeb Full Cream. Barring Haleeb, the others were found safe. Samples from 10 pasteurised milk brands were also examined, including Anhar Milk, Daily Dairy, Doce Milk, Gourmet Milk, Nurpur, Nutrivi, Al-Fajar, Accha Milk, Prema Milk and Adams. Of these, only Prema Milk was deemed safe for consumption.
While the PFA reports presents a gloomy picture of the dairy industry, it is worth investigating why most of the milk that is collected by various companies and sellers is unhygienic or unfit for consumption.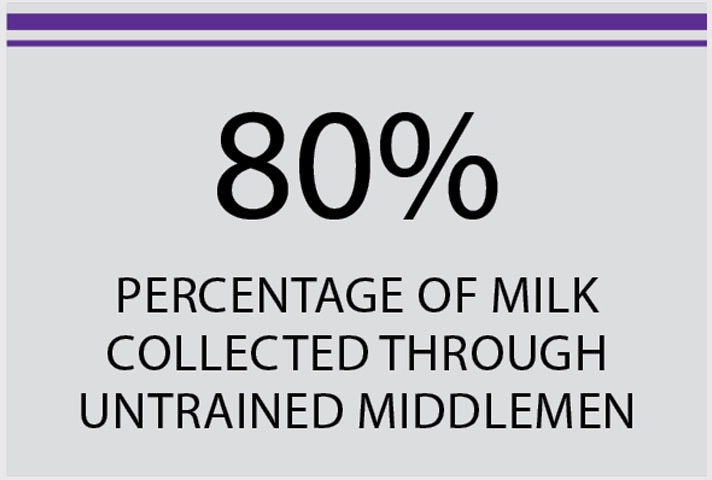 Dr Muhammad Junaid from the Dairy Technology Department of the University of Veterinary Science Lahore arguesthat the hygiene issue starts right from the milking of animal. "When a farmer does not practice personal hygienic habits, and does not clean the udder of the animal(s), then he contaminates the milk with different kinds of harmful microbes," he says. "The milk extracted from diseased animals is neither spilt nor stored separately, rather it is mixed into the milk obtained from healthy animals. This contaminates the entire produce."
The problems compounds at collection and transportation stages. Besides personal hygiene, the cleanliness of cans used to carry milk from dairy farms to collection point(s), as well as that of chillers used for hauling milk to end-consumers also matters. At this stage, says Dr Junaid, preservatives and caustic soda etc. are added to the milk in an attempt to enhance its shelf-life. "Urea and vegetable oil are used to improve gravity or protein level in milk. These additives become health hazards," says the professor.
The story does not end here — contamination at source is merely one part of adulteration in milk. More contamination is caused when this milk reaches towns, where dirty shops and lack of personal hygiene by those handling the milk for onward delivery add to the impurities being carried forward.
Removing the middleman
Back in 2006, the Punjab government had initiated the idea of vaccinating all livestock and setting up milk collection centres on its own land and then offering the same to private companies to improve the quality of milk collection. Before the project could see the light of day, then Livestock Secretary Babar Yaqoob was transferred and the initiative was dumped with a change in command.
However, some private companies, including Nestlé, took the initiative on their own. Along with Engro Foods (Olper's), a major portion of the 20 percent market share in milk collection goes to Nestlé (MilkPak), which takes credit for conducting around 28 tests to check the quality of milk and its various adulterations at each of its 3,200 chillers installed in villages, close to farmers/suppliers' doorstep, and at laboratories at its main plant in Okara.
"We are now trying to eliminate the middleman altogether and simultaneously, to empower small dairy farmers and help them increase their herd size," says Waqar Ahmed, Head of Corporate Affairs, Nestlé Pakistan.
Indeed, Nestlé has been the oldest corporate player in Punjab. Its move to enter villages is at least a decade old. As part of a layered strategy, Nestlé first involved local communities in milk collection, thereby gathering trust among dairy farmers and removing the need to sell to a middleman. Rejected by Nestlé, this milk often makes its way to middlemen accepting inferior-grade milk. Although Nestlé gives competitive rates to dairy farmers, it removes the hassle of taking the milk to a middleman who is often situated away from the village.
What Nestlé put a premium on was quality — unlike Murtaza's shop, any milk that does not meet the required standards is returned to the dairy farmer.
"We are at a stage where we can consolidate the gains and relationships made over the past decade or so," says Ahmed. "From a larger number, we are now consistently working with approximately 100,000 dairy farmers to uplift their produce and processes. A farmer working with Nestlé normally returns 10-14 litres every day but those who aren't tend to produce about 5-6 litres of milk."
Veterinarian Dr Suhail Ahmad, associated with the company, says dairy farmers bring milk in small quantities to Nestlé's milk collection points, where it is tested for quality and various adulterants, measured, and chilled to a temperature where it can last longer than it otherwise would. It is then dispatched to the main factory for processing and packaging.
"The tests that we conduct identify almost all adulterations in milk," says Dr Ahmad. "The company adds no preservatives to the milk and simply gives it ultra-high temperature (UHT) treatment to increase its shelf-life to 84 days."
According to him, his team and he frequently visit the dairy farms associated with collection centres to monitor the health of animals and advise farmer(s) if need be on how to treat the ailment. "We don't accept milk from an animal that is untraceable," chimes in Zonal Manager Muhammad Suleman. In other words, Nestlé claim to know each and every animal whose milk is supplied to them.
"Direct outreach to farmers has improved the quality of milk supplied to us," says Waqar Ahmed. "We've been able to work with dairy farmers on building their capacity, on animal surroundings and dietary needs. Even simple measures such as untying an animal and letting them roam free, or keeping them in the shade while the sun beats down in the summer need to be taught."
The results have been more than encouraging: with about 24 billion rupees earned in annual revenue, the move to take milk collection to villages is bearing fruit. Then there are the side benefits of creating employment: about 2,200 individuals are employed with Nestlé as milk supply agents. These factors underscore the academic argument that milk is no longer part of a subsistence economy but very much a commercial enterprise in Punjab.
The milk route
Yet another issue, particularly significant at dairy farms around metropolises such as Lahore and Karachi, is the use of oxytocin injections to get higher yield from milch animals. In developed countries, only qualified and licensed veterinarians are allowed to use the injection. This is because trained professionals can maintain a proper ratio between the drug dosage and the health of the animal. But in Pakistan, the drug is available over-the-counter without any hindrance.
The Milk Sellers and Suppliers Association Punjab — an organisation set up in the aftermath of recent amendments in the Punjab Pure Food Act, 2011 and which boasts of having achieved 1.15 million membership since its inception seven months ago, admits to the use of the injection by its members.
Association Chairman Rana Muhammad Irshad Khan acknowledges that the drug causes premature menstruation in girls and also results in growth of facial hair. He demands the government put a ban on the import of oxytocin but would not say if his organisation will also command its members to stop using the injection.
About the use of blue plastic cans for transporting milk, he says that association members across Punjab have been notified that these cans are injurious to health and that the body would not object to the government imposing penalties on milkmen using blue plastic cans.
Meanwhile, when asked about a workable starting point for setting and implementing hygiene standards for milk, Dr Junaid says the task should be begun from large companies and then gradually brought down to individual dairy farmers. According to him, the job so far done by the Punjab Food Authority under directions of the Supreme Court, by penalising the milk suppliers for various adulterations, has created fear among adulterators and to some extent laid foundations for adoption of standards.
The writer is a member of staff
Published in Dawn, EOS, March 19th, 2017