If you believe that the only thing good about travelling is arriving at your destination, you are missing half the fun.
Travelling since childhood, I have used all modes of travel and loved the experiences — be it road, sea, air and train. Not being able to remember making a train journey within Pakistan in the last 10 years, I decided to use it as a good excuse to make a reservation on a train from Karachi to Islamabad, and return a few days later.
I booked a seat on the Green Express train which departs from an exclusive platform across the parking lot of the main Cantonment Railway Station. Traffic outside the Cantt station may have been chaotic, but the platform was certainly cleaner and less crowded than it used to be in the past. Noisy hawkers on the platform, a prominent feature on our railway stations, were conspicuous by their absence.
---
There's room for improvement still in Pakistan Railways but at least the trains ran on time
---
In business class of the Green Express, the six-berth cabin was cool, clean and cosy. White pillows, bed sheets and green blankets were fairly clean, washrooms located at both ends of the bogey had running water as well as toilet rolls. The train moved at its scheduled departure of 10 pm. Shortly afterwards, neatly-packed toiletries in a green packet were duly distributed among the passengers, a television showed three pre-recorded channels: cartoons, Indian movies and some forgettable broadcast. It wasn't a bad start at all.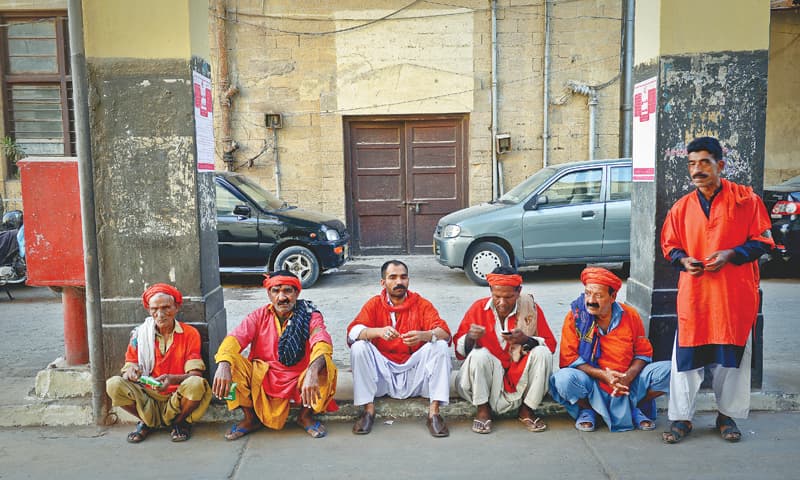 My travel companions were a family of four; teenage boys and girls from Karachi accompanied by their mother. Each one equipped with a cell phone that kept them engrossed throughout the journey — thanks to Wi-Fi and handy charging facilities inside the train compartment due to which they didn't have to worry about batteries running out. I couldn't see much outside as it was dark. The reason I prefer to travel during daylight.
Sleeping in a moving train is a rolling experience and the feeling of physical rattling lingers on even after the journey ends. The day starts quite early on a train. Breakfast of cold omelette, toast and tea was served methodically and was followed by a long day of rattling through vast and varied landscapes of rural and urban vistas through the length of the country, interspersed with a few, short train stops. Green fields, hordes of cattle, rivers, bridges and occasional rain offered enough variations to prevent boredom. (I even managed to read a few pages of War and Peace out of the 1,200 pages of small print that I had started more than a year earlier and was still only halfway through!)
The highlight of the journey was lunch of meticulously prepared — warm and delicious chicken biryani, the cost of which was included in the fare.
At 8pm, exactly as scheduled, our train arrived in Islamabad at Margala Railway Station, which was reopened in 2015.
After a week of gallivanting across Azad Kashmir, Rawalpindi and Murree, I looked forward to making the return trip on the same train. One of the major thrills of travelling is the phenomenon of leaping-into-the-unknown. You embark on a journey and have no clue what will happen next, who will you meet or what surprises are in store for you.
The train departed from Islamabad at its scheduled time of 3pm. My travel companions on the return journey appeared to be a family from Korangi, Karachi – middle-aged parents clad in shalwar kameez, three young daughters in hijab (also equipped with cell phones!). They spoke flawless Urdu with a unique accent but I also overheard the couple using words unfamiliar to me. Since they were friendly and courteous, soon enough we were engaged in a lively conversation.
It turned out that both husband and wife were born in Burma and in their childhood migrated with their parents to Pakistan. I was intrigued by their moving life story, which also exposed my ignorance about the Arakan region (or Rahkhine State) in Burma bordering Chittagong, Bangladesh in the north. One third of its population (over a million) consists of highly oppressed Christian and Rohingya Muslim minorities who are denied recognition and basic rights by the Burmese government and they are being victimised by the Buddhist majority. The UN considers them the most oppressed people on earth.
Until about 20 years ago, Pakistan Railways and Pakistan International Airlines had a virtual monopoly over passenger traffic within the country. Things changed drastically when road transport boomed and private airlines started operating. Compared to railways in developed countries where you can set your watch by their arrival and departure, Pakistan Railways has been plagued by inefficiency, delays and financial scandals. Railways are a growing sector in the world with bullet-trains, as well as expansive and environment-friendly rail networks. On the other hand, we are struggling to maintain half-a-century-old standards. Let's hope the current turnaround continues. Rawalpindi Railway Station looked more like a display model than a normal busy railway station. It was clean, organised with fewer passengers than the staff and porters.
The first railway line between Karachi to Kotri, 105 miles, was opened for public traffic in 1861. It was extended up to Peshawar in the subsequent years. Like most other fundamental infrastructure initiatives in Pakistan (including Karachi seaport), the credit for this also goes to the British colonisers.
My train returned to the Karachi Cantonment Railway Station on time. I said goodbye to my Burmese migrant travelling companions. After a typical haggling session with the Pakhun taxi driver, I headed home happily at the end of my busy and invigorating train journey.
If the reader finds the above narrative rather smooth and steady without being overly monotonous, it would be a true reflection of the nature of my first train journey in Pakistan in 10 years.
Published in Dawn, Sunday Magazine, January 8th, 2017