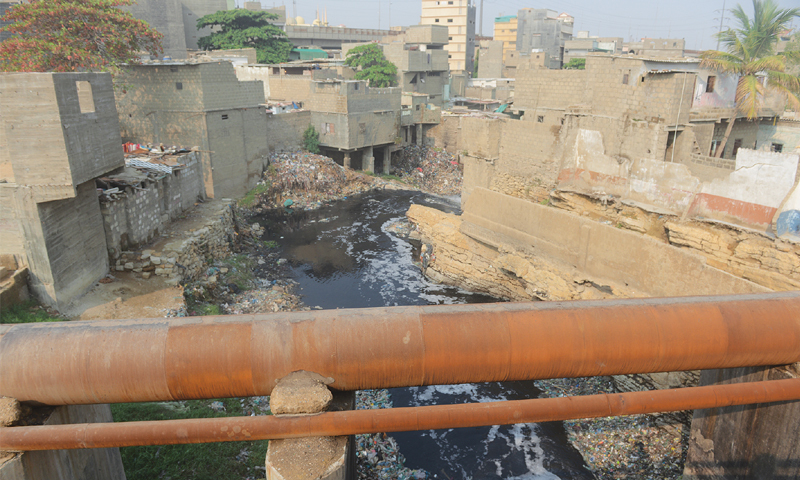 KARACHI: All natural storm water drains of the city, over 40 in number, are encroached and clogged and there is an immediate need to clean them, secure the remaining space of these drains by erecting a wall, and develop a mechanism for proper disposal of solid waste and sewage.
These suggestions were presented by experts while speaking to Dawn on Friday after warnings of urban flooding were recently raised by the meteorological department for Karachi and Hyderabad, cities which are expected to receive more than average rainfall this monsoon.
The city has already experienced some heavy spells of rains over the past few days but, fortunately, the weather pattern has so far been erratic.
Expressing their disapproval over the prolonged official delay in cleaning these drains, they said that the administration, instead of waiting for a crisis, should have carried out this exercise at least two months earlier. As a standard practice, they pointed out, drains should be cleaned after every three months.
All drains encroached
Highlighting important issues associated with the drainage system, Salim Alimuddin who has been working on the city's drainage system since the 1980s and represents the Orangi Pilot Project, said encroachment was a major issue and there was a need to secure the remaining space.
"All natural storm water drains of the city are encroached on a large-scale. It won't be fair to point fingers just at illegal settlements of the poor that have taken over a wide area of drains as whoever got the opportunity, including government agencies and private sector organisations, is involved in this business," he said.
Since the issue had become political and it was difficult to remove these encroachments, what the government at least could do was secure the remaining space of these drains and line them which would increase water flow 10 times, he added.
Another important factor, he said, was to have a proper sewerage and solid waste disposal system and unless the city developed such a mechanism, flooding would always be a threat to the city.
"In most cases, sewerage lines have been connected with storm water drains that should only carry rainwater.
"Besides, these drains are also used as solid waste dumping grounds that not only choke their passage but have reduced their depth since their de-silting and cleaning is hardly carried out," he observed, adding that only a small portion of sewage reached the treatment plants and most of it fell into the sea, untreated.
The lines of utility services running perpendicular to drains, he said, also caused obstruction to the water flow. These lines should either be above or underneath the drains.
"In addition, the backflow of sewage and their discharge in the open that follows an electricity breakdown during the rain contributed to flooding.
"This problem can only be addressed if the concerned department of the Karachi Metropolitan Corporation (KMC) has a backup power system which could be used in case of an electricity-breakdown to pump out sewage from the lines into collecting tanks," he explained.
Mr Salim also underlined the need for coordination among the various government agencies to ensure improved planning and development.
Criticising the government that sprung into action to clean the drains only after parts of the city were flooded and dwellers had to suffer long traffic jams, Zahid Farooq, representing the Urban Resource Centre said: "There was complete chaos. In a few spells of heavy rain people saw roads being flooded and sewage entering streets and lanes but there was no one to complain to. What if the rain had continued for some hours? Is this the way to manage a city of 20 million?"
Karachi, he said, was among the five biggest mega cities of the world and deserved better treatment.
"The work the government has started now should have been done in March-April. The city desperately needs long-term solutions."
The government, he believed, should have a monitoring body to supervise the civic agencies' performance.
Senior director municipal services KMC, Masud Alam admitted gaps in the system and said drains couldn't be cleaned for three years because of a funding crisis.
"The situation will improve as we have started work," he said.
He agreed with the opinion that cleaning should be carried out all year round and that the city should have proper disposal of solid waste and sewage.
"Drainage problem must not be seen in isolation as it is strongly associated with both these systems."
According to Alam, there are over 559 (small and large) drains in the city; all of them except for 12 drains, are connected to Lyari and Malir rivers which take sewage to the sea. The rest directly open into the sea.
"There was a big misconception about the quantity of rainwater reaching the drains. Very little water had reached the drains as most remained in the city (because of faulty sewerage system)."
Published in Dawn, July 2nd, 2016