ISLAMABAD: Interior Minister Chaudhry Nisar Ali Khan on Wednesday evening announced the end of the sit-in at Islamabad's D-Chowk by pro-Mumtaz Qadri protesters, following successful negotiations between the government and protesters.
Nisar also denied media reports that a deal had been struck, saying the demonstrators left "of their own accord".
"In the future, no political or religious gatherings and demonstrations will be allowed at D-Chowk. This is a very sensitive area and we can not allow groups of people to hold the government hostage."
Nisar added that changes will be brought through by passing legislation in the parliament, and it will also benefit the police forces in establishing their writ in a more effective manner.
The interior minister explained that the operation to remove the pro-Qadri demonstrators was not conducted earlier, as reinforcements were needed to shore up the federal capital's police force. He also said,"We wanted to conduct the law enforcement action during daylight hours."
The security czar said that the demonstrators involved in destroying or damaging public and private property, attacking government officials and involved in any other criminal acts will be brought to justice.
"From Lahore to Attock, we know who all was involved in breaking the law, and we will prosecute them under law," said Nisar.
Nisar also thanked 'notable personalities' for their role in bringing the stand-off to a peaceful conclusion.
Ultimatums not heeded
Earlier, the government had given the demonstrators an ultimatum to leave late Tuesday, but it went unheeded, prompting the government to issue a second call saying security forces would begin an operation to clear the area Wednesday morning.
There had been no fresh warning from the government despite the expiry of the Wednesday morning deadline.
Protest leader Asif Jalali had said the protesters would not move unless all 10 of their demands were accepted by the government.
A police source had stated that more than 7,000 security forces were poised to clear the sit-in, including the Rangers and Frontier Corps with reinforcements from the Punjab police. Army troops are already standing guard at government buildings near the protest camp.
Local media had reported the government was looking to resolve the situation amicably through dialogue. However, thousands of security forces personnel stood ready with riot gear to clear the area of protesters.
'Will not use force against those who surrender'
Superintendent Police Rizwan Gondal while speaking to DawnNews had stated that security forces will not use force against protesters who surrender to them, adding, "We are waiting for orders from our senior command. We are prepared."
Gondal, while briefing security forces on the operation said, "When any man surrenders to you, you cannot harm him."
He instructed the forces to ensure the operation is "the first and last. We cannot leave anything to chance. We must clear the area."
"We have anti-riot gear, everything has been checked. The men have been briefed. They know how to confront protesters hurling stones at them, they know how to use their shields. And our anti-riot squads who have teargas are under a DSP and will follow his instructions. If there is a need for it, they will use it. If there isn't a need, they will not use it. It will be a totally managed activity," Gondal told DawnNews.
'Don't want bloodshed'
Federal Interior Minister Chaudhry Nisar on Tuesday night had warned protesters that the government would clear the area "at any cost" if they refused to disperse on their own overnight.
However, protesters have pressed ahead with a list of 10 demands and continued their sit-in.
"We don't want bloodshed and want this to end peacefully," Nisar had said, adding that the government "is trying its best to protect people's lives, but will make sure that it ends tomorrow [on Wednesday] anyhow".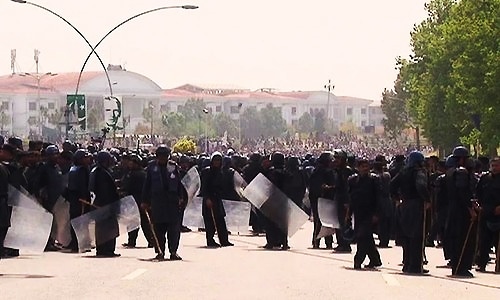 "It is not difficult to conduct an operation but there are innocent people in there who have been mislead," he said.
Read: Pro-Qadri protesters given the night to disperse on their own: Nisar
Protesters' demands
A set of 10 demands issued by protesters under the banner of the Tehreek-i-Labbaik Ya Rasool (SAW), include the unconditional release of all Sunni clerics and leaders booked on various charges, including terrorism and murder; the recognition of Mumtaz Qadri as a martyr and the conversion of his Adiala Jail cell into a national heritage site; assurances that the blasphemy laws will not be amended; and the removal of Ahmadis and other non-Muslims who had occupied key posts.
They also demanded the execution of blasphemy accused Aasia Bibi, the woman former Punjab Governor Salmaan Taseer was killed for defending.
'Religious parties violated written commitments'
Chaudhry Nisar, while holding the Punjab government responsible for security lapses which allowed protesters to breach the Red Zone, said on Tuesday that religious parties had violated the written commitments they made earlier.
The parties were granted permission to mark the chehlum of former Punjab governor Salman Taseer's killer, Mumtaz Qadri, in Liaquatbagh on Sunday on "written assurance that the participants will disperse in the evening following the Asr prayers".
"But a section of the gathering violated the commitment and resorted to violence," Nisar had said, adding, "Some people are trying to do politics under the guise of a religious gathering."
On Sunday, at least a crowd of at least 25,000 attended the chehlum of former Punjab governor Salman Taseer's killer Mumtaz Qadri in Liaquatbagh, after which more than 10,000 charged protesters made their way into the federal capital, where they clashed with security forces, damaged buildings and setting fire to the metro station, containers and buses, before setting up camp outside key government buildings along the capital's main Constitution Avenue.
Qadri, an Elite Force commando, was executed at Rawalpindi's Adiala Jail on February 29. Qadri shot Taseer 28 times in broad daylight in Islamabad's Kohsar Market on January 4, 2011.
In a primetime address on Monday night, Prime Minister (PM) Nawaz Sharif warned radical Islamists that the leniency of the government and law enforcement agencies should not be mistaken as a sign of the helplessness.
"Protecting people's lives and property is the government's constitutional responsibility. Until now, the government has displayed patience so that those who try to incite innocent people's religious sentiments are unsuccessful. But let it be clear that those spreading outrage, fanning the fire of hatred, inciting sectarianism and creating problems for citizens will without a doubt be dealt with by means of law," the PM said.
With additional reporting by Irfan Haider.