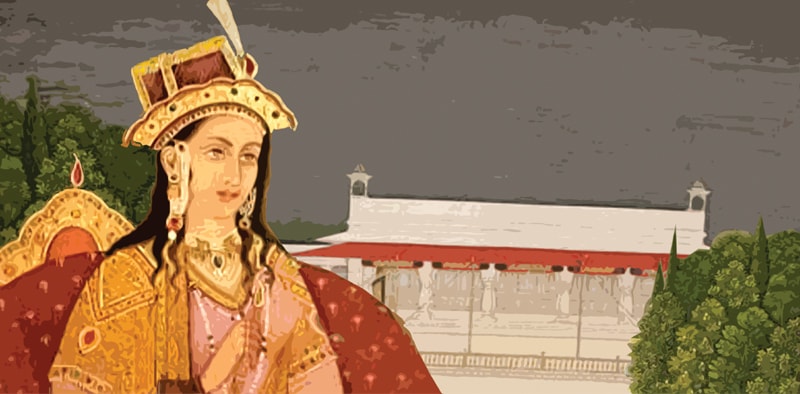 In medieval India, history was written by court historians employed by the rulers with the specific objective of recording the events and happenings of their reign. This historiography would contain the achievements of the patron ruler and excluded the role of the common man. Moreover, this history would have a masculine tone. In a patriarchal society, there is male domination in every aspect of living, therefore, historians praised their potential or penchant for war, their courage and energy displayed in the battlefield. Women either found no place in the male-dominated history or were only mentioned as subordinates and weak creatures or they were denigrated and blamed for misleading their male counterparts and taking them towards destruction.
In her memoirs, Ahval-i-Humayun Badshah, which is also referred to as Humayun nama, a narration of the ruling period of Babar and Humayun, Gulbadan Begum deviated from the traditional and common practice of history writing. She wrote this history upon the request of Akbar who wanted some intimate and rare material for Akbarnama. The significant aspect of Gulbadan's history is that she highlighted the domestic life of the Mughal emperors which was beyond the reach of the court historians.
She emphasised cultural and social aspects more than political events. She graphically depicted celebrations and festivals, marriage ceremonies and described family feasts. We can also find interesting aspects of Babar and Humayun's relations with women. After the conquest of India, 96 women arrived from the royal household of Kabul to India. Babar provided them residence and allowances. He would visit his female relatives every Friday and would rarely miss a visit. Humayun continued the same practice. Once Bega Begum reprimanded Humayun for not visiting her and he made an excuse about being addicted to opium, which made him so lazy that he did not visit her.
---
While male historians focused on war, bloodshed and victory, Gulbadan Begum's memoirs brought to light a softer image of the Mughals
---
Based on Gulbadan Begum's information, it can be concluded that the women of the royal family had the freedom to participate in social gatherings along with their male relatives. They rode horses, played polo, went hunting and even accompanied their partners in the battlefield. Elderly women were highly respected by the rulers who took their advice in solving family problems. For example, when the civil war was going on among brothers like Humayun and Kamran, or Hindal and Kamran, Khanzada Begum, Babar's sister made an attempt for reconciliation between them. She was successful for some time but the brothers continued to fight each other for power.
Being a woman, Gulbadan Begum was against war because war consumed their brothers, sons and father. Gulbadan's real brother Hindal was killed during war, therefore she laments and condemns unnecessary bloodshed.
We also learn about the independence of women with regard to marriage. When Humayun proposed to Hamida Bano, she refused to marry him. When he persisted and the women of the family persuaded her to marry him, she agreed only after a prolonged interval. Interestingly, the freedom which women enjoyed in the early period gradually came to an end during Akbar's reign. Harbans Mukhia in his book Mughals of India writes that under the influence of Indian customs, Akbar confined women to the harem. Rajputs were appointed as guards round the clock and specific rules and regulations were written for the daily routine of the harem.
Gulbadan's memoir also depicts cultural and social activities of women like a feast organised by Humayun's wife, Bega Begum, in which 70,000 people were invited as guests. She also wrote about Hindal's wedding festivities. According to her memoirs, Humayun initiated the practice of decorating the entire city and giving gifts to people whenever he came victorious after a war.
The memoirs are written in simple language and events narrated concisely, shedding light on aspects of the Mughal family which are not mentioned in traditional history. Her memoirs expressed a feminist version of the history of her time, being against war and politics but favourable to society and culture. It also shows that women are free and independent in the Central Asian culture but in the subcontinent, due to the customs and traditions, women ceased to enjoy the freedom they once had.
Published in Dawn, Sunday Magazine, March 27th, 2016