BRUSSELS: Explosions, at least one likely caused by a suicide bomber, rocked the Brussels airport and subway system Tuesday, killing at least 34 and prompting a lockdown of the Belgian capital and heightened security across Europe.
The militant Islamic State group has claimed responsibility for the attacks in Brussels, a news agency affiliated with the group said.
Twenty people were killed in a blast on a Brussels metro train, the mayor of Brussels said at a news conference.
"There are some 20 people dead and 106 people injured. 17 people are severely injured," said Yvan Mayeur.
Two explosions targeted the main hall of Zaventem Airport at around 8:00am, with a third hitting the Maalbeek metro station, near the European Union's main buildings, just as commuters were making their way to work in rush hour.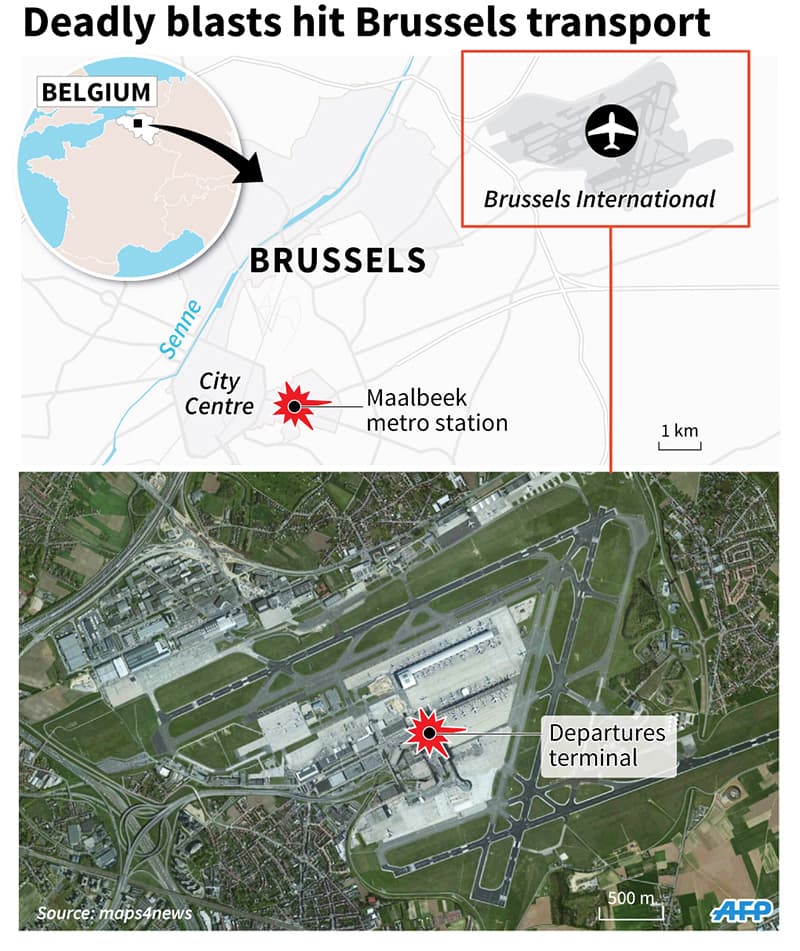 The blasts come days after the dramatic arrest in Brussels on Friday of Salah Abdeslam, the prime suspect in the Paris terror attacks that killed 130 people in November, after four months on the run.
There were chaotic scenes at the airport as passengers fled in panic, with a thick plume of smoke rising from the main terminal building.
The blasts smashed the windows of the departure hall and sent ceiling tiles shattering to the floor.
Sky News in London said the blasts had occurred in the departures lounge and cited reports it had occurred near the American Airlines desk.
Sky News television's Alex Rossi, at the scene, said he heard two "very, very loud explosions".
Witnesses told Belga news agency there had been shots and shouts in Arabic at the airport before the blasts hit at the airport on the northwest outskirts of Brussels.
Brussels Airport serves over 23 million passengers a year.
'Attack against democratic Europe'
"There have been two explosions at the airport. Building is being evacuated. Don't come to the airport area," the airport said on Twitter, as police cars and rescue vehicles rushed to the scene.
"All airport operations have been suspended until further notice," it said.
Interior Minister Jan Jambon announced that Belgium's terror threat had been raised from three to a maximum of four.
Airports in neighbouring France, Germany and the Netherlands as well as Britain swiftly boosted security in response.
The blasts triggered a transport shutdown in Brussels, with all flights halted in and out of the airport and the city's metro, tram and bus services suspended.
European Union staff in Brussels, where the 28-nation bloc has its headquarters, were told to stay indoors or at home.
Security increased at European transport hubs
British airports are increasing security and Prime Minister David Cameron is convening the government's emergency committee after the explosions at Brussels airport and on the city's subway system. Cameron said Britain would "do everything we can to help."
Britain's official terrorist threat level stands at "severe," the second-highest level on a five-point scale, meaning an attack is highly likely.
Gatwick airport said that "as a result of the terrible incidents in Brussels we have increased our security presence and patrols around the airport." Heathrow said it was working with police to provide a "high-visibility" presence on light of the attacks.
French President Francois Hollande held an emergency meeting after explosions targeted Brussels airport and a metro station at morning rush hour.
France's top security official said the country is reinforcing security at airports, train stations and metros after Tuesday's attacks in Brussels.
Interior Minister Bernard Cazeneuve said France immediately increased its vigilance after the attacks. France has been on highest alert since the Nov. 13 attacks in Paris that left 130 dead.
Sweden's Prime Minister Stefan Lofven branded the blasts an "attack against democratic Europe", while British premier David Cameron tweeted: "I am shocked and concerned by the events in Brussels. We will do everything we can to help."
Russian Foreign Ministry spokeswoman Maria Zakharova said the West's politics of "double standards" have led to terrorist attacks and that frozen diplomatic relations between NATO and Russia have slowed the fight with terrorism.
President Mamnoon Hussain and Prime Minister Muhammad Nawaz Sharif have strongly condemned the terrorist attack in Belgian Capital of Brussels.
In a statement, they said the world must put up a joint resistance and fight against terrorism. They said no religion allows the barbaric and inhuman acts of killing fellow human beings.
Blood in the elevator
"We heard the explosion and felt the blowback," Jean-Pierre Lebeau, a French passenger who had just arrived from Geneva, told AFP, adding that he had seen wounded people and "blood in the elevator".
"First we were kept together by the border police, then they gave us the order to evacuate," Lebeau said.
The ceilings collapsed, he said, describing a smell of gunpowder at the scene.
With shock on their faces, Jean-Pierre Herman embraced his wife Tankrat Paui Tran, who he had just gone to collect from the airport after her flight from Thailand.
"My wife just arrived," Herman said. "I said hello, we took the elevator and in the elevator we heard the first bomb."
The second exploded just when we got off. We ran away to an emergency exit. I think we are very lucky."
An AFP correspondent on their way to the airport said roads to the terminal had been blocked and trains halted.
Charlotte McDonald-Gibson, a British journalist living in Brussels, told AFP there had been "total confusion" at the airport, where she was having breakfast.
"Suddenly staff rushed in and said we have to leave," she said.
"They rushed out and into the main terminal A departures building. Nobody knew what was going on."
"It was total confusion, people were just standing around wondering what was happening."
There was no immediate confirmation of the cause of the blasts.
Europe's main stock markets retreated as the news broke, with London's benchmark FTSE 100 index dropping 0.6 percent compared with Monday's close and Frankfurt's DAX 30 shedding 1.1 percent.
Brussels attacks 'violate' Islamic teachings
Sunni Islam's leading seat of learning, Al-Azhar, said Tuesday's attacks in Brussels "violate the tolerant teachings of Islam," and urged the international community to confront the "epidemic" of terrorism.
"Al-Azhar strongly condemns these terrorist attacks. These heinous crimes violate the tolerant teachings of Islam," the Cairo-based Al-Azhar said in a statement.
"If the international community does not unite to confront this epidemic, the corrupt will not stop from committing heinous crimes against the innocent."
The Egyptian foreign ministry also condemned the attacks that left at least 34 people dead and dozens wounded in Brussels.
"The time has come for the world to make a final stand to deal with the phenomenon of international terrorism," ministry spokesman Ahmed Abu Zeid said in a statement issued in English.
He called for steps to tackle it at the "financing and ideological levels ... and to prevent the recruitment of more individuals by criminal terrorist groups".
Facebook activates "safety check"
Facebook has activated its "safety check" system to help people check on friends and loved ones in the aftermath of the attacks in Brussels.
The company says the system was put in use within hours of the three explosions at the Brussels airport and a metro station.
It says the system can provide an easy way for people to mark themselves as "safe" after a major disaster or crisis so that people searching for them will know they are unharmed.
The system has been used recently to help people communicate after major floods and earthquakes as well as terrorist attacks.
On high alert
The blasts occurred four days after the arrest in Brussels of Salah Abdeslam, a suspected participant in November militant attacks in Paris that killed 130 people.
Belgium's Interior Minister, Jan Jambon, said on Monday the country was on high alert for a possible revenge attack following the capture of 26-year-old Abdeslam.
"We know that stopping one cell can ... push others into action. We are aware of it in this case," he told public radio.
French investigator Francois Molins told a news conference in Paris on Saturday that Abdeslam, a French citizen born and raised in Brussels, admitted to investigators he had wanted to blow himself up along with others at the Stade de France on the night of the attack claimed by the militant Islamic State (IS); but he later backed out.
Belgian police had been on alert for any reprisal action.