MITHI: In a far flung village in Thar, residents are demanding better options for clean drinking water.
Their demand is simple, they are asking the Sindh government to install more Reverse Osmosis (RO) plants in their villages spread over six tehsils of Mithi, Islamkot and Nagarparkar tehsils.
"Hundreds of villagers in the area are forced to make do with unclean water," says Ali Akbar Kumbhar, a resident of Mohario village in Diplo tehsil.
Kumbhar laments the deplorable condition of his area, where clean drinking water is scarce and waterborne diseases are becoming increasingly common.
Over 1.3 million people live in Thar's 2,500 villages. So far, only 400 RO plants have been installed and many of them do not function properly. The plants desalinate the otherwise blackish water, which villagers draw from deep wells.
The water is ridden with arsenic and fluoride, resulting in the spread of chronic diseases among residents. While children are the most susceptible to these diseases, malnourished women and elderly persons also get infected. Many end up losing their lives.
An outbreak of diseases
Dr Mohan Lal, a child specialist who works at Mithi Civil Hospital, expresses his concern at the link between water shortage and the death of children.
"Persistent drought has resulted in numerous waterborne diseases," he says. "And eventually leads to the death of infected children."
In regions where water is provided through RO plants, Lal says the incidence of diseases dysentery, typhoid, diarrhea and gastro has drastically reduced.
Pak Oasis has installed 400 reverse osmosis plants in the region's villages, including Asia's biggest plant which is installed in Mithi. The entire project cost Rs5.4 billion — an expense taken up by the Sindh government.
"More villages should be provided with water from such plants to avoid the outbreak of diseases," Lal recommends.
With government hospitals being allocated higher budgets, Lal feels that immediate focus should be placed on providing clean water to Thar's impoverished families and their animals, whose infected produce the families consume.
Nonfunctional plants
Others claim that while some plants have been installed but local officials are not maintaining their upkeep and looking after them properly.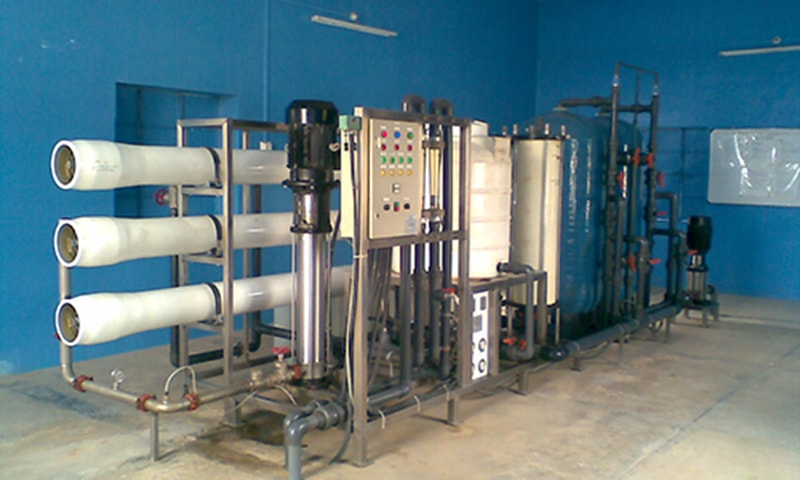 Pakistan People's Party lawmaker and the district president of PPP's Thar chapter, Dr Mehesh Malani, says he brought the matter up with Sindh chief minister during a meeting last week.
"More than a hundred plants out of the 400 installed are out of order," he says, blaming the negligence of concerned departments who do not look after the plants after installing them.
Muhammad Irshad, an official of Pak Oasis — which was tasked with the installation of the plants — refutes the villagers' and Malani's claims.
"Only a few plants are nonfunctional," he clarifies. While he admits that the lack of proper training to low grade staffers and villagers causes the plants to go out of order "from time to time", he feels that villagers themselves are also responsible.
"They tamper with sensitive instruments which ruins the RO plants," he adds. For the project, Pak Oasis hired 500 people including 27 engineers to look after the plants after they were installed, and to ensure they were functioning properly.
In addition, Irshad claims that 60 out of the 100 plants are non-functional because of litigation by the villagers in the courts due to various reasons.
Alternate solutions
Ever since the outbreak of waterborne diseases in Thar, more villagers have been approaching authorities to install more plants and to expand the project.
The residents of Malasiryo, Bhunar, Chammat and other villages in Nagarparkar and Chhachhro talukas are making similar demands. They are particularly urging the Sindh government to provide more plants without discriminating against their political affiliations.
An additional 300 plants are scheduled to be installed by June of this year. This will be Pak Osis's second phase of the project.
Meanwhile, Teerath Kumar, an activist living in Mithi, feels that just RO plants are not enough. "It is high-time the government provids alternate solutions to the people of Thar," Kumar says. Besides the RO plants, he feels the government should consider other options as well.
"The government should look into improving the canal system to provide water to Tharis," Kumar says.