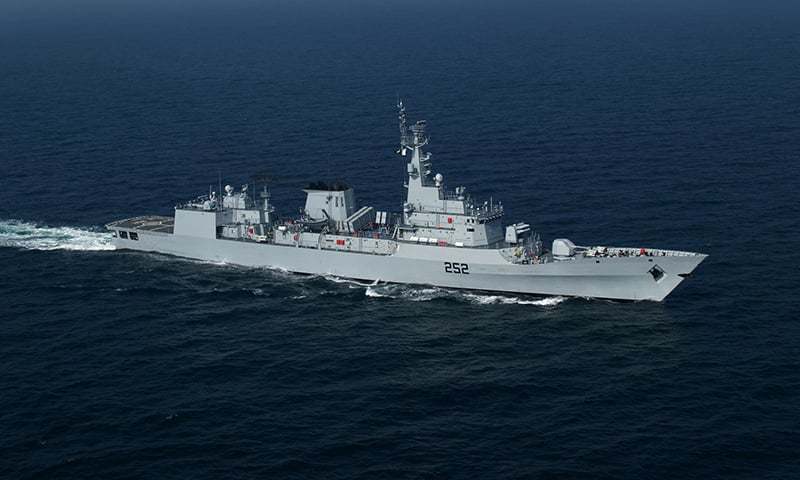 ISLAMABAD: In a display of strong political, diplomatic, economic, cultural and defence ties between Pakistan and Sri Lanka, Pakistan Naval ship PNS Shamsheer will arrive at the Colombo Port on Monday for a four-day goodwill visit.
PN ships pay port of call visits to Sri Lanka on a frequent basis, with the aim to strengthen the existing strong relation between the two friendly countries, according to a press release received here on Sunday.
The ship visiting Sri Lanka derives its name from the traditional word `Shamsheer' which means sword and is a special type of sabre with a 5-15 degree curve from top to tip.
Also read: Navy test fires anti-ship guided missiles with pinpoint accuracy
The first ship of the class inducted into the Pakistan Navy was HMPS SHAMSHEER (F-252) which was inherited at the time of independence. It served the PN fleet as an anti-submarine frigate as well as training ship for cadets and sailors till 1960.
The second ship was a Leander Class ASW Frigates (F-263) acquired from the Royal Navy in July 1988, and served the PN fleet till July, 2002.
The current PNS SHAMSHEER was launched on Oct 31, 2008, and was commissioned in Pakistan Navy on Dec 19, 2009. The ship sailed for her maiden passage for the homeland on Dec 25, 2009.
While berthed at Colombo Port, Mission Commander Commodore Bilal Abdul Nasir and Captain Syed Rizwan Khalid will pay courtesy calls on Commander of Navy, Director General Operations and Commander Western Naval Area.
During their stay in Colombo, the officers and men of the PNS Shamsheer will also take part in various professional activities with Sri Lankan Navy.
Pakistan and Sri Lanka have strong defence ties and both countries' navies engage in multifaceted cooperation. Pakistan Navy provides a number of conventional training courses to Sri Lankan Navy personnel, while Sri Lankan Navy shares its experience and expertise with regard to anti-terrorism operations at sea.
Published in Dawn, November 30th, 2015