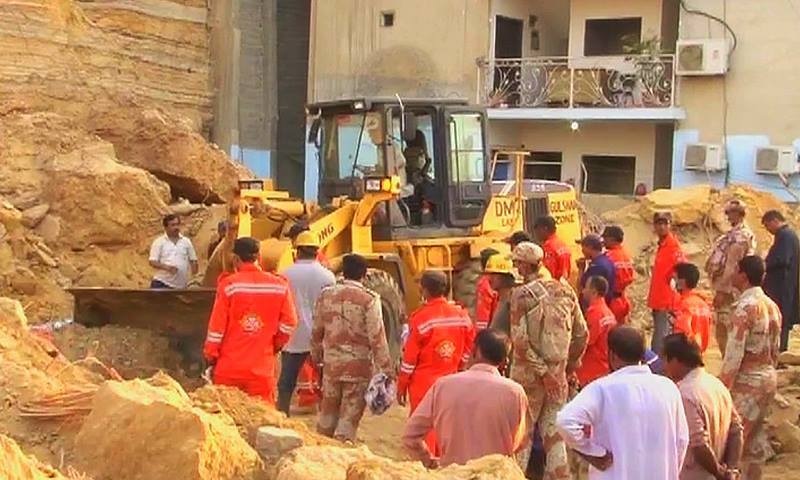 KARACHI: At least 13 people, including seven children died as a rockslide hit shanties erected in Karachi's Gulistan-i-Jauhar area early Tuesday, rescue sources said.
Rescue teams reached the site of the incident and recovered the bodies of three women, three men and seven children from beneath the rubble.
Rangers and police personnel also arrived at the scene and participated in the rescue operation.
Heavy machinery was called in to help clear the area as the rocks hit shacks built on a plot in Gulistan-i-Jauhar's Block 1 area.
Two families comprising 13 people were living in the shanties hit by the rockslide, area residents said.
The recovered bodies have been shifted to Jinnah Postgraduate Medical Centre (JPMC) for legal formalities.
Commissioner Karachi Shoaib Ahmed Siddiqui and Muttahida Qaumi Movement (MQM) leaders Faisal Sabzwari and Muhammad Hussain visited the site and inquired about the rescue operation.
Speaking to the press, Shoaib Siddiqui said that the administration was making efforts to rescue the survivors, if any.
He said heavy machinery had been engaged to clear the rubble, but that no time frame could be provided for completion of the rescue operation.
When asked about allegations of china-cutting of the land, Shoaib Siddiqui told DawnNews he had directed the Karachi Municipal Corporation land department to investigate the matter and submit a report immediately so that appropriate action could be taken.
He said the matter was not clear as yet, and he could only confirm once he received the record.
Prime Minister Nawaz Sharif has expressed grief over the incident and instructed authorities to aid the families of the victims, Pakistan Television reported.
Also read: Three labourers killed, three buried under debris on Margalla Hills