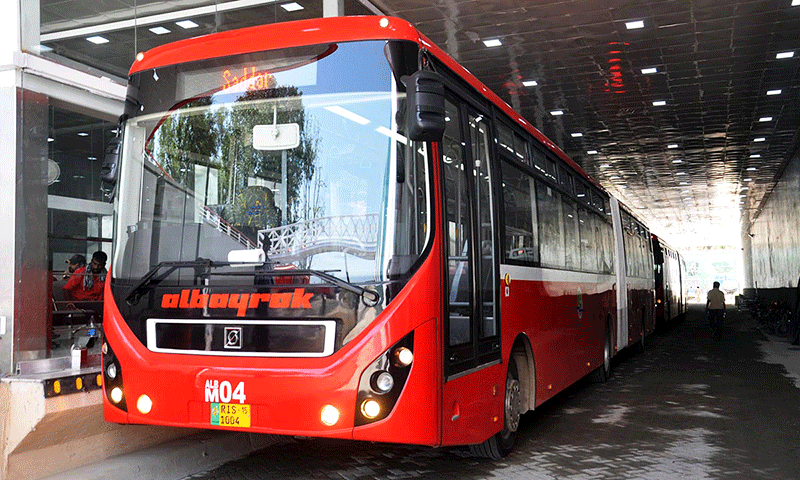 ISLAMABAD: Looks like the PML-N government will be winning quite a few hearts with the launch of its mega bus project as everyone from senior citizens to daily wage workers is eagerly anticipating its inauguration in the twin cities of Islamabad and Rawalpindi.
Prime Minister Nawaz Sharif will inaugurate the multi-billion rupee project on June 4 (tomorrow).
Speaking to APP on Wednesday, a senior citizen in Islamabad Haji Abdul Ghafoor said that the metro bus service is a wonderful project, enabling people of all age groups to arrive at their destination on a timely basis.
He lavished praise on the Pakistan Muslim League Nawaz (PML-N) government for fulfilling its promise, and completing the project in record time.
Ghafoor said this project would also help people across different parts of the country, who visited the federal capital for varying engagements — especially tourists.
A teacher at the National University of Modern Languages (NUML) Farhat Batool — who is a resident of Rawalpindi — said undoubtedly the metro bus project is for all segments of the society, but students of the twin cities, in particular, would benefit more as its route passed through many academic institutions.
Children enjoying the interior view of the bus as preparations for the inauguration of the Metro Bus Project, are underway in the twin cities. — Online
A resident of Rawalpindi — Muhammad Shabbir — stated that the metro bus project would enable employees of the government and private sectors to reach their offices in time, adding that it would also help to improve their performance.
He said that the business community would also be happy over this service, and added that the project would render positive results for the business community in general.
For labourer Muhammad Junaid, the metro bus project means travelling with family members at affordable prices, and for that he is eternally happy.
The track of the metro bus service will start from Flashman's Hotel Chowk on Murree road and end at Pak Secretariat, covering a total distance of about 23 kilometres.
Metro buses are seen running on the route as preparations are underway for the inauguration of the metro bus project in the twin cities. — Online
In order to ensure better accessibility for the residents of the twin cities, 24 metro bus stations have been constructed along the 23 kilometre route. Out of these, ten are on Rawalpindi's Murree road while the remaining 14 are in Islamabad. The bus fare for a 20-minute travel would be Rs20.
Some added incentives include a car parking and air conditioned sitting arrangements for passengers. The bus service would be monitored by a central control system.
Twitter, too, abuzz with Metro Bus excitement