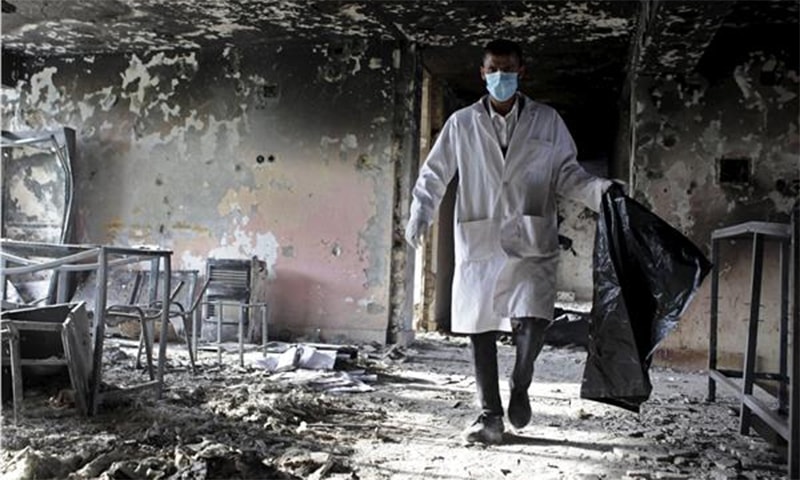 MAZAR-I-SHARIF: At least 10 people died on Thursday when Taliban militants wearing military uniforms mounted a six-hour gun and grenade siege on a court complex in northern Afghanistan, in an assault highlighting the country's fragile security situation.
The attack in the usually tranquil city of Mazar-i-Sharif occurred just before the start of the Taliban's traditional spring offensive, set to be the first fighting season when Afghan security forces battle militants without full Nato support.
Explosions rang out as the assailants lobbed grenades and exchanged gunfire with Afghan security forces, setting ablaze one of the buildings in the compound, according to officials and a reporter at the scene.
Dozens of people were left wounded, with reports emerging of blood shortages in hospitals and urgent appeals for donors circulating on social media.
"Around noon four assailants dressed in military uniforms breached the main gate of the Appeals Court in Mazar-i-Sharif and started firing gunshots and throwing hand grenades inside the complex," said Abdul Raziq Qaderi, the acting police chief of Balkh province.
"Five security personnel and five civilians were killed and 66 others were wounded," he added.
Noor Mohammad Faiz, a senior doctor at the local public hospital, confirmed the toll, adding that some of the wounded were in critical condition. "Police, prosecutors, court staff, women and children are among those wounded," Faiz said.
The insurgents were holed up inside the complex for six hours, surrounded by a large number of Afghan security forces before they were taken down.
The Taliban claimed responsibility for the attack, which underscores Afghanistan's precarious security situation as US-led foreign troops pull back from the frontlines after a 13-year war against the Taliban.
"Our mujahideen have carried out a martyrdom attack... in Mazar-i-Sharif city," Taliban spokesman Zabihullah Mujahid said by telephone.
Published in Dawn, April 10th, 2015
On a mobile phone? Get the Dawn Mobile App: Apple Store | Google Play