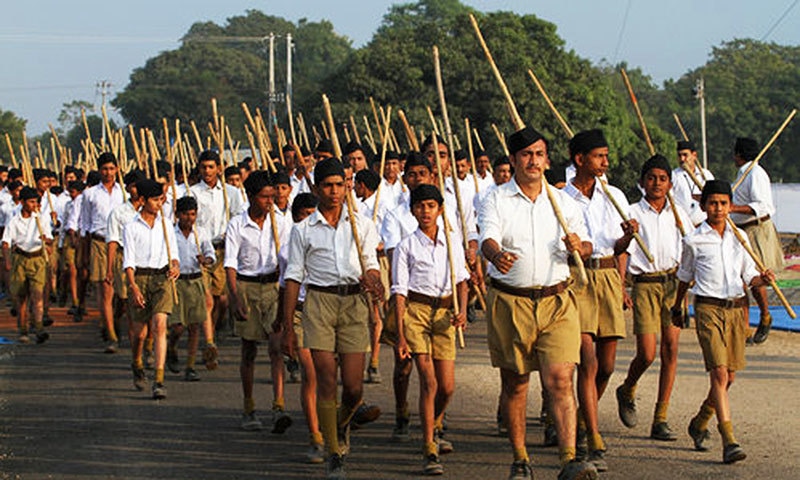 Times in India are a changing, and changing fast.
The coming to power of the Modi-BJP government in May 2014 has emboldened the associates of BJP, which are a part of the RSS progeny.
The RSS is working for the agenda of Hindu nationalism and has created many children organisations like Vishwa Hindu Parishad, Bajrang dal and Vanvasi Kalyan Ashram to name a few.
Collectively, these group are organisations originating from the RSS school of politics, which are called Sangh Parivar or also the RSS Combine.
These organisations have been working in different areas of society-nation for the agenda of the Hindu rashtra (Nation), contrary to the values of Indian nationalism.
Also read: RSS converts 350 Muslims to Hinduism, say papers
One of their works is in the Adivasi (tribal) areas. This work pertains to subjugating Adivasis to adopt the Hindu identity and also to communalise them. Their organisation, Vanavasi Kalyan Ashram in particular, in association with other organisations has been very active in the Adivasi areas for the last few decades.
In these areas, they have pursued the reconversion, 'Ghar Wapasi', very aggressively.
Their argument is that those who converted to Islam or Christianity have done so under force or allurement, and so, to bring them back to the Hindu fold is not conversion but merely their returning home.
This has been the major plank of their work in many Adivasi areas in Gujarat, Madhya Pradesh, Chhattisgarh and Orissa in particular.
They have devised new rituals, like making Adivasis take baths in hot springs, participate in havans, and yagnas (Hindu rituals around fire) and then, declare that they have become Hindus.
In their scheme of things, all those living in India are Hindus. The category of Adivasis is not recognised, and instead the word used is Vanvasi (forest dwellers). The core of the tribals, having their unique culture and norms, is undermined and rejected.
Also read: Religious agenda keeps powder dry in India
Earlier such efforts were pushing through at medium pace, but with the Modi Government in power, it has clearly been stepped up.
Through Ghar Wapasi they are not only communalising the society but also creating insecurity among the minorities.
The RSS combine does not believe in diversity; they assert that India belongs to the Hindus alone and so they dub Christianity and Islam as 'foreign' religions.
The attempts to intimidate Christian missionaries have been ongoing since the last four decades and it has considerably been stepped up in the last few months; the propaganda against Christian missionaries is that they are converting people away from Hinduism. While people throng to get their children in missionary run schools-colleges, at the same time, this hate-spewing propaganda of conversion by the Christian missionaries has become a part of 'social common sense'.
I recall that as I was returning from Kandhamal, (August 2008) seeing the massive violence against the Christians, the damage to churches and the displacement of Christians en masse from their homes, the streets of Bhubaneswar were abuzz with the idea that 'Christian missionaries are a threat to Hinduism as they are converting'.
Interestingly, as per the national population census the percentage of Christians showed a slight decline from 2.60 per cent in 1971 to 2.30 per cent in 2001.
This propaganda has relentlessly fueled violence, from the brutal burning of Pastor Graham Stewart Stains on January 23, 1999 in Manoharapur, Orissa, the honorific Kandhmal violence in Orissa 2008 to the introduction of the 'Freedom of Religion' Acts in states like Madhya Pradesh, Orissa, Rajasthan and Himachal Pradesh. These 'Freedom of religion bills'; contrary to their names; put strong impediments for whosoever wants to convert.
These laws make it mandatory that if one wants to convert one has to inform the District Collector beforehand. These laws as such are against the provisions of the letter and spirit of our Constitution.
Factually speaking, there has hardly been any case where force or allurement has been reported.
Also read: Indian parliament in chaos over forced conversion protests
It wouldn't be wrong to state that it has only been the intimidating assertions of the RSS combine which have led to violence against Christian minorities in India.
The Ghar Wapasi, as in the case of Agra (December 2014) was conducted around the assertion that those participating in yagna would be given BPL (Below Poverty Line) cards and ration cards.
These cards help the poor in getting their rations and other small facilities. In areas like Dangs in Gujarat; an intimidating atmosphere was created through organising Kumbh Melas (mass religious congregations).
Now, Dharam Jagran Samiti, part of the RSS combine, has announced that they intend convert 100,000 Christians and Muslims every year.
In a drive seeking donations from patrons, this organisation has appealed that they have to incur large expenditures for the conversions. For Christians' to Hinduism it was INR 100,000 and for Muslims to Hindus it was INR 500,000.
To cap it all in the run-up to the 50th anniversary of VHP, due next February, it has planned to carry out the Ghar Wapasi program on a much larger scale.
As such, caste has a quite a central place in India in the phenomenon of conversion.
There are some Christian sects, which do pronounce that they do conversions, but these are a small segment. The major Christian denominations point out that they do conversions only if asked, which is what our Constitution also provides for.
Also read: Dangerous life & times of India
In my own interaction with many Christians in cities and Adivasi areas, I realised that most of those who converted to Christianity did so due to interaction with missionaries over several decades.
It was the help they received in health or education sectors, which prompted them to convert.
We need to uphold freedom of religion on the one hand and oppose any conversion resorting to coercion or inducement on the other.
In short: the communal agenda of the RSS combine needs total opposition.
Related: