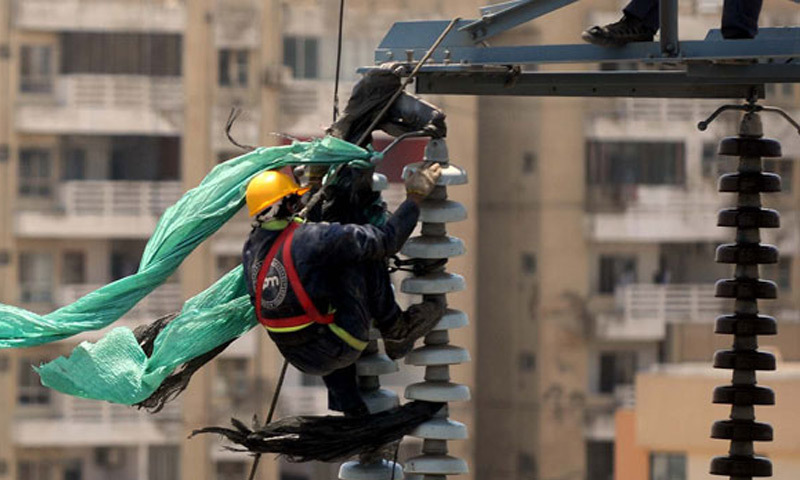 Four stories from across Pakistan that illustrate the problems faced by the working class.
---
On Paper, in limbo
Feuding unions, political wrangling and vested interests conspire to keep contractual employees off the books
By Ahmed Yusuf
The lives of Ali Soomro* and Rasheed Raza* could not have been more different but their fears are remarkably similar: both fear dying in an instant while working on their job.
Soomro is a technician at the Sui Southern Gas Company (SSGC) while Raza is a recent inductee into the Karachi Electric (KE) line repairs force.
"There are specific guidelines for us about safety. But to implement these in letter, the management would have to provide us with the appropriate gear. They haven't, and I fear getting blown up on the field," says Soomro.
Raza joined KE a couple of months ago, after completing his Intermediate. "They needed men for their line repairs squad, and I needed a job. Obviously I have little training of doing this, so my superiors train me on site."
The line being fixed by Raza's team is in Karachi's District East. It was shut off by KE teams due to maintenance, but when it was reconnected, many smaller faults emerged in the affected area. Raza's team, led by Rana Mushtaq*, has been deputed to check and fix faults, neighbourhood by neighbourhood.
"Torch maroon beta (Should I point the torch at you, son?)," exclaims Mushtaq from the trunk of the repairs truck.
"Ji, thora upar (Yes, point it upwards)," replies Raza.
"Dekh kay kareeyo, haath bacha kay (Watch yourself, protect your hand)," shouts Mushtaq.
It takes Raza about 20 minutes to fix the issue, with Mushtaq barking instructions at him from the truck.
"I wasn't trained on a live line; I joined the organisation in 1986 and it was different back then. All basic training was conducted in-house, before they let us go out into the field. These kids are unlucky to have been born in this time," says Mushtaq.
Both Soomro and Raza are contractual employees; neither of them has life insurance or health insurance. In case Soomro or Raza are hurt on the job they say neither the SSGC nor the KE will bear any responsibility. Medical help will arrive either through a benevolent superior or through colleagues collecting money amongst themselves to help out. Neither Soomro nor Raza find themselves in a position to complain; after all, they still have a job.
Whose theka is it?
The trend of hiring contractual labour became popular in the early 1990s, and it has only accelerated ever since. Both the SSGC and KE mirror industrial practices of not hiring permanent labour and not taking greater liability for human resource. But there is another catch.
"Some time ago, the SSGC began bringing in private contractors, or thekedars, for hiring purposes," explains Adil Hussain, general secretary of the SSGC Jafakash Union. "What began happening was that contracts were given to selected non-technical people, who in turn, would make a huge profit out of hiring and firing labour. By bringing in temporary employees, the management began popularising the argument that permanent labour was not needed."
This strategy is, literally, lethal.
"When we go out and fix gas leak complaints, for example, we take with us all appropriate gauges and material to repair the damage. Proper repair is time-consuming, because you dismantle a pipe and check for any and all leaks. But the contractors don't do that; their remit is to fix as many complaints as possible in the shortest span of time. What they carry is basically a PVC tape, which they wrap around any leak that they find. Imagine how dangerous our homes are."
Organisationally, the argument for who is redundant and who isn't seems to be made in terms of cost incurred as well as internal power dynamics. "With permanent labour, there is a procedure and some paperwork to fill out too," explains Hussain. So, if you were to head to a gas field, say near Nooriabad (some 80 kilometres away from Karachi), you'd have to contact the transport department to make the necessary arrangements, including fuel. This procedure doesn't exist when it comes to contractual labour.
Since most departments have now their own vans and their chauffeurs, they simply bypass the transport department altogether."
This ad-hocism has real consequences. "The air-conditioned 4x4s, which were procured to go into areas where no roads exist, have largely been commissioned by the officer cadre. Once, with no 4x4 available, a field team needed to be sent out of Karachi to rectify a fault in the gas fields. They took a van; heavens know how the team managed that night in the desert. When they returned, the argument made by the management was that since this van had successfully completed its trip, it was now okay to send teams out in that van and not a 4x4 truck. That was that."
Weapons of the weak
The SSGC is among the few remaining government-run organisations that still hire on 'son-quota' basis: if your father was an employee of the SSGC, you had a permanent job waiting for you once your father retired or passed away. "It isn't necessary for a technician's son to also become a technician; but that is what the SSGC has done. There is, for all practical purposes, a bar on changing classifications when hiring," claims Hussain. "These dynamics change if the hiring is carried out through a thekedar; no rules or criteria apply, it is all based on an officer's whim."
In other words, a peon's son may be a qualified electrical engineer, but he can only get a peon's job — and that too, if the management allows the hiring to be made.
In the absence of any relief provided by the management, workers in both utilities turn to little acts of resistance, which they hope can be useful in one way or another.
"One of our leaders is employed as a company chauffeur. He is not an educated man, but he is very sharp. Because he was assigned to higher management, he was often tasked with getting photocopies made of all kinds of documents," narrates Hussain.
"What he used to do, as a general practice, was to make two photocopies of whatever it is that he had to get done. Today, he has a bunch of papers, proof actually, that the organisation spent more on unnecessary expenses and not on staff needs. Maybe someday, those papers will be of use."
Then there was another chauffeur, also hired on contractual basis, who was deputed to another senior officer. "Instead of working at the office, the senior officer would use him for household chores — household errands, picking up kids from school, driving them to tuition, and after, to take the kids to a sheesha bar. One day, this chauffeur recorded this misuse of company assets on his cell phone; we all saw the sheesha bar and the child, not even 18 years old, smoke," narrates Hussain.
"You know how complaints resolution is delayed often?" asks Mushtaq. "That is our way of getting payback from the company. Say, if a complaint is received at 6pm, many won't go to fix it there and then. They'll wait for the next shift to take over, at 7pm, and hand outstanding complaints over to them. The new team too will take its time on resolution. What else can we do?"
State of the union
Back in March 2012, the kachay (contractual labour) had begun a series of protests and sit-ins to have more than 3,000 contractual workers be regularised on merit basis. Faisal Raza Abidi, then in the ruling Pakistan People's Party (PPP), had announced on stage that their demands had been met. The workers went home content.
More than two years later, contractual labour in the SSGC remains unregularised.
"When we set up our union, the Jafakash union, we were approached by many different parties and groups to join them. But since we were representing contractual labour, we declined. We thought taking our matter to court was more important; we collected money from some 6,000 workers to move the courts," narrates Hussain.
The primary issue of the Jafakash union is to show, on paper and sometimes in the flesh, that those 6,000 workers actually exist. "Getting their existence recognised is crucial, because it is only then that they can vote in union elections. When the last elections were taking place, our case was still pending in the National Industrial Relations Commissions (NIRC). They gave us clearance one day after polling concluded and the results were announced," narrates Hussain.
Some of these machinations, the union leader claims, are the work of inter-union competition — those who wish to become the collective bargaining agent tend to side with the management at important times. "Every political party wants a union, without really having to work to build a union. It is almost as if every party wants to set up shop on the basis of promises that are never fulfilled," argues Hussain.
"The greatest dichotomy is that during democratic periods, such machinations reach dangerous proportions too, including violence and intimidation. In times of dictatorships, for example during the General Pervez Musharraf era, the number of patrons had reduced and spending was more rationalised. Ever since the democrats have returned, the nepotism has taken on a life of its own."
The writer tweets @ASYusuf
---
Few choices
Spurred by poverty and enabled by legal lacunae, there seems no end in sight to child labour
---
As 12-year-old Aemal Khan scurries to a table occupied by three bulky men, one of them pulls him closer to whisper something into his ear. Aemal hurriedly extricates himself from the situation and rushes to another table. He doesn't reveal what it was that the man said, but the anger in his eyes speaks volumes.
Aemal is an orphan who hails from Pishin district in Balochistan. He arrived in Karachi after his father's demise, to work at a tea shack owned by a family acquaintance named Syed Mumtaz. School was simply never an option for Aemal. "How can a child who has lost his father and whose mother has no source of income be educated?" Mumtaz asks matter-of-factly.
With Aemal now contributing money to the household income, his mother recently sent her younger son to work at the same tea shack. These brothers now work the entire day, so that Mumtaz sends around Rs8,000 a month to their family.
At a different tea shack in another part of town, an exhausted 12-year-old Safdar argues with another worker over some chores he does not want to do. Safdar hails from Rahim Yar Khan, and is one of the many children brought to work at the tea shack with the consent of their families.
Safdar's daily routine is more demanding than that of many adults working in the city. He wakes up at five in the morning and works till 3pm to serve the customers coming in for the breakfast. He has been assigned the job of sweeping the floors and wiping the shack's tables. He sleeps at 3pm and wakes up at midnight to help others shut shop for the night, clean the place for the next day, and wash utensils. He usually takes a nap at 3.30am, only to wake up again at 5am to start his day.
Working at the same shack is 16-year-old Ali, who hails from Badin and was referred to the shack owner by a friend. The tasks he is given are similar to Safdar's, but Ali wanted more from life than a janitorial job. "I used to play a lot in Badin. It was after my Matriculation that I had to come to Karachi. I lost my father two years ago and my family needed the money," he says.
Ali is a bit afraid of the city's violence. Just a month ago, a shop worker, aged 24, was shot dead. The deceased had no apparent affiliation with any religious group or political party. The shack where he works was also damaged a year ago, when it became collateral damage to twin blasts. Keeping this mind, the owner does not allow his workers to leave the shack premises, which frustrates the young men.
Many children like Aemal, Safdar and Ali have to go through the absurdities of their lives daily — bonded to child labour by their families, these young boys are vulnerable to violence, exploitation and sexual abuse.
Zahid Thebo, the provincial manager at the Society for the Protection of the Rights of Child (SPARC), argues that although child labour is prohibited in Pakistan's law, there are certain lacunas which hamper the complete eradication of child labour. "According to the law, a child becomes an adult when he reaches 14 years of age; whereas Article 25-A clearly states that a person under 16 years of age cannot work and should get primary education. There are two contradictory laws, which don't conclude whether a child should work or get an education instead."
Thebo mentions that in the year 2000, Pakistan committed to a millennium development goal of completely eradicating male child labour by 2013, and for all children to be enrolled in schools by 2015.
"It is the end of 2014 already and we are not even half way through. This leaves a question mark on the state's competence to work against the menace of child labour."
Child labour, it is believed, cannot end without the help of police. But police see the matter differently.
"If we crack down on the places like tea stalls where child labour is prevalent, the childrens' parents come and implore the police to let the matter go as they are faced with extreme poverty," explains Karachi Police SP Syed Salman Hussain.
"The families leave their children to such kinds of places so that they can learn how to work and earn a living. Besides, the children who are out are also given free meals, which lessens the burden on their parents," the SP says. "There is no check or monitoring system regarding child labour, and therefore, there is hardly any stringent action taken against it."
But for these families barely surviving below the poverty line, there is no assurance of a stable income either. "It is not necessary for me to send the kids' salaries every month; this is business and it has its ups and downs," argues Rahmat Ali, owner of the shack where Safdar and Ali work. "Their families have only asked me to keep their sons and pay them whenever it is possible."
Rahmat admits to paying a one-time amount to the underage workers, and making them work for a longer period of time (two years, in Safdar's case). Once their family has accepted the money, the workers, usually in their teens, cannot go home. Rahmat Ali, to make matters worse, is a relative of Safdar's.
Owners of the tea shack pay lip service to protecting them, but in truth, these children are merely cheap labour to maximise profits. "A few men do abuse Aemal verbally and sometimes physically. I try to keep an eye on such people," says Mumtaz. "I keep them as my own children but cannot fight my customers if they misbehave, you see, all five fingers are not same."
In the afternoons, when there is not much work at the tea shack, Safdar is often seen playing with his plastic ball; the only recreational activity he has. Safdar was never admitted to any school when he was in his hometown. "I do not like studying," he says frankly.
When Ali was asked if he wants to study further, he was more enthusiastic about the idea. "Who would not study if given a chance? I want to live with my family in Badin but circumstances require me to stay here and work." But can he not read and study here in his free time? "No, I can't study here."
Forced by circumstances, these boys have been burdened by misery at a time when they should be exploring life. In Rahmat Ali's words this is because, "one has to live his life on his own, no messiah will come to save these children and provide them with security. This is the reality of life in this country."
---
Footnotes
The town of Batapur is not the only example of how outsourcing and cost-cutting often takes place at the expense of the worker
---
Photo by author
It seems like any suburban town of Lahore: paved wide roads, small property dealers, grocery stores, bicycle shops, mechanics, barbers and a lot of mosques. But squeezed inside its narrow lanes are quarters that house cobblers of all sizes, ages and gender. This is Batapur.
Established in the early 1940s, Batapur is a town of approximately 20,000 to 25,000 that was constructed to settle thousands of workers of the renowned Bata shoe factory. But as the town grew, its dynamics have changed too: the craft of shoemaking left the confines of one large factory and delegated to smaller units, who began manufacturing pieces that go into the assembly of shoes.
One such manufacturing unit is owned by Mohammad Kaleem* and his two brothers. From the outside, the quarter could easily be missed — its narrow entrance is merely guarded by a metal sheet. This particular unit prepares the upper part of a shoe and sends it to the Bata factory that fixes a sole to it to complete a product.
Inside the unit — set up in 1982 by a Bata employee — are around 35 workers, including women and children. From cutting to printing of design to stitching together different parts to packing and being sent off to the factory, there are six to seven people working at each stage. Bata has also assigned one of their workers at this cottage to check the quality of the product before it is packed and sent to the factory.
There is a separate section at the cottage where women work. They usually bring their children along to work — albeit not simply to keep an eye on them. The few children working at this unit are assigned simple tasks, such as cutting threads off after stitching. Women and men are both given the same kind of work. They work an 8am to 5pm shift, with an hour-long break.
The current owners, the three brothers whose father had started this business, say workers are paid either a fixed monthly salary or piece-rate, which the unit determines after getting a piece-rate from Bata and deducting their commission. Women usually work on a fixed salary, but they can choose to be paid per pair: the more pairs they make, they more money they get, sometimes higher than a fixed salary. Piece-rate for this job varies from 75p to Re1, and one of the owners says a worker on an average makes 600 pairs daily.
Over time, what suited the largest shoe factory of the town was to outsource labour to contractors who are hired to complete a certain portion of manufacturing. There are no unions involved. The factory gives a per pair rate to small cottage units and asks them to prepare shoes based on that. The cottages keep their own margin on this rate and pay their workers accordingly. This rate increases each year with the cost of the final product.
A retired Bata employee, Naseer, who now runs a real estate business, attributes such decentralisation to Prime Minister Nawaz Sharif's first tenure in office in the early 90s. "Nawaz Sharif introduced an unfavourable policy, wherein a labourer was hired on contract and then made permanent after a three-month probationary period," explains Naseer.
"A company is supposed to make a contractual worker permanent after three months. But what we have witnessed in Lahore is that factory managements use various tactics to prevent a worker from completing their probationary period," he alleges.
"They send a worker on a leave for a week or two after two months, and when he returns and is nearing completion of the probationary period, he is expelled. This way no worker ends up completing three months and saves the factory from spending huge amounts on a worker after making him permanent. The only permanent workers left in a factory are those who have been working since before the law was introduced."
This is a phenomenon that can be seen across the board in Lahore and far beyond; the trend is to minimise manufacturing costs by depriving labour of its fair share of rights.
The difference between being a contractual employee and a permanent one is stark: a contractual worker only gets a daily wage, while a permanent worker gets salary as per the piece-rate as well as perks and benefits. These days, the daily wage is roughly around Rs360. Piece-rates differ; depending on the design of the shoe and the work carried out, the piece-rate can be Rs10, Rs20 or Rs30.
"Contractual labour is supposed to be paid weekly but currently they don't get their salary until two weeks. But every fortnight, the contractor who brought the labourer in retains half their salary and only releases the other half. The contractor holds the remaining and gives it to a worker when he quits, after deducting his commission," explains Naseer.
"This is totally anti-worker; the worker loses out on all benefits. The whole system has collapsed because of Nawaz Sharif's policy. When a contractual worker retires, he has nothing in hand, while when a permanent labourer retires he has a good amount to rely on," he argues.
Most workers employed at Kaleem's cottage unit have little knowledge about the facilities they are entitled to. In case of an accident, for example, the owners do transport a worker to a hospital, but not pay the expenses. The workers seem oblivious to the strong stench of paint, glue and chemicals around. It's as if they've got used to it. After retirement, the owners claim they can't pay a worker a pension as they don't have enough resources.
It is not as if workers are entitled to these benefits if they are employed at large factories; per law, even those working in cottage or smaller units are entitled to health facilities and protective wear as a bare minimum. Over in the industrial areas of Kot Lakhpat or Multan Road, the violations of the law are also similar as in Batapur.
"Such costs are considered an unnecessary expense by the management," claims Mohammad Rizwan*, a labourer currently employed on a contractual basis. "A permanent worker gets certain perks and benefits: group insurance, a month's salary as bonus, a quarterly bonus, profit – Zulfikar Ali Bhutto had announced five per cent in his era, leave encashment, overtime, pension and provident fund after retirement and medical facilities for his family. The profit share equals Rs30,000 to Rs40,000 a year depending on what category he belongs to: A, B or C."
Naseer says factory owners in general are averse to labour unions, who threaten strikes over every minor issue creating problems in completing orders. For example, once the union in Bata went on strike over a portrait of Quaid-i-Azam lying on the floor. They just need an excuse, he adds.
Unions are helpful for permanent workers in determining the increase in piece-rate and percentage of the bonus every year under an agreement. Each permanent worker also gets a card on Eid through which he/she can purchase a pair of shoes worth Rs500 to Rs600. So, all these expenses combined cost a factory massively per labourer.
"Factory managements dare not say a word to us. We are paid a daily wage and if we leave, we do not have anything to lose and will get work at another factory. But the company will have to get someone else, which takes time and affects production. So, factories let a contractual worker work the way he wants," says Rizwan.
But labour unions have been silent on this contractual policy. According to Naseer, a union leader strikes a deal with the factory management, becomes a contractor and gets workers for the company.
"This government is anti-labour. When the pension rate increased in the previous PPP government, we all got it. This year it increased again but no one received it. Ishaq Dar signed the notification but held the pensions," says Naseer.
"Labour unions are almost non-existent because of lack of permanent workers. A contractual worker is not registered; hence contractual labourers can't form a union. This way their issues are killed," Advocate Majeed adds.
Advocate Majeed says even if you are a contractual labourer, you are entitled to monetary worker compensation under the Worker Compensation Act. "But, sadly poor labourers are unaware of this, thus they don't avail it. Under this act, a labourer can claim compensation in case of an accident during work. The claims are made with a worker compensation commissioner assigned by the labour department sitting in a factory or the department itself," he adds.
Advocate Majeed explains the Industrial and Commercial Employment (Standing Orders) Ordinance 1968 provides for hiring a worker on contract for a three-month probationary period and then made permanent. However, an industry reserves the right to lay off a contractual worker before expiry of his probationary three months.
About a shoe factory making sure a contractual labourer does not complete his three months of probation and relieve him of his duties before that, the lawyer argues: "Unfortunately, that's legal. But you cannot terminate a contractual employee without a written order and a month's salary. You have to provide a legal justification and reasons for laying a worker off." If a worker is laid off on the basis of misconduct then it has to follow an inquiry. No worker can be fired on the basis of mere allegations, he adds.
The government-announced minimum wage for an unskilled labourer is Rs12,000. A government notification details the wage as well as piece-rate for every category of worker in every industry. And this applies to every industry with more than 10 workers. Unfortunately, this regulation too is not applicable in the home of Pakistan's shoemaking industry.
---
The sleepers' skin
Railway workers remain unregularised, and thus fall prey to exploitation and disease
---
The stench of oil and acid inside Sukkur's Pakistan Railways sleeper factory can be smelt from miles away. But train technician Mohammad Ayub* doesn't care much for the foul odour; it is his hands that he is most worried about.
"Look at the blisters," says Ayub, emerging from the work area in the workshop. "These aren't just ordinary blisters; it is a disease with a complicated name that even I don't know about."
Ayub and the few around him all put out their hands and palms for me to see and bear witness to their symptoms; each one of them has one or the other skin disease, contracted because they have no protective wear despite having to work with acid.
"Due to the non-provision of nose masks, towels, anti-allergy soaps, or even anti-allergy medicines, different diseases have proliferated among workers of the carriage factory. According to the rules, these are to be provided to workers, but in practice, they are not," says Ayaz.
The workers explain that a railways hospital existed near the Sukkur railway station for indoor and outdoor medical treatment of railway employees, but no anti-allergy specialist was available at the hospital and nor were any special medicines being provided from there. Then there are physical injuries sustained during loading and unloading of material; these too go untreated.
"According to the rules, a full-fledged hospice has to be constructed inside the Sukkur sleeper factory, where chest specialists, anti-allergy specialists, skin specialists and general practitioners would be present," says Ayaz. "Because health facilities are not available, most railway workers don't get treated. They cannot afford treatment and medication from private doctors. Many transfer whatever disease they have contracted to their family members."
After the birth of Pakistan, five railway sleeper factories were established in the new country — in Kotri, Kohat, Khanewal, Shaheenabad and Faisalabad. In 1960, the Railway Concrete Sleeper Factory was established in Sukkur to meet the demand of sleepers for railway tracks in upper Sindh. Spread over 54 acres of land, this factory was more modern as compared to its counterparts and its manufacturing too was deemed to be of a higher standard.
As many as 400 sleepers were manufactured in one shift in the Sukkur factory. Today, at least 250 employees work in two shifts at the Sukkur Concrete Sleeper Factory; the morning shift employs 150 workers while there are 100 employees in the night shift.
"The worst off are those labourers who crush stone into concrete, and mix hill sand with ash. These people mostly contract different type of allergies due to flying dust, including chest infections, asthma, skin diseases, throat and nose problems, and other respiratory diseases. Only a basic dispensary has been provided to them for first aid or mild fever," explains another worker, Barkat Shah.
As with other sectors, union leaders of these labourers believe that the treatment meted out to railway workers is also a product of these workers not being regularised.
"For regularisation of their services, the union moved the Supreme Court in November 2011," explains Shahid Hussain Baloch of the Railway Concrete Sleeper Factory union. "As per the orders of the court, 73 employees were brought into regular cadre in 2013 during the Pakistan People's Party (PPP) government.
Baloch narrated that former Railway Minister, Shaikh Rasheed Ahmad, had downsized the factory during his tenure. Only 195 posts were retained out of 309, while the remaining were abolished altogether. Before the SC orders, no employee was given regular status since 1980. In 1998, contractual employees were recruited, who now ensure that the factory's activities continue unabated. Today, as per the union, there is an essential need of two dozen technical and non-technical staff.
"Because nobody is regularised, we cannot even ask of the fate of railway's residential quarters. Most of these quarters are occupied by political influentials and policemen," claims Baloch. "It is very difficult for employees to manage their households in a meagre salary between Rs9,000 and Rs12,000. Widows of deceased employees face even greater problems to retrieve any benevolent fund they are entitled to."
But it is the non-existent hospital within factory premises that most workers are concerned with. "We can struggle all our lives to earn whatever little that we do," says Barkat Shah. "But at least, give us a hospital so that we can survive. You have 54 acres to do that."
*Names changed to protect privacy
Published in Dawn, Sunday Magazine, January 4th, 2015