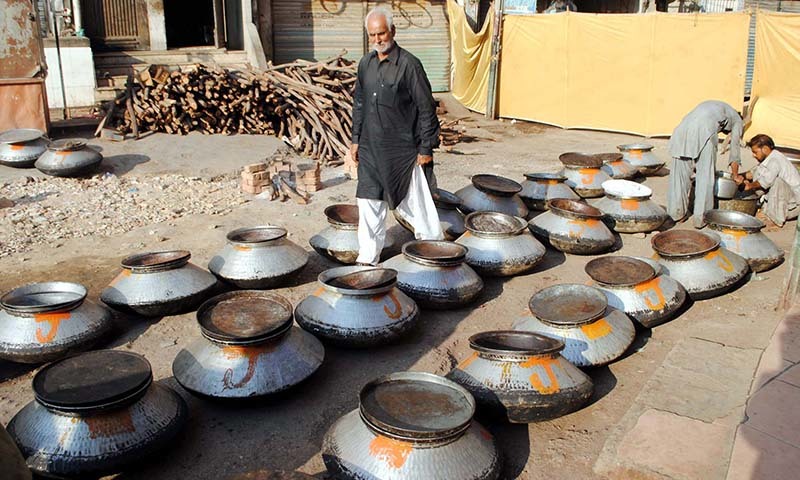 KARACHI: Mass preparation of haleem and other items during Muharram has pushed up sales of lentils, spices and other items.
Wholesalers and retailers told Dawn that sales of such items has gone up by 10 per cent as compared to last year. The sale of such items 10 years back was much higher than the last two to three years.
The trend of preparation of haleem, especially in residential areas has been contained during the last few years due to deteriorating law and order situation. People, however, do make haleem at their homes or from caterers.
The trend of buying at super stores has, however, picked up over the last few years as compared to wholesale markets.
Karachi Wholesalers Grocers Association Chairman Anis Majeed said that sale of wheat, pulses, sugar, chana, spices etc has risen by at least 10pc over last year. The same trend is being witnessed in other popular markets of the city.
He said that wholesale price of sugar had fallen to Rs52 per kg which was Rs56-58 per kg. As a result, the price of sugar dropped to Rs56-58 per kg in retail markets from Rs60 per kg last month. The rate of imported and local wheat also remained static at Rs32.50 to Rs34.50 per kg. The wholesale price of gram pulse also remained unchanged at Rs60-65 per kg.
The poultry sector, anticipating huge demand, pushed up the rate by at least Rs40-50 per kg. There was no uniformity in the rate as some retailers were charging Rs240-250 per kg from consumers while others were demanding Rs260-270 per kg.
Abdul Maroof Siddiqui of Pakistan Poultry Association (PPA) said white meat price increased by only Rs16 per kg in the last three days as buyers increasingly shifted towards chicken after consuming frozen meat of Eidul Azha. The poultry industry decreased the prices when consumers had enough red meat stocks few days back.
In Muharram, since people slow down outside dining, he said, over 600,000 birds were being slaughtered daily which was almost same of last year.
Karachi Retail Grocers Group General Secretary Farid Qureishi looked depressed, saying that 25-30pc sales had been taken over by super stores from market retailers. As a result, "our sales are depressed as compared to booming sales of super stores," he added.
Meat merchants also brought more beef meat than normal days.
A merchant said he sold out at least six to eight cows in the last two days as compared to normal four to five animals in normal days.
The rate of veil meat (with and without bones) was Rs360-380 and Rs440-480 per kg, respectively.
The makers of nan, sheermal, kulcha and taftaan also do a roaring business as these become the most sought-after items for nazar and niaz.
A flour miller did not agree that the sale of flour gets a big boost during Muharram. He said a person takes only one item at a majlis which he does not consume at home which means that consumption of flour remains the same.
Published in Dawn, November 4th, 2014