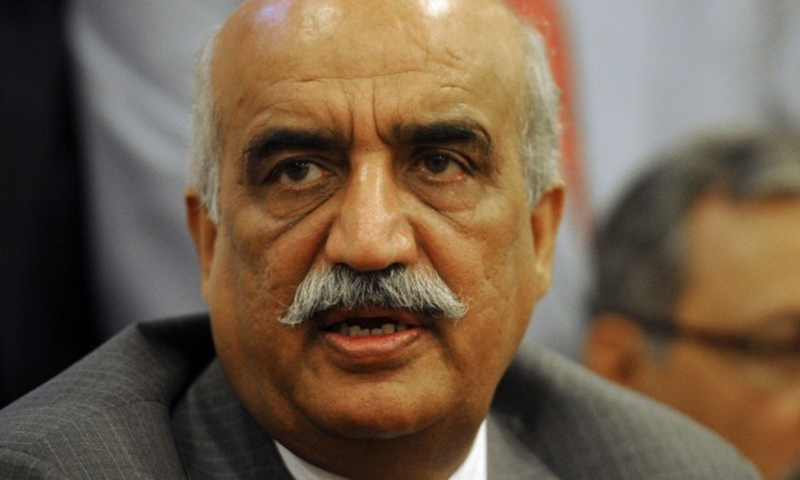 ISLAMABAD: A day ahead of the expiry of a deadline set by the Supreme Court for appointment of a permanent chief election commissioner (CEC), Leader of Opposition in the National Assembly Khursheed Ahm­ed Shah filed in the court on Monday an application seeking another three months for completing the process.
On Oct 14, a Supreme Court bench headed by Chief Justice Nasir-ul-Mulk had warned the government of withdrawing its judge officiating as the interim CEC if the post was not filled by Tuesday.
Know more: Govt, opposition to seek time for CEC's appointment
Soon after the apex court's directive, Mr Shah had said in a statement that the appointment process should be withheld till the parliamentary committee on electoral reforms finalised its recommendations. He said he would inform the court about the reasons for delay in the CEC appointment.
Article 213(2A) of the Constitution requires the prime minister to forward three names after consultations with the opposition leader and the parliamentary committee has to choose one of them as CEC.
In his two-page application filed through his counsel Barrister Aitzaz Ahsan, who is also Leader of the Opposition in the Senate, and another PPP stalwart Raza Rabbani, Mr Shah argued that since the consultation was to be effective, meaningful and consensus-oriented, it always required more time, especially when the office of the appointee is constitutional. It should be completely independent.
"In the instant case, both the consultees — the prime minister and the applicant (leader of opposition) — are considering best candidates and also looking into other legislative steps to help in this process as part of the larger span of election reforms," the application said, adding that there was intense public interest in such reforms the process of which was under way.
Therefore, it said, the consultees would like to take all parliamentary parties and civil society on board before appointing a permanent CEC in the best national interest. This process will ensure a foolproof mechanism for free, fair and transparent elections in future.
This could be at the cost of probably three more months but at the same time this would benefit the country and the nation as a whole in the long run, the application said.
At present Justice Anwar Zaheer Jamali is serving as acting CEC. He replaced incumbent Chief Justice Nasir-ul-Mulk on July 23 as the third acting CEC in less than a year.
Earlier, former chief justice Tassaduq Hussain Jillani served as the acting CEC when Fakhruddin G. Ebrahim resigned on July 30, 2013, as the 13th CEC. He quit after a Supreme Court verdict had changed the schedule for presidential elections on a petition filed by a PML-N legislator without hearing other parties. Mr Ebrahim considered the court's decision as an encroachment in the Election Commission's domain.
Published in Dawn, October 28th, 2014