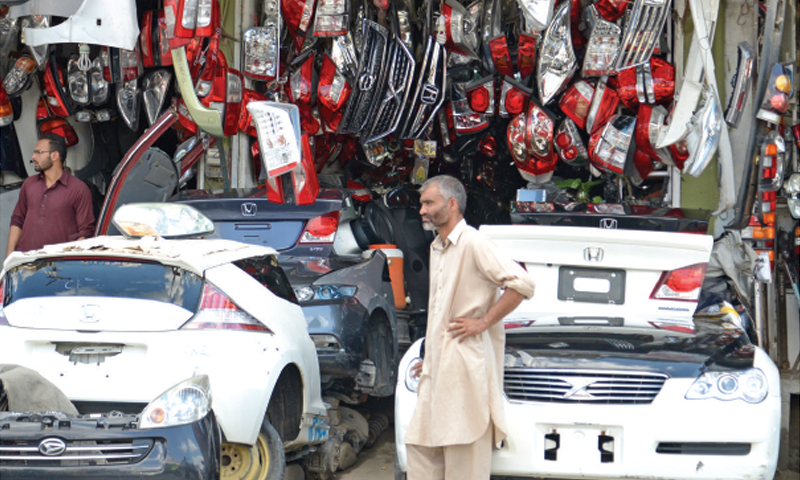 Rawalpindi is not only known for its being twin city of Islamabad and housing General Headquarters of Pakistan Army, but also for holding one of the biggest auto spare parts markets in the region--Sultan Ka Khoo.
The market spreading on Chaklala, Glass Factory and Rawal roads, deals not only in spare parts but also offers body parts, sound system/decorative items of the vehicles and tyres. Currently, there are over 700 shops doing business in the market.
The market is also known for selling smuggled (Kabli) spare parts and body parts of the vehicles of almost all models from 1980 to 2014.
Farakh Mahmood, a spare parts dealer, says that in early 80s there used to be only few shops in this area.
He said in the cold war era when Soviet Union invaded Afghanistan, a large number of Afghan nationals took shelter in Japan from where they started smuggling used spare parts to Afghanistan.
Later on, the Afghans took refuge in Pakistan and started bringing the spare parts from Afghanistan to Pakistan.
Due to smuggling from across the Durand Line, the business of smuggled items thrived in various parts of Pakistan including Rawalpindi.
Mr Mahmood, who has been in this business for the last three decades, said that there was a specific place called Lahori Darwaza in Afghanistan, from where Pakistani smugglers brought the used items in containers.
Mohammad Munir, another dealer, said that Toyota Corolla Car-1986 Model was popular in Pakistan. He said originally the car carried petrol-engine.
In late 80s and throughout the 90s, diesel was far cheaper than the petrol and people used to replace petrol engine with the diesel one, providing a chance to dealers to flourish their business manifolds. He said that later on successive governments partially lifted the ban on import of used parts.
However, finally the Pakistan People's Party (PPP) during its last tenure lifted the ban on all kinds of spare and body parts of the vehicles.
"Now, there smuggling has stopped. Pakistani dealers directly purchase used items from international markets. Every year dealers contribute billion of rupees to the exchequer in shape of taxes and customs duties," Munir said.
According to the dealers, Japan, China, Australia, Taiwan, Indonesia, Malaysia, Holland and New Zealand are main markets from where they import used spare parts.
They, however, said that Japani spare parts were still very much popular among the Pakistani buyers.
Amin Khan, who deals in body parts of vehicles, said the market offered from rare view mirror to entire body of vehicles of 1980 to 2014 models vehicles.
Dealers said that existing CNG crisis in the country has boosted the used spare parts business.
They said that most people preferred to buy reconditioned petrol cars, which are fuel efficient, but their spare parts are not available in the open market. For purchasing used spare parts of reconditioned vehicles a large number of customers of Rawalpindi Division, Islamabad, AJK have to depend on this market.
Dealers deny that this market is involved in sale and purchase of snatched and stolen vehicles.
"This is a wrong perception. Yes, occasionally, we purchase cars which are destroyed in accidents from genuine owners," said Raisat Ali, a dealer.
However, residents of the areas claimed that a large number of dealers are involved in sale and purchase of stolen and snatched vehicles. They do their business in connivance with the local police.
Talking to Dawn, Waris Khan police SHO, Malik Allah Yar said: "I can't say that the market trades in stolen vehicles. No doubt, some cases were reported there but we immediately took action," he said and added that a few months back he recovered two stolen vehicles, a Mehran Car, which was stolen from Murree and a Suzuki pickup which was lifted form Islamabad, from this market.
He confirmed that auto thieves after dismantling the parts of vehicles sold them to the dealers of this market. "After recovery of two stolen vehicles, we sent the accused behind bars," he said.
Published in Dawn, September 7th, 2014