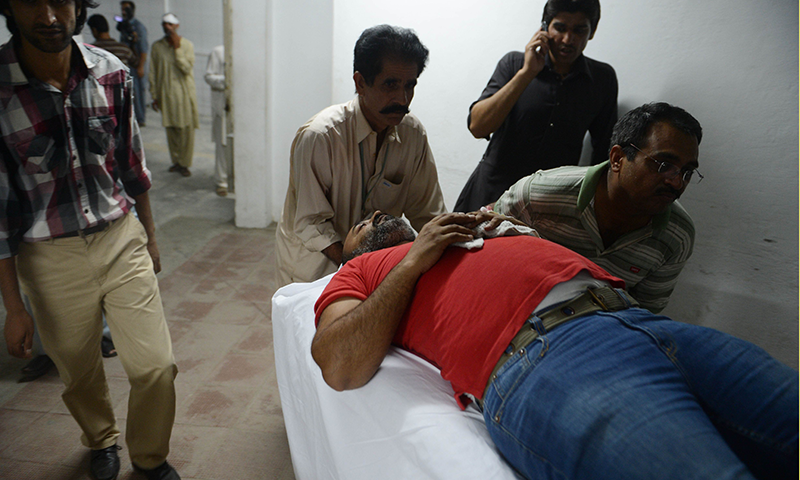 The fiercest political confrontation in some years is playing out in Pakistan. Political ambitions, careers, mandates and jobs are at stake. And the pitched battles, which have spilled over from the realm of sound bites into physical violence, is underpinned by real-time sensationalist rhetoric and hysterical, rebellious narratives. Facilitators of this rhetoric and narrative are Pakistan's cacophonous, highly opinionated and generally unprofessional TV channels.
For the duration of the fortnight of the twin marches from Lahore to Islamabad and the ensuing dharnas and rioting, the 24/7 live coverage by around 40 current affairs TV channels of the confrontationist public politics of the Pakistan Tehreek-i-Insaf led by Imran Khan and the Pakistan Awami Tehreek fronted by Tahirul Qadri has thrown up some disturbing characteristics.
For one, coverage of nearly everything else in a country of 200 million saddled with multiple humanitarian, security and developmental crises has been not just crowded out but effectively reduced to near none. For another, the narrative has morphed from the reportive to the speculative to the downright sensationalist.
And before even those in the know could make it out in time, some of the more mainstream and widely watched channels quickly dispensed with their professional mandate of general objectivity and started taking sides in the political confrontation. And this without even upfront declarations that could help viewers discern the distinction between facts on the ground and the side in the studio.
For someone monitoring TV content over the past fortnight like me it's astonishing to note that on at least seven mainstream channels private sector advertisement all but disappeared and was replaced with nearly non-stop studio airtime and field coverage of the dharnas, complete with pre-nominated panellists and specific slanted perspectives.
Three of these channels hardly changed their panel of 'experts' or the slant of their emphases. The other four, while basically keeping the coverage in favour of the viewpoints of the dharna leaders, at least shifted panellists with alternative perspectives but kept the balance still disproportionate. One other channel, recently formally charged with and punished for 'treason', was a rare one that took the completely opposite side in the political battle: that against the PAT in general and the PTI in particular. The only channel that had mostly government perspectives was state-owned and government-managed PTV. Bottomline: one has had to work hard to find discussions shorn of rhetorical flourishes, intentional confusion and patented bias.
In this backdrop, when Mr Khan and Dr Qadri led their followers towards PM House and violence ensued, within 50 hours at least 21 journalists and media workers had been assaulted and an office of a TV channel was attacked seven times. Another, PTV, was run over and ransacked. Most of the journalists assaulted were apparently by Punjab police and those at the receiving end were staffers of Samaa TV, Waqt News, Dunya News, ARY News, DawnNews, Express News, Aaj TV and others showing police brutality. It's hard not to suspect a link between a government frustrated by relentless and virulent rhetoric against it and squeezing off of its own space for communication with the public to discount at times wild allegations against it and the naked violence visited on staffers of these channels.
Meanwhile the source of the attacks on the Geo office in Islamabad was also not disguised. PTI supporters brandishing sticks and stones carried out the attacks. It was mostly the PTI, and some of the PAT, that in a first for Pakistan, seized control of the national broadcaster, gleefully administering the mayhem. In the bargain they dispensed with the tradition of the military having the monopoly over takeover of state broadcasters. Talk about going from bad to worse.
On Monday several journalists and media vans were again attacked. Are we seeing new traditions and modes of violence against the media in Pakistan? What are triggers for this kind of violence? Who are the actors setting these new conventions? The patterns of violence against the media over the past few years show mostly non-state actors and suspected security agencies have been attacking journalists and intimidating media houses.
Also read: On Constitution Avenue, journalism is a crime
This is usually done through militants themselves or hired hands from religious and sectarian groups and criminal gangs. Now we're seeing both ruling and opposition parties dispensing with patience with new mechanics employed of attacking the media that they feel needles them almost on auto and non-stop. These new attacks are based on the calculations that their core political interests are being hurt by relentless sound bites and rhetoric.
Rejectionist rhetoric, street lingo and the narrative of violence employed by Mr Khan and Dr Qadri are the new licence for political workers to intimidate the media and dictate favourable coverage. Just wait when tomorrow other political, religious and militant groups strengthen these traditions for they already have major problems with the media.
But probably what's to blame the most is the abject dispensation with professionalism by the media not just in terms of objectivity but also with the total failure to provide adequate protection for their staff in hostile political environments through security policies and safety gear for them. Overkill in live coverage and on-demand real-time camera time for Mr Khan and Dr Qadri has promoted undeserving self-entitlement among political leaders that has strengthened their convoluted ideas about the media's dependency on them.
Pakistani media's indifference to practising professional codes of ethics, especially in the context of live coverage without delay mechanisms, is encouraging provocation in speeches and allowing rabble-rousing politicians like Mr Khan and Dr Qadri to promote not just violence but active rebellion against the state.
No one should get away with this. If the seven-hour 'live coverage' of the prolonged allegation of attack on Hamid Mir blamed on ISI was treason and an attack on a state institution, how is Mr Khan and Dr Qadri doing the same and facilitated by a dozen other channels 24/7 for 14 days any different? Where is Pemra? The media is complicit in any incitement to violence that it mediates unregulated or unedited. Period.
The author is a media and political analyst and tweets at @adnanrehmat1
Published in Dawn, September 2nd , 2014