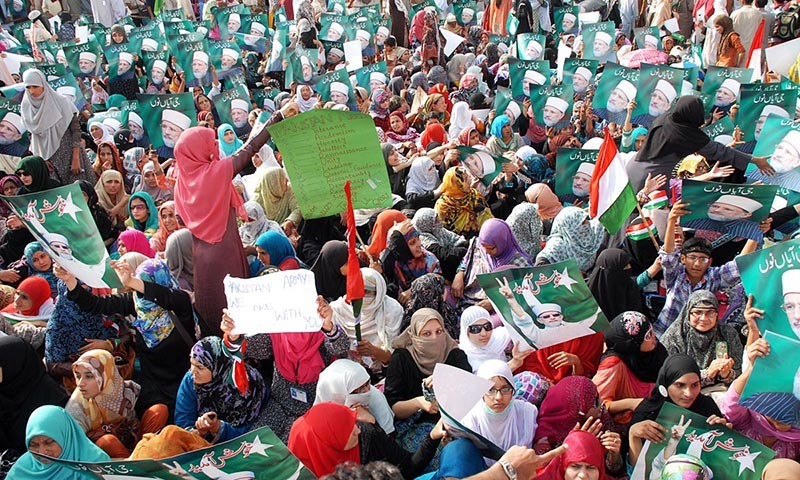 LAHORE: As an extensive police crackdown on Pakistan Awami Tehrik office-bearers and activists continued on Thursday with hundreds of detentions, Lahore police blocked all main entrances to Model Town to bar PAT workers from reaching Minhajul Quran Secretariat.
The party chief Tahirul Qadri has given a call to his workers for marking Youm-i-Shuhdaa (martyrs' day) on Aug 10 in connection with the killings of 14 PAT workers on June 17.
Policemen in large numbers were deployed at all entry and exit points of the provincial capital to check and detain PAT activists. Besides, hundreds of vehicles and motorcycles were also impounded and at parked at different police stations and other official premises.
Police placed barriers and containers on all leading roads and crossings in and around Model Town in wee hours of Thursday to block PAT workers access to the residence of their leader Dr Tahirul Qadri and Minahajul Quran Secretariat.
---
PAT claims 800 activists picked up outside Lahore
---
Police also placed containers on all roads leading to prime minister's Jati Umra residence, besides beefing up security around chief minister's Model Town residence.
Though the extra ordinary security in Lahore was PAT-specific, police authorities officially said the measures were taken to "avoid any untoward terror incident in the city".
Traffic congestions were witnessed in areas of Model Town, Gulberg, Johar Town, Garden Town, Faisal Town and on Ferozepur Road, Maulana Shaukat Ali Road, Peco Road and Canal Road. Residents of Model Town and its adjacent localities faced immense problem in reaching their homes.
However, despite all these hurdles, hundreds of male and female PAT activists managed to reach the party secretariat.
PAT Punjab spokesman Mushtaq Ahmad told Dawn that Punjab police rounded up some 800 party office-bearers and activists from different districts of the province sans Lahore. He said those detained from central Punjab districts were being detained at Chuhng Police Training College, Farooqabad Punjab Constabulary and Manawan Police Training School while others detained from south and north Punjab were being kept in various police lockups.
He said in many instances police trespassed on houses of PAT office-bearers and activists and manhandled women and children, besides looting valuables. Citing an example, he said Syedwala police barged in the house of PAT' Nankana district president Hanif Dogar, misbehaved with women and took Dogar into custody. The police also took away his laptop and other valuables, he added.
An informed police source told Dawn that police had so far detained up to 500 office-bearers and activists from different parts of the province. He said police had been directed to detain maximum PAT workers.
Meanwhile, Toba Tek Singh police detained up to 17 office-bearers and activists, including district general secretary Shabbir Warraich, Pir Mahal tehsil president Khalid Mahmood, city president Naeem Janbaz, Gojra tehsil finance secretary Rana Obaidur Rehman and traders wing secretary Sheikh Adnan. Bahawalpur police picked up seven PAT activists.
Okara police detained 33 PAT activists, including 15 from Okara, 17 from Deepalpur and one from Renala Khurd tehsil. Those arrested include PAT district convener Khalid Mehmood and his brother Tariq Mehmood, besides Renala Khurd tehsil president Muhammad Bilal.
As many as 200 PAT activists were taken into custody from Sialkot district, said president Rasheed Bajwa who was talking to journalists by telephone from an unknown place.
Muzaffargarh police detained 63 activists from different parts. District president Iftikhar Qureshi said, he along with 200 people had managed to reach Lahore.
Mianwali police took 26 office-bearers and supporters of PAT into custody and also started impounding public transport. Sheikhupura and Nankana police detained nine PAT activists.
A Lahore police source said up to 24 containers had been placed on all roads leading to Model Town and 40 police reserves were deployed in Model Town to confront PAT activists.
He said a strategy to counter PAT show was also reviewed in a meeting held at the Capital City Police Office which was attended by Lahore Commissioner, the CCPO and the DIG (Operations). He said up to 500 containers had been seized by the police and many owners complained that police even did not allow them to unload sensitive and costly goods.
The official said crackdown on PAT leaders and activists was due in the provincial capital late on Thursday.
However, a senior Lahore police officer, who desired anonymity due to sensitivity of the matter, claimed only six containers and eight reserves (160 policemen) were placed in and around Model Town.
He said each and every vehicle entering the city was being checked at 10 entry and exit points keeping in view specific terror threats.
Published in Dawn, August 8th, 2014