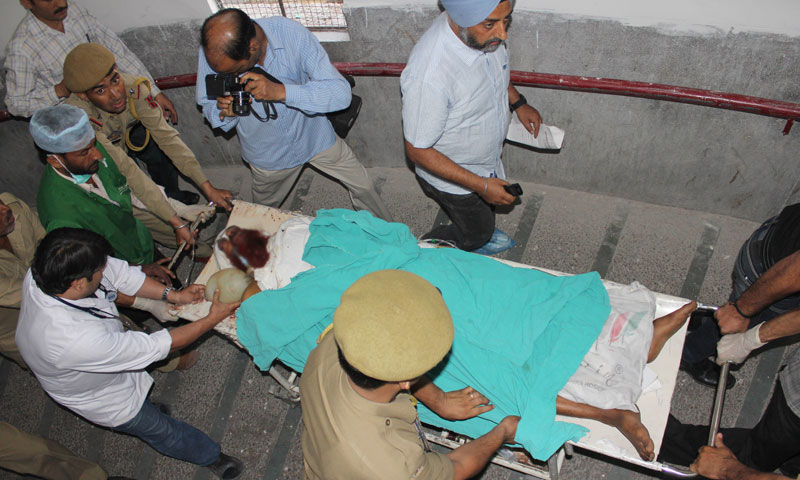 SRINAGAR: Pakistan sought of Friday immediate transfer of the prisoner who had suffered serious head injuries after being attacked in an Indian jail in apparent tit-for-tat violence following the death of an Indian inmate Sarabjit Singh in Pakistan.
On Friday, Pakistan Foreign Ministry spokesman Aizaz Ahmad Chaudhry said his country's mission in New Delhi had contacted Indian authorities and was seeking details of the attack and consular access to Ranjay.
''This obvious retaliation to the death of Indian prisoner Sarabjit Singh is condemnable,'' Chaudhry said in a statement.
''We would also remind the government of India of its responsibility in ensuring the safety and security of all Pakistani prisoners lodged in Indian jails,'' the statement said.
Moreover Pakistan sought immediate transfer of Sanaullah to Pakistan for treatment purposes.
A spokesman for India's Ministry of External Affairs, Syed Akbaruddin, said Indian officials were ensuring that Ranjay gets the medical treatment he requires and would grant consular access to him as soon as his condition stabilises.
He said India had issued an advisory to strengthen security for Pakistani prisoners in Indian jails.
According to Akbaruddin, there are 535 Indian prisoners in Pakistani jails and 272 Pakistani prisoners in Indian jails. He said India was proposing a meeting of officials in both countries to ''identify and put in place further measures to avoid such tragic incidents in future.''
The inmate, named as Sanaullah, was attacked early in the morning by other inmates in apparent tit-for-tat violence following the death of an Indian inmate Sarabjit Singh in Pakistan, the official said, a day after India's home ministry ordered stepped-up security for hundreds of Pakistanis in Indian prisons.
"He has been admitted in GMC Hospital with grievous head injuries," an official at the main prison in the northwestern city of Jammu told AFP on condition of anonymity.
On Thursday, Sarabjit Singh, an Indian in Lahore's Kot Lakhpat prison, who was jailed 16 years ago for spying and deadly bombings, died as a result of a savage assault by inmates.
Indian Prime Minister Manmohan Singh condemned that "barbaric and murderous attack" and New Delhi complained that its diplomats were denied access to the prisoner as he fought for his life.
Singh is to be cremated with state honours near his native village in northwestern Punjab state on Friday.