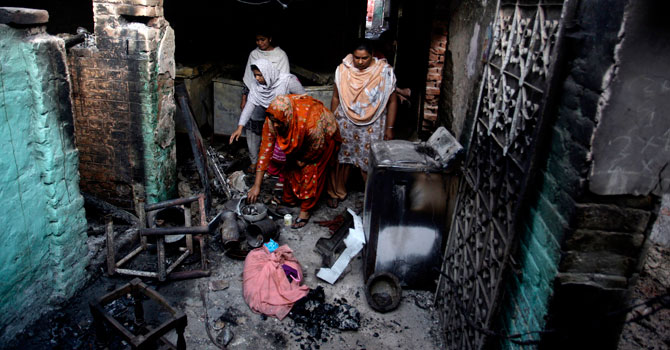 A Pakistani Christian family search in their home that was torched by an angry mob in Lahore, Pakistan, Sunday, March 10, 2013. — Photo by AP/File
LAHORE: Punjab Chief Minister Shahbaz Sharif declared the Badami Bagh incident as "the worst example of barbarism" and that those involved in the incident shall not be forgiven, DawnNews reported.
A meeting headed by CM Sharif was held at the Chief Minister House during which the situation in Lahore after the incident was discussed and the restoration works were reviewed.
The chief minister said that the burning of houses of the Christian community was not a service to Pakistan or Islam.
He further said that the Christian community was mistreated and the burning their houses in Badami Bagh's Joseph Colony after the arrest of the suspect was unjustified.
The episode had spoiled Pakistan's image in the international community, he added.
Moreover, the Punjab chief minister said that those involved in the incident were being apprehended and would be handed exemplary punishments.
Furthermore, CM Sharif also said that those affected by the Badami Bagh incident would be compensated at all costs.