—Photo courtesy of Mahwish Rizvi
I was on my way back from the cinema to my house, when a friend sent me a message about the devastating bomb blast that happened in Abbas Town, Karachi. By the time I reached home, fear had already gripped my family, courtesy of the media, along with snippets of unwanted information about a minister's wedding and how the entire police force of the city was on duty at the venue of the event.
"Do journalists seriously believe that 30,000 or so of Karachi Police went to Mohatta Palace?" someone commented on Twitter.
The fiery inhuman acts that have been happening in our city/country for so long are fuelled incessantly by our channels. If one stays back home, the only source of first-hand information is through news channel, which has the power to leave you depressed and restless. But now thanks to social media websites, we have a tool of motivation, where we get to know about individuals and organisations that are helping promote the maintenance and betterment of the society, which has been going through turmoil day after day.
In the midst of this consistent layer of despair and sheer madness, these people are the ones that give you hope. A while back, I updated a status on facebook about donations and at least five people amongst my friends asked me how to contribute. Day before yesterday, a few students with placards and donation boxes in their hands managed to collect about 10 lakh rupees from teen talwar (three swords) Clifton, Karachi.
"Never doubt that a small group of thoughtful, committed citizens can change the world. Indeed, it is the only thing that ever has." - Margaret Mead
Going over tweets and status updates has the power to make you feel happy from inside and also bring out a sense of hope and optimism amongst the people of our society.
"The blast was not strong enough to break the ties of harmony and brotherhood among the people across Pakistan and abroad, it wasn't strong enough to shake the enthusiasm of young volunteers who left their homes to help the victims. We have proved with our actions that we are all one and will prove it again," Noman Quadri, who actively participates in various vigils and relief efforts in Karachi said.
We also take solace in knowing that organisations such as Edhi, Al-Khidmat Welfare Society, etc are always there to reach out to in times of need.
On a smaller scale, messages were being passed on about different organisations and youngsters who were helping in rehabilitation and providing aid process to Abbas Town. A list was made by a fellow activist/blogger Faisal Kapadia on his website helping organise donations and doing volunteer work.
Individuals like Yusra Askari, along with a few of her friends and family hired a van and offered on-ground aid services. Askari has been actively involved with other community services as well as in the past.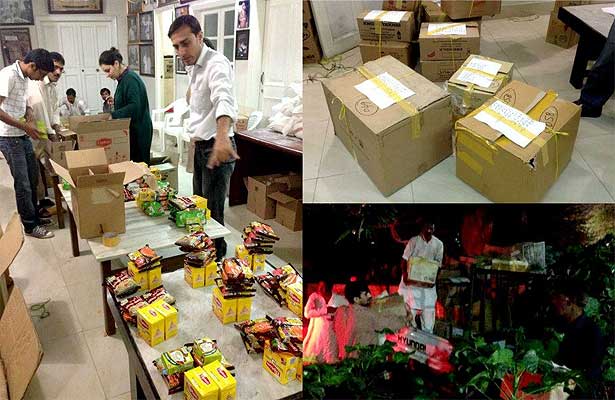 —Photo courtesy Bisma Askari
Their drive will continue today as they prepare to send their second van in the evening.
Youth organisations such as
Pakistan Youth Alliance (PYA)
which is always ready to lend a hand since the past couple of years, explained briefly their process of work.
"We research communities who are in need of help and after that is done, our team goes to individuals and families on the spot to provide them aid," Maryam Kanwer one of the founding members explained.
Syed Ali Abbas further explained, "It varies, as sometimes facilitation/networking is needed. There is no defined way on how to reach a genuine victim - but if talking specifically for the Abbas Town victims, mainly our own network is enough as we know many families directly."
"There are some people who conduct relief efforts with the wrong intentions; hence people who want to contribute are usually doubtful of whom to rely on, until and unless someone can vouch for it, you can't rely on everyone but with efforts by the youth are extremely commendable," a young entrepreneur commented.
Fortunately for our country, there still remains a unity between people when it is really needed, especially when it comes to helping victims of various calamities in times of need through immediate relief and basic commodities.
The victims of such attacks normally need the most amount of help in the rehabilitation process where they have to be integrated back in to society with at least the bare minimum of what they had and ideally in better living conditions, with other needs to be addressed in the long run.
Protest-vigil at Islamabad Press Club oragnized by PakistanYouthAlliance.–Photo courtesy https://www.facebook.com/PakistanYouthAlliance.
"Karachi Relief Trust (KRT) with its rehabilitation initiative in rural Pakistan since August 2010 has dealt with sustainable and long term solutions for the rural population in all four provinces. Having run relief and rehabilitation programs, they have been able to target more than 80,000 people and have been able to complete construction of more than 3,000 households in all four provinces."
"KRT has also taken the initiative to help the victims of the Abbas Town bombing and is in the process of partnering with organisations that are active on ground to help with the rehabilitation of the small vendors and shop-keepers, as well as the families who have lost loved ones in the unfortunate incident," Fahad Asadullah of Karachi Relief Trust told Dawn.com.
As the foreign media calls us "resilient Pakistanis", we remain a brave nation in the midst of turmoil. My country, my city for me is as Kamila Shamsie puts it in Kartography: "I love this place, for all its madness and complications. It's not that I didn't love it before, but I loved it with a child's kind of love, the kind that either ends or strengthens as understanding grows."
---
Eefa Khalid is a Graphic Designer | Photographer who landed amongst an interesting bunch of journalists at the beginning of her career and has since worked as a producer for Dawn.com. She lives by the mantra of "work for money, design for love".