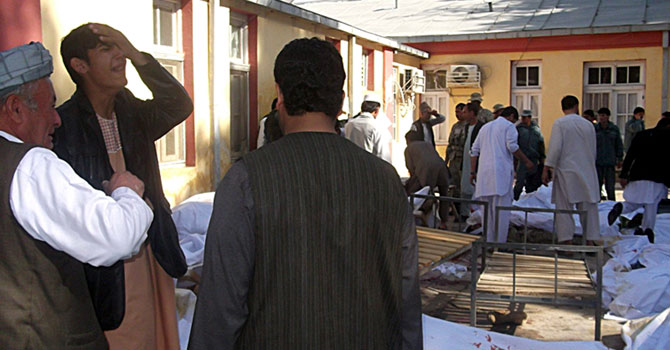 File photo
KANDAHAR: A landmine explosion ripped through a civilian vehicle in southern Afghanistan and killed six members of a family, provincial authorities said Saturday.
"Six people all onboard — two elderly men, two women and two men — were killed in a landmine explosion in Nad Ali district of Helmand province," Ahmad Zirak, the provincial governor's spokesman, told AFP.
The blast at around 7:00 pm on Friday took place as they were travelling from one village to another in the district, Zirak added.
Mohammad Ismail Hotak, deputy director of the coordination center for security forces in Helmand, confirmed the toll.
Roadside bombs are the favourite weapons of Taliban militants fighting to oust the Western-backed government of President Hamid Karzai, and the indiscriminately placed explosives regularly kill civilians.
Less than a week ago a Taliban roadside bomb blast killed five civilians, including a family of four, and two police officers in the country's troubled south.