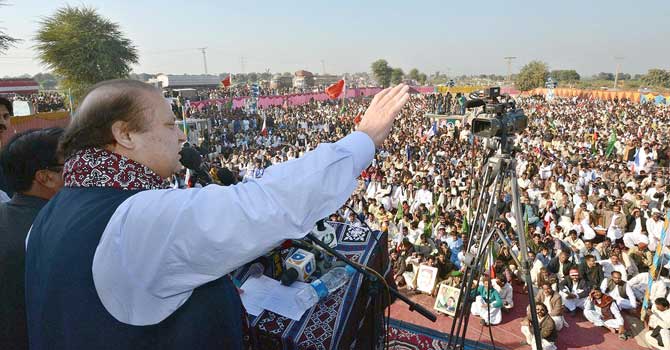 PML-N chief Nawaz Sharif addresses a public meeting organised by Sindh United Party in Matiari, Sindh on Saturday. – Photo by INP
HYDERABAD: Pakistan Muslim League-Nawaz (PML-N) chief Nawaz Sharif has urged the nation to exercise their right of vote carefully and correctly in the upcoming general elections for bringing a positive change in the country.
He expressed these views while addressing a public gathering organised by Sindh United Party (SUP) at Hala Bypass, district Matiari on Saturday.
Sharif said that reforms could be brought about and the system can be transformed if the voters would elect sincere, dedicated and honest representatives so that corrupt practices in all fields could be rooted out.
"If the people don't realise this, anyone can deceive them by staging a drama," he said.
He was of the view that if the government had run country's affairs in consultation with the opposition, the scenario could have been entirely different.
People are aware that who are involved in creating law and order situation in Karachi, he said.
The PML-N chief, while reminding about his regular visits to different parts of Sindh during floods, said that he will not leave people of the province alone.
He was critical of provincial health department' performance saying that 550 children have lost their lives due to measles outbreak.
While claiming credit for the restoration of judiciary, he said that it is the apex court which is initiating suo moto actions against corruption, law and order, extortions and unconstitutional acts.
"We saved the judiciary as the country will be further strengthened with presence of strong institutions," he claimed.
He said that the people have rejected the controversial local government system and are ready to foil any attempts for dividing Sindh.
Among others, Syed Jalal Mehmood Shah, Syed Shah Muhammad Shah, Syed Yasir Shah, Mumtaz Ali Bhutto, Syed Ghous Ali Shah, Liaquat Jatoi and Dr Qadir Magsi also addressed the participants of the gathering.