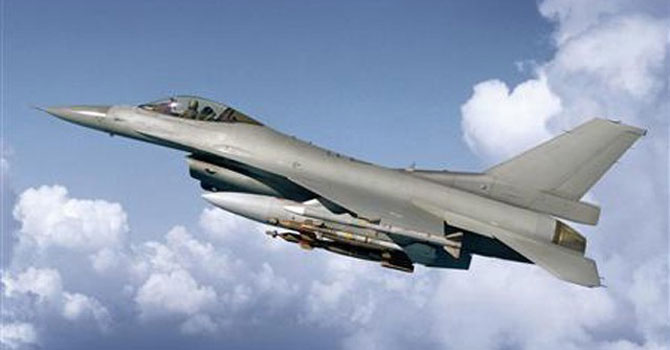 A fighter jet of the Pakistan military is seen in this file photo. — Photo by Reuters
PESHAWAR: At least 14 people were killed when military jets bombarded two houses on Monday in the Khyber tribal region's Malik Din Khel area of Tirah valley in Bara Tehsil.
Relatives of the deceased confirmed that nine of a family and five of another were killed during the jet strikes adding that the dead included women and children.
The two houses targeted were completely destroyed.
Spokesman for the Tirah-based Ansarul Islam group, who identified himself as Kaptaan, confirmed that 14, people including women and children, were killed in the strikes.
Officials of the military, the Inter-Services Public Relations (ISPR) and the region's political administration declined to confirm or deny the incident.
Speaking to Dawn.com, unnamed military sources confirmed that fighter jets had engaged suspected militant hideouts upon receiving information on the presence of insurgents, including some high-profile commanders.
In an unrelated incident, nine unidentified bodies were found near North Waziristan's Miramshah town.
All victims appeared to have been shot to death.
Local administrative officials said that the bodies were taken into custody and shifted for identification.