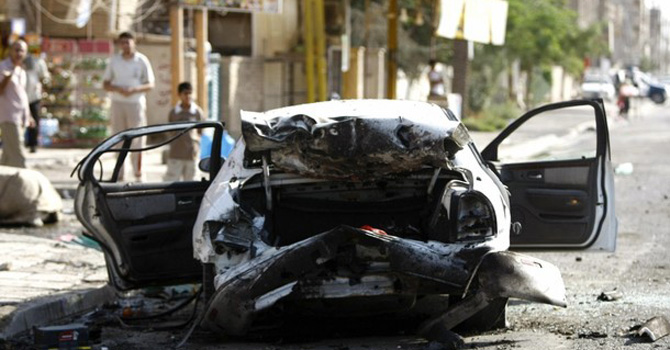 Iraqi residents stand next to a damaged vehicle at the scene of a car bomb blast in Baghdad. — File Photo by AFP
HILLA: A car bombing outside provincial government offices south of Baghdad killed two people on Monday, the latest in a series of attacks targeting Iraqi officials nationwide.
The blast at 8:30 am (0530 GMT) in the city of Hilla, 95 kilometres (60 miles) south of the capital, also wounded 17 people and badly damaged shops and cars, a policeman and a medic said.
No group claimed responsibility for the attack, and there were no details available on the victims.
But militants such as al Qaeda's front group in Iraq regularly target officials and security forces in a bid to destabilise the government and push Iraq back towards the brutal communal bloodshed of 2005 to 2008.
Monday's violence came a day after three attacks on government officials north of the capital.
The deputy governor of Kirkuk province and the head of a city council in the province escaped separate assassination attempts, but the unrest still left one senior municipal official dead and eight people wounded.
Violence in Iraq is down from its peak in 2006 and 2007, but attacks still occur almost every day.