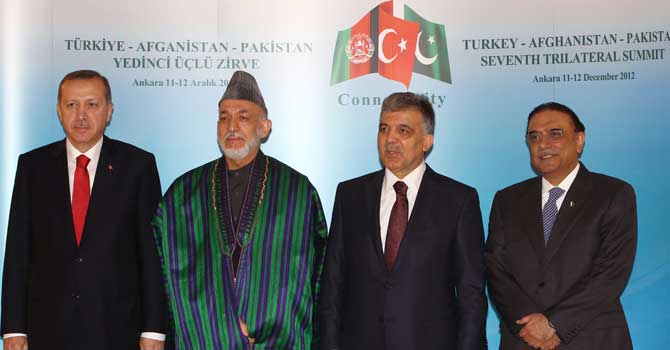 From left to right, Turkey's Prime Minister Recep Tayyip Erdogan, Afghan President Hamid Karzai, Turkish President Abdullah Gul and Pakistan President Asif Ali Zardari pose for group photo after their meeting in Ankara on Wednesday, Dec. 12, 2012. – Photo by AP
ANKARA: The leaders of Afghanistan and Pakistan are determined to press ahead with peace efforts after a meeting in Turkey, the country's president said Wednesday, despite an attack that wounded the Afghan intelligence chief.  
President Abdullah Gul described the bombing, which Afghanistan believes was planned in Pakistan, as an attempt to derail dialogue between the two countries.
At the end of a meeting aimed at easing tensions and increasing cooperation between the governments in Kabul and Islamabad, Gul said both had ''renewed trust and are determined to work together.'' He was flanked by counterparts Hamid Karzai of Afghanistan and Asif Ali Zardari of Pakistan.
Afghan intelligence chief Asadullah Khalid was seriously injured last week when a suicide bomber posing as a Taliban peace envoy detonated an explosive, dealing a setback to fragile efforts to reconcile with the Taliban and find a political resolution to the war in Afghanistan.
Karzai has said the attack was planned in Pakistan, but stopped short of directly holding Islamabad responsible for the explosion that was claimed by the Taliban.
Karzai said Wednesday the two leaders had ''very good conversations'' about the assassination attempt, but refused to go into details. Afghan officials said Karzai would present evidence to Zardari during their meetings about the attack.
''Hopefully the fight against extremism and terrorism will take itself to a conclusion where the populations of the two countries are not threatened by these attacks,'' Karzai said.
''The environment of dialogue is better than it has been,'' Karzai said. ''At the same time, we are seeing unfortunate incidents of terrorism both in Afghanistan and Pakistan.''
For his part, Zardari distanced his country from the attack on Khalid.
''They (terrorists) don't want us, the governments, to get together and to be able to lead the nations to peace,'' he said.   ''It is in the interest of Pakistan that Afghanistan prospers,'' he said. ''It is in my interest that peace returns to Afghanistan and Pakistan.''
A joint statement issued at the end of the meeting said a ''joint working group'' would address the attempt on the intelligence chief's life.
Pakistan is seen as a key player in the Afghan peace process. Pakistan helped the Taliban seize control of Afghanistan in the 1990s, providing funding, weapons and intelligence, and the Afghan government and the US have accused Islamabad of continuing to support the group.
Pakistan has denied the allegations, but many analysts believe the country continues to see the Taliban as an important ally in Afghanistan to counter archenemy India.