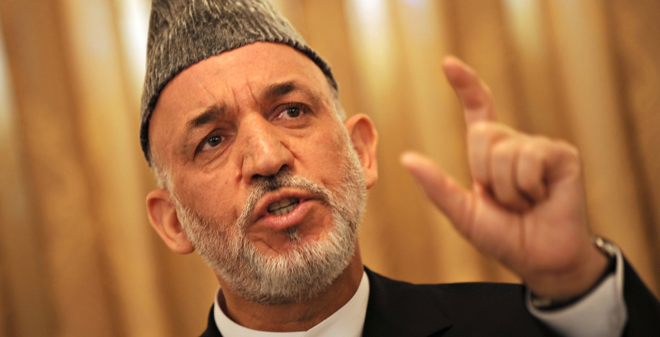 Afghan President Hamid Karzai. — Photo AFP (File)
ISLAMABAD: Pakistan on Saturday rejected Afghan President Hamid Karzai's claim that a suicide bombing that wounded his intelligence chief was planned in the Pakistani city of Quetta.
A spokesman of the Pakistani foreign ministry said that the Afghan government should share information or evidence it might have about the attack before it starts leveling charges.
"Before levelling charges, the Afghan government would do well if they shared information or evidence with the government of Pakistan that they might have with regard to the cowardly attack on (Khalid)," said the spokesman.
Earlier, President Karzai stopped short of blaming the Pakistani government directly. But he told a news conference he would raise the issue with Islamabad.
The ministry also offered to help the Afghan government investigate any lapses it had in the intelligence chief's security. "They would also do well by ordering an investigation into any lapses in the security arrangements around (Khalid)," said the spokesman.
On Thursday, a suicide bomber posing as a peace messenger wounded Afghanistan's intelligence chief, Asadullah Khalid, in another sign that the Afghan government is struggling to improve security ahead of the withdrawal of Nato combat troops by the end of 2014.
The Afghan Taliban claimed responsibility for the operation, although it often makes exaggerated claims about attacks on foreign troops or government targets.