The Also Pakistan series was to conclude much earlier. But the kind of popular interest that it attracted from readers from within and outside Pakistan, prompted the making of a few more sequels of this photo feature.
It took more than two years to research and to compile this series. Hours were spent going through old newspapers and magazines tucked away safely in Dawn's archives section. Politicians, sportsmen, artistes and friends were approached to share with us images that would capture the political and cultural zeitgeist of what Pakistan was like between 1947 and 1977.
A Pakistan that was a very different creature compared to what it started to mutate into from the 1980s onwards.
In this final installment of the Also Pakistan series, we share with you the last bits left in the arsenal of images that we were able to collect in the last couple of years.
Images of a strange, alien place that was also called Pakistan.
Previous Parts:
_________________________
Rare photo of the founder of Pakistan, Muhammad Ali Jinnah, shaking hands with future Baloch nationalist leader, Nawab Akbar Bugti, in Quetta, in 1948.
In the 1950s and 1960s, Bugti became a critic of the state and joined Sindhi, Baloch, Bengali and Pashtun nationalists to oppose the government of Pakistan.
In the 1970s however, he sided with the state and the populist government of Z A. Bhutto during the third Balochistan insurgency against the government and the Pakistan Army and was made the Governor of Balochistan.
Twenty years later Bugti once again turned anti-state, and in the early 2000s helped revive an armed insurgency in Balochistan. He was eventually assassinated by the Pakistan military in 2006 in a missile attack.
_________________________
The Pakistan hockey team playing against Great Britain at the 1956 Olympics in Melbourne, Australia.
Notice how a Pakistani player is sprinting across the field completely barefooted!
This 1956 Pakistan team that was desperately low on resources and money not only topped its qualifying group in Melbourne, but went on to reach the finals of the tournament where it was beaten by India 1-0 in a closely fought contest.
_________________________
Famous Pakistani intellectual, novelist and playwright, Ashfaq Ahmad saying a prayer at the grave of British Romantic poet, Percy Shelly, in 1955.
Ahmad started out as a progressive thinker and writer with a growing interest in Sufism. In the late 1960s he went on to endorse and support Z A. Bhutto's 'Islamic Socialism'.
In the 1970s during the Z A. Bhutto regime he further rose to become one of the most respected intellectuals and TV playwrights in the country.
Most of his plays of the period revolved around the underlying social tensions between the liberal zeitgeist of the time, the early populist Socialism of the Bhutto regime, and the conservative strain of Islam that had begun to assert itself from 1976 onwards.
By the early 1980s Ahmad grew out of his former progressive and quasi-socialist mould and moved close to the military dictatorship of General Ziaul Haq.
As a playwright he attempted to provide the reactionary dictatorship a more soulful face through his TV plays of the 1980s.
He was hosting a well-received show on the philosophy of Sufism on PTV when he passed away in 2004.
_________________________
British fishing enthusiasts show off their big catch at one of Karachi's many beaches.
This picture was taken in 1957 when these men (father and son) set a record of sorts by catching a 60 lbs Barracuda from the waters of the famous Sandspit beach of Karachi.
Today this beach is considered to be too polluted to support fish like the one seen in the picture.
_________________________
A 1955 photograph of famous American painter and illustrator, Norman Rockwell, on a boat with a press photographer (right) and a Sindhi fisherman (left) at Karachi's famous Kemari area.
_________________________
Poster of Pakistan's 'first Socialist film', Jago Hoa Sawera.
The film was released in 1959 and was scripted by famous leftist intellectual and poet, Faiz Ahmed Faiz.
The story revolved around the daily struggles of a poverty-stricken family of a fisherman. The film is sometimes also believed to be the region's first 'art film'.
Though critically acclaimed, the film was a box-office flop. However, it did win a gold medal at the 1959 Moscow Film Festival.
Its director, A K. Kardar, also submitted it to be nominated in the Oscar's Best Foreign Film category, but the submission was rejected. Kardar explained the rejection as a sign of Hollywood's "ideological bias against art with Socialist content." Nevertheless, the film was finally screened in the US 40 years later at the New York Film Festival in 2008.
_________________________
People waving Pakistani and American flags from the balconies of their apartments at Karachi's Burns Road as US President Dwight Eisenhower's motorcade passes by during his visit to Pakistan in 1959.
From the 1970s onwards, Burns Road became famous for inexpensive restaurants serving delicious Pakistani food, but today it is one of the most congested and polluted areas in Karachi.
The apartment building seen in the photo is still there but in a much depleted condition.
_________________________
A 1961 poster published by the Tourism Board of Pakistan to attract western tourists to visit the capital city of the rugged Khyber Pakhtunkhwa province, Peshawar.
Although the poster showed Pashtun tribesmen with rifles, they were not allowed to carry them in the city.
However, Pashtun men with colourfully painted fake guns (as shown in the poster) were hired by the government for the tourists' amusement.
In the 1980s the guns became quite real during the US and Pakistan backed anti-Soviet 'Afghan jihad', and by the 1990s the tourists had all but disappeared.
_________________________
The Queen of England, Elizabeth, riding with Pakistani head of state, Field Marshal Ayub Khan, in an open-top car through the streets of the Saddar in Karachi during her visit in 1961.
Both sides of the road were packed and lined by college and school students and thousands of onlookers.
Till the early 1960s Saddar was one of cleanest areas in Karachi. Between the late 1960s and early 1970s it was lined with bars, nightclubs and famous shopping spots and became the place to be for middle-class Karachiites looking for entertainment and shopping.
Today, however, Saddar has become one of the city's most overcrowded and ragged areas; a sad shadow of its glorious past.
Karachi's Christian community was also largely concentrated here, and Saddar still has some of the most magnificent churches in Karachi.
_________________________
A 1962 photo showing Jacqueline Kennedy, wife of American President John F. Kennedy, disembarking from a Pakistan International Airlines (PIA) plane at London's Heathrow Airport and being greeted by the plane's flying and cabin crew.
Ms. Kennedy went on record saying that PIA was one her favourite airlines.
_________________________
A mural painted by famous Pakistani painter, Sadequain, in 1961. In it the painter tried to capture the history of ancient Muslim philosophers, biologists, astrologers, mathematicians and chemists.
It was his homage to Muslim men of learning. It is said to be one of his finest and most ambitious works that was huge in both size and influence.
_________________________
A Pakistani girl, Aqba (second from left), seen here celebrating Christmas with US President, John F. Kennedy and his family at the White House in 1961.
Aqba who belonged to a working-class Pakistani family that had managed to migrate from Pakistan's Punjab province to the US city of Washington lost Aqba for a while when the young and extremely bright girl ran away from home and ended up outside the White House.
She was taken in by the President's family, gifted a dress (the one she is seen wearing in the picture), welcomed to celebrate Christmas with the President's wife and children, and then softly persuaded to rejoin her struggling family.
No one quite knows exactly what happened to Aqba, even though some reports suggested that she went on to graduate in Law from a Washington college and stayed in the US while her family returned to Pakistan in the 1980s.
_________________________
A group of fighter pilots of the Pakistan Air Force posing just hours before the start of the 1965 Pakistan-India war.
Some of these men never came back, while others were later send to Libya, Jordan and Saudi Arabia (in the 1970s) to train the air force of these countries.
The 1965 war however ended in an awkward stalemate.
_________________________
The Pakistan hockey team on its way to defeat India in the hockey semi-final of the 1968  Olympics in Mexico. Pakistan then went on to beat Australia in the final to win the hockey gold medal.
_________________________
A telling image from Pakistan's first horror and 'X-Rated' film, Zinda Lash (The Living Corpse) - a modern (and voluptuous) retelling of the story of vampires and Dracula in a Pakistani setting.
Released in 1967 the film became an instant box-office hit and was then repeatedly shown on the state-owned Pakistan Television (PTV) during its late Saturday night film slot.
It was released on DVD in 2002.
_________________________
A 1966 photo of the beautiful Punjab University in Lahore. Notice the double-decker bus. Such buses were quite common in Lahore till the late 1960s.
_________________________
British journalist, Tom Waghorn, seen here typing a report while sitting on the slopes of Torkhum near the Pakistan-Afghanistan border in 1968.
Today this area is only ventured by violent Islamist militants and the Pakistan military. Even the local Pakistani Pashtuns fear to tread here, let alone Westerners.
_________________________
Special postal stamp issued by the government of Pakistan to celebrate the winning of the 1971 Hockey World Cup by the country's hockey team.
_________________________
Pakistani Test cricketer, Aftab Gul (third from left) and a friend (right) chatting with a couple of policemen during the Pakistan cricket team's tour of England in 1971.
Gul was a highly talented opening batsman and should have represented Pakistan in a lot more Tests than the six he played between 1969 and 1971.
It was not his talent that restricted him from becoming a regular in the team. It was rather his erratic temperament and issues of anger management that limited his playing career.
Gul was a fiery left-wing student leader and had led various student protest rallies against the Ayub Khan dictatorship in 1968.
But throughout his stint as a student leader and agitator, he continued to play cricket and was selected for the Pakistan side in 1969.
In spite of the fact that he scored heavily in his last series against England in 1971, he lost interest and began studying to become a lawyer.
Gul was also a passionate supporter of Z A. Bhutto and his Pakistan Peoples Party (PPP).
This was something rather common in the Pakistan cricket teams of the 1970s in which such illustrious players like Mushtaq Muhammad, Sarfraz Nawaz, Intikhab Alam and Javed Miandad were staunch Bhutto fans.
Gul returned to political activism in 1977 when the Bhutto regime was overthrown by Ziaul Haq in a military coup.
In 1980, Gul was accused by the dictatorship for allegedly being a member of Murtaza Bhutto's left-wing urban guerrilla outfit, the Al-Zulfikar (AZO).
Police claimed to have found Russian-made missiles from Gul's resident in Lahore. Gul escaped to London and stayed there in exile, only returning after Zia's demise in 1988.
Today he is a barrister in Lahore.
_________________________
Bodies of Bengali intellectuals, teachers, journalists and students lying in a ditch, 1971.
Thousands like these were killed in the former East Pakistan by the death squads operated by the Pakistan Army in 1970-71 for supporting Bengali nationalism and the separation of East Pakistan from West Pakistan.
Bengali militant nationalists publicly executing suspected pro-West Pakistan Bengali collaborators after East Pakistan managed to separate and create the independent Bengali majority state of Bangladesh in January 1972.
_________________________
Cover of a 1972 PIA Wine & Spirits menu.
Between 1962 and 1978, PIA was continuously placed on various 10 Best Airlines of the World lists.
PIA was also one the first airlines to introduce in-flight entertainment and also famous for having one of the widest varieties of dishes and alcoholic beverages on offer.
Today however, PIA is largely a bankrupt enterprise.
_________________________
A 1973 press ad of Karachi's Oasis nightclub. Oasis that was situated on what is now Awan-i-Saddar Road (then called Club Road), was one of most popular nightclubs in Karachi, along with Playboy (that was located right beside Oasis), The Excelsior (in Saddar), and The Horseshoe (on Shara-e-Faisal).
Women shown in the ad are belly dancers invited from Beirut and Istanbul.
Oasis closed down when nightclubs and alcohol (for Muslims), were banned in 1977. It was demolished in the 1985 and converted into a 'wedding garden.'
(Photo: Dawn newspaper, February, 1972).
_________________________
Female student supporters of the left-wing National Students Federation (NSF), seen here during the 1972 student union elections at the Karachi University.
(Photo: The Herald).
_________________________
Women at a New Year's party at Karachi's Hotel Metropole (1973).
Today half of the hotel is an office complex while the other half was converted into a 'wedding hall.'
(Photo: Daily News).
_________________________
The left-wing National Students Federation (NSF) holding a corner meeting at the Karachi University just before the 1973 student union elections. Behind the speaker is graffiti quoting Chinese communist leader, Mao Tse Tung.
(Photo: The Star). 
 _________________________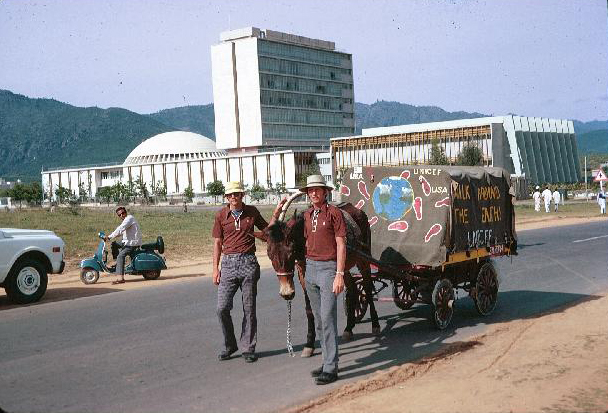 European 'Earthwalkers' in Islamabad, 1973. They had arrived in the Pakistan capital to raise awareness about environmental issues.
_________________________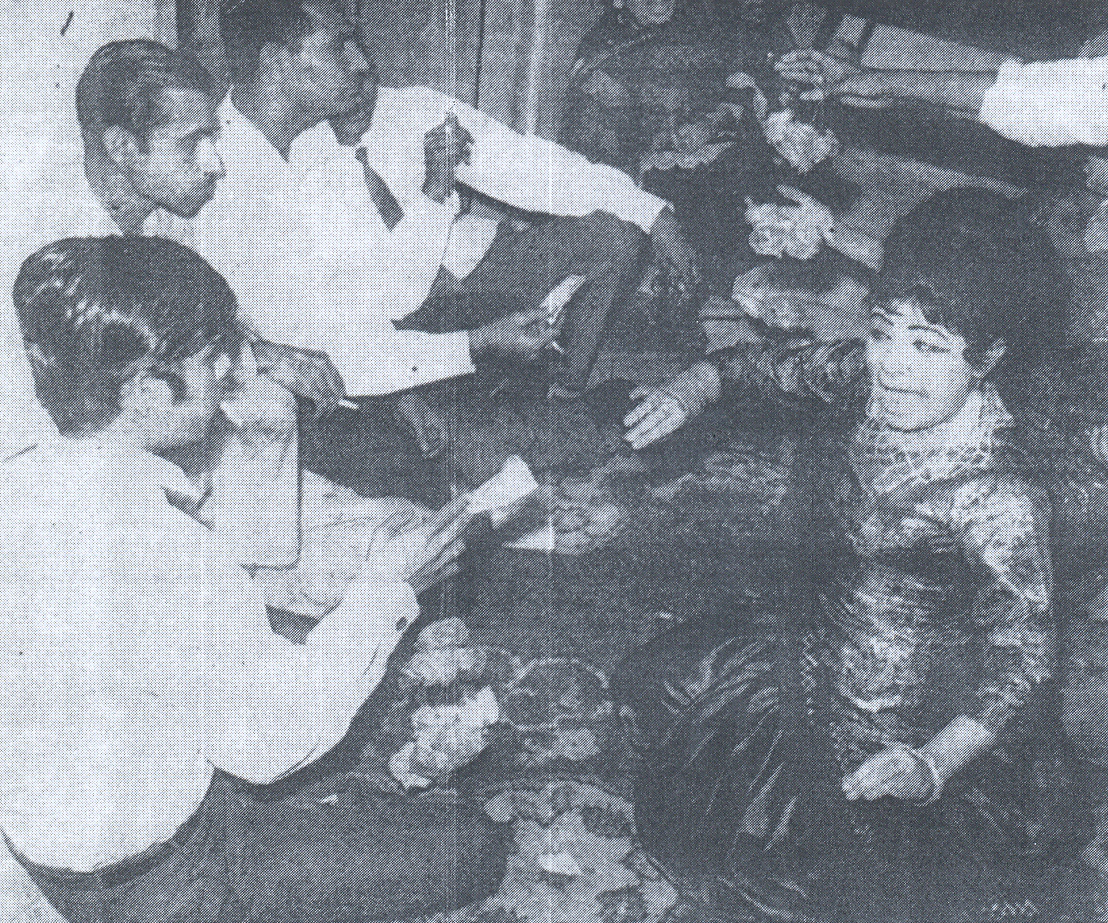 A 1973 photo of men enjoying a sizzling dance performance at a 'kotha' in Karachi's infamous red light district on Napier Road.
Napier Road comprised one of the largest number of 'kothas' in the 1970s in Karachi, that mostly carted to the entertainment (and other) needs of lower-middle and working-class men.
(Photo: Daily Jang).  
_________________________
A montage of headlines screaming about the expulsion of the Pakistani Ahmadis from the fold of Islam.
Also seen is the copy of the constitutional deliberations and clauses finalised by the country's National Assembly in 1974 that turned the Ahmadis into a minority faith separate from Islam in Pakistan.
The move was initiated by anti-Ahmadi agitation by Islamic parties who then pressurised the Z A. Bhutto regime to declare Ahmadis as non-Muslim.
_________________________
1974: Islamic scholar and founder of the Jamat-i-Islami, Abul Aala Maudidi, holding a press conference during which he explained his party's support for the government's move to declare the Ahmadis as non-Muslim.
_________________________
A 1974 picture of students relaxing outside the Arts Lobby at the Karachi University.
The Arts Lobby was a stronghold of leftist and liberal student groups, whereas students from the science departments largely supported rightist student parties such as the Islami Jamiat Taleba during student union elections.
(Photo: The Herald)
_________________________
A group of students hang-out for a smoke and a chat outside the main canteen of the Punjab University in Lahore (1973).
(Photo: The Herald).
_________________________
An article (published in the May 1974 issue of Pakistani magazine, The Herald) on one of Pakistan's most famous painters, Bashir Mirza.
Mirza remained a prolific painter in the 1960s and 1970s but stopped painting (as a protest) when the military overthrew the democratically elected government of Z A. Bhutto in July 1977.
Mirza only resumed painting after the demise of Ziaul Haq and return of democracy in Pakistan in 1988.
He passed away in 2000 due to liver failure.
_________________________
Hippie tourists enjoying themselves at a hut at one of Karachi's many beaches in 1973.
Karachi beaches were a favourite haunt of wandering hippies arriving in droves from western countries in the 1970s.
(Photo: The Star)
_________________________
European hippies relaxing outside a cheap food joint on Burns Road in Karachi.
The second image shows two more inside the room of a cheap hotel in Saddar, Karachi. Both pictures were taken in 1972.
(Photo: The Herald).
_________________________
A 1973 press ad of the United Bank of Pakistan (UBL). It was one of the largest private banks in the country but was nationalised by the Z A. Bhutto regime in 1972 that won the 1970 election (in West Pakistan) on a socialist manifesto.
Which is why modern socialist and pro-working-class imagery is used in this particular ad.
_________________________
Famous Pakistani painter, Jamil Naqsh, captured here working in his studios in Karachi in 1973.
Naqsh's paintings remain to be one of the most expensive buys.
_________________________
A group of friends pose outside their class at the Karachi University in 1973.
(Photo: The Herald)
_________________________
Various leaders of the Muslim world gather inside Lahore's historic Badhshahi Mosque to say the evening prayers.
The picture was taken during the 1974 Islamic Summit organised by the government of Z A. Bhutto in Lahore and in which dozens of heads of state of Muslim countries took part.
Bhutto wanted to use the occasion to open a third front in the Cold War dominated by the US-led West and the Soviet-led communist bloc.
Bhutto also explained the summit as an expression of his regime's idea of 'progressive Muslim democracy' and 'Islamic Socialism' – even though most of the attendees were either monarchs or dictators.
Seen in the picture are PLO chief, Yasser Arafat (in dark glasses), Z A. Bhutto (in a Jinnah cap), Libyan leader Colonel Qadhafi, and Saudi monarch, Shah Faisal.
_________________________
A 1974 magazine feature on 1970s' pop icon, 'Maulana Hippie.' His real name was M. Hussain Talpur and he hailed from the Sindh province.
His interest in adorning outrageous 'hippie attire,' and his carefree demeanour earned him the name Maulana Hippie – a name that was also enacted to mock his more religious detractors.
Talpur also ventured into film production but was not very successful and by the late 1970s he was history.
_________________________
Libyan leader Colonel Qadhafi waving to an enthusiastic crowd during the 1974 Islamic Summit in Lahore.
It was this speech given on the grounds of Lahore Stadium after which the stadium's name was changed to Gaddafi Stadium.
(Photo: Daily Jang)
_________________________
A 1973 photo of fiery poetess and writer, Fahmida Riaz, lighting a cigarette during a poetry recital in Lahore.
After the 1977 military take-over, Riaz was harassed by the Ziaul Haq dictatorship.
She finally escaped to India with her husband and stayed there in exile till Zia's demise in 1988.
_________________________
Video grab of Pakistani cricket fans enjoying beer at the first Test match during Pakistan cricket team's 1974 tour of England.
_________________________
American tourists enjoying a ride on a tonga in Rawalpindi in 1975.
_________________________
A 1974 press ad of Red & White cigarettes.
In the 1970s Pakistani cigarette brands had started to target middle-class women smokers, a practice that was discontinued (on the instructions of the government) by the government after 1976.
Cigarette advertising was totally banned from TV, radio and the print media in Pakistan in the early 2000s.
_________________________
A 1975 photo of a hash (cannabis) shop in Kohat. Various such shops sprang up to mostly cater to the rising number of Western hippie tourists who would travel by road from Turkey through Iran and then enter Pakistan from Afghanistan.
The government tolerated such shops as long as they were not offering harder drugs like heroin on the menu.
In fact heroin was a rarity in Pakistan till 1980 when Pakistan's involvement in the anti-Soviet insurgency in Afghanistan triggered the arrival of a flood of guns and heroin into Pakistan from Afghanistan.
In 1979 there was only one reported case of heroin addiction in the country. By 1985 Pakistan became the country with the second largest number of heroin addicts.
_________________________
German archaeologists at the ancient ruins of Taxila in Pakistan in 1976.
_________________________
Pakistani boxer Jan Muhammad Baloch, seen here with former Governor of Punjab, Mustafa Khar (left) in 1975.
The picture was taken when Baloch, who had already won a gold medal in the 1970 Asian Games in South Korea and represented Pakistan at the 1972 Munich Olympics, was honoured by the government when he won a gold medal at the RCD Boxing Championship held in 1975 in Istanbul, Turkey.
_________________________
A 1975 poster highlighting Pakistan's Baloch, Sindhi, Pashtun and Punjabi folk singers.
The Pakistan government in the 1970s aggressively promoted the distinct cultures of Pakistan's various ethnicities due to which folk music became a popular part of the programming on state-owned television and radio.
This particular poster was printed to advertise the featured artistes' performance during the 1975 International Folk Music Festival in Washington DC.
_________________________
A 1976 photo of the award ceremony of the Pakistan Open squash tournament which was won by Qamar Zaman.
This was the beginning of Pakistan's long dominance of world squash (that lasted for almost 15 years - mainly on the shoulders of Jehangir Khan and Jansher Khan).
By 1976 most of the Pakistani players seen in the photo were already placed in the top-ten rankings of international squash, especially the four seen in the picture (from left): Mohibullah Khan, Gogi Allauddin, Torkam Khan (Jehangir Khan's elder brother who tragically died at the young age of 21), and Qamar Zaman (seen here standing in front of the trophy).
_________________________
A photo of one of the 1970s most popular celebrity couple, Saira Kazmi and Rahat Kazmi.
Both were TV actors, even though Rahat did act in a few films as well, and for a while was hailed as 'Pakistan's answer to Amitabh Bachan.'
He continued to appear on TV and on stage throughout the 1980s, whereas Saira went on to become a highly respected TV director.
_________________________
A special stamp issued by the government of Pakistan in 1976 to mark the centenary of the 1776 American Revolution.
_________________________
The Pakistan cricket team on its way to win its first ever Test against Australia in Australia in 1976.
Many believe this was the point from where the Pakistan team began to be taken seriously as a Test side.
Up against a strong Australian squad and on fast pitches, Pakistan drew the first Test, lost the second but came back to win the third game and draw the series 1-1.
Pakistan's victory was set-up by Pakistan's fast bowling pair of Imran Khan who took 12 wickets in the match, and Sarfraz Nawaz.
Seen in the picture (from left): Sadiq Muhammad, Wasim Bari, Mushtaq Muhammad, Imran Khan and Rodney Marsh.
_________________________
Another image of the third Test of the Pakistan-Australia series in 1976.
Skipper Mushtaq Muhammad is seen arguing with the Australian umpire who had warned Imran Khan for bowling bouncers at Dennis Lillie.
Also in the picture are twelfth man Wasim Raja and behind the umpire, a fuming Imran Khan.
_________________________
Nasir Zaidi, the first journalist to be mercilessly flogged in public by the Ziaul Haq dictatorship in 1978.
General Zia had toppled the democratically-elected regime of Z A. Bhutto in July 1977, promising a new order based on 'Islamic laws.'
Between 1978 and 1982, dozens of journalists and political activists were flogged for opposing the dictatorship.
_________________________
The February 1978 cover of The Herald. The issue contained a detailed report and feature on various draconian laws imposed by the Zia dictatorship in the name of Islam.
Though imposed to 'Islamise the society,' they ended up creating deadly fissures between various Muslim sects in the country.
Also, if one compares the crime data and that of alcohol and drug addiction of the 1947-77 period with that of the 1978-2005 period, crime rose three-fold and there was almost a ten-fold increase in drug addiction.
Incidents of rape, terrorism and corruption too rose dramatically.
Such were the 'laws' and doings of the dictatorship that Pakistan is still struggling to recover from the madness that they unleashed.
---
Nadeem F. Paracha is a cultural critic and senior columnist for Dawn Newspaper and Dawn.com
---
The views expressed by this blogger and in the following reader comments do not necessarily reflect the views and policies of the Dawn Media Group.