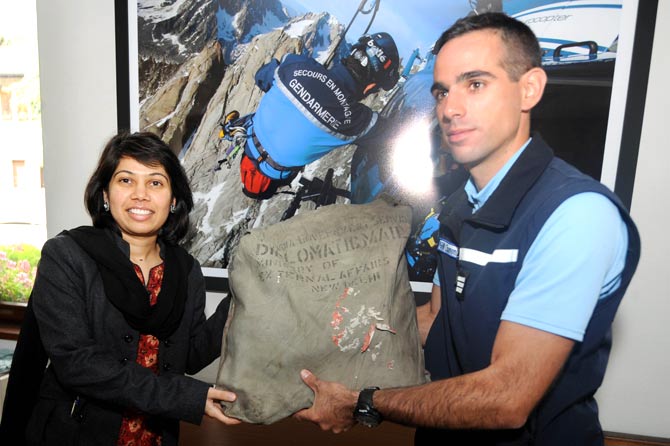 French High Mountain Gendarmerie Squad captain Emmanuel Vegas (R) gives to a representative of the Embassy of India in Paris, Satwant Khanala, a diplomatic bag belonging to the Indian Government after it was found at the Bossons Glacier, near the Mont Blanc in the French Alps — Photo by AFP
CHAMONIX: India on Monday took possession of a bag of "historic" diplomatic mail 46 years after a plane crash in the French Alps that killed all 117 on board, including the architect of its nuclear programme.
The jute bag, stamped "Diplomatic mail" and "Ministry of External Affairs", was recovered by mountain rescue worker Arnaud Christmann and his neighbour Jules Berger on August 21 close to where the Air India plane crashed in January 1966.
The victims included the Cambridge-educated nuclear physicist Homi Jehangir Bhabha – dubbed the "father" of India's nuclear drive – fuelling conspiracy theories about the crash.
The Kangchenjunga, a Boeing 707 flying from Mumbai (Bombay) to New York, crashed on the southwest face of Mont Blanc, western Europe's highest mountain, on January 24, 1966 as it descended towards a scheduled stopover in Geneva, Switzerland.
Satwant Khanalia, a second secretary at the Indian embassy in Paris, took possession of the documents from local police in the town of Chamonix at the base of the mountain.
Khanalia, speaking in French, said the bag "has made a long journey" and added that at "first sight they seem to be old newspapers" but highlighted their "historical value".
The crash, given Bhabha's presence on board, led to conspiracy theories about the possible involvement of India's arch-rival Pakistan and the CIA.
India was a staunch ally of the Soviet Union during the Cold War.
In September 2008, well-known climber Daniel Roche discovered Indian newspapers dated January 23, 1966 in the same area.
Roche also came across part of an engine from the Malabar Princess, another Air India plane which had crashed in the virtually identical location in 1950.