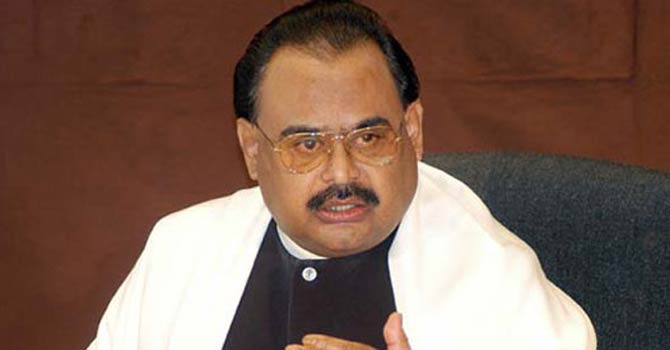 MQM Chief Altaf Hussain. – File Photo
LAHORE: Muttahida Quami Movement (MQM) chief Altaf Hussain on Saturday defended his statement in which he said that Quaid-i-Azam Mohammad Ali Jinnah belonged to Shia Asnae Ashary school of thought, DawnNews reported.
Speaking on telephone to Shia scholars belonging to different parts of the country, he said he was ready to face those who think that he did not tell correct historical facts about Quaid-i-Azam's faith.
Hussain said he would happily accept the challenge of proving these facts legitimate. "I am a Sunni Muslim…but at the same time I believe that killing innocent people merely on basis of their religious beliefs is open injustice," he added.
Earlier in the week, Hussain said that Quaid-i-Azam belonged to Khoja Shia Asnae Ashary school of thought and when he died two separate funeral prayers had been offered, one led by Allama Shabbir Ahmed Usmani and the other by Shia Maulana Aneesul Hassan Rizvi.
Speaking to Shia community in Lahore today, the MQM chief said he did not support Shias but innocents and vowed to continue raising his voice for righteous.
He said he was against killings of innocent people due to any reason.
The MQM chief said he was raising voice to end hatred, prejudices and would continue to do so without any fear of repercussions.
Hussain said he shared grief of innocent people killed in Gilgit-Baltistan.
Shia scholars thanked the MQM chief for raising bold, courageous voice against killings of their community members.