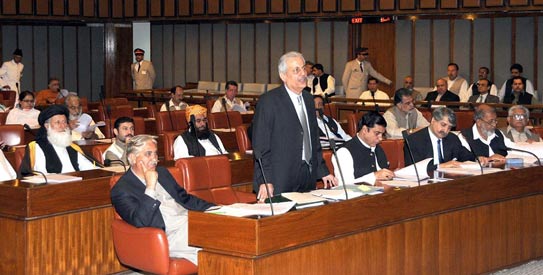 ISLAMABAD: Members of the Parliamentary Committee on National Security (PCNS) on Saturday unanimously agreed to include two clauses into the draft about not allowing foreign security contractors to conduct covert operations on Pakistani soil and not giving bases to any foreign nation, especially to the United States.
The committee, which met here at the Parliament House with Senator Raza Rabbani in the chair, held deliberations for over three hours.
The meeting was also attended by PPP leader Qamar Zaman Kaira who has replaced Senator Babar Awan.
The initial recommendation draft included that "the activity of foreign private security contractors to be made transparent and subject to Pakistani law" and "parliamentary approval for any use of Pakistani bases by foreign forces, and drafting new flying rules by the defence ministry/PAF and Isaf/US/Nato for areas contiguous to the border."
Opposition parties including Pakistan Muslim League-Nawaz (PML-N) and Jamiat ul Ulema Islam (JUI-F) had raised their reservations regarding these clauses and regarded them to be tantamount to providing a legal cover to the covert operations.
Raza Rabbani today told media representatives that the committee was discussing all the recommendations and would make decisions with consensus.
"No definite time period can be stated to review the draft of the recommendations," Rabbani told while speaking to the media representatives after the meeting.
He said the political parties would not disappoint the nation as they had done in the recent past.
JUI-F Chief Maulana Fazul ur Rehman remained steadfast to his earlier stance of not resuming the transportation of supplies to Nato forces in Afghanistan.
"The decision regarding Nato supply routes should not be changed by the parliament." Fazl said.
Also on Saturday, the ruling Pakistan People's Party (PPP) government has revoked former Law Minister Babar Awan's membership from the PCNS, replacing him with Kaira.
Rabbani said that the replacement was the decision of senior party leadership, and declined to give any further comments.