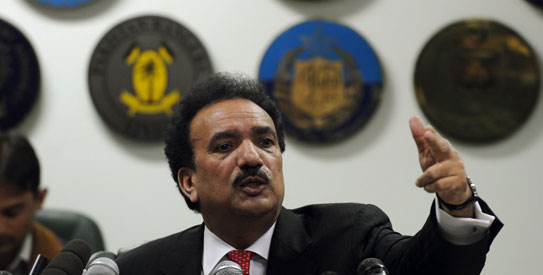 ISLAMABAD: Pakistan on Monday invited militant groups including the Taliban for peace talks and said banned organisations would be delisted if they "closed down their militant wings".
Pakistan has banned more than 30 militant outfits, including al Qaeda, Tehreek-e-Taliban Pakistan and Lashkar-e-Taiba (LeT).
"If the proscribed organisations assure us that they have closed down their militant wings and abandoned extremism, then we would like to meet them in next few days," Interior Minister Rehman Malik told reporters.
Pakistan has faced heavy criticism for not doing more to clampdown on the groups, many of which are allowed to operate freely under new names, such as Jamaat-ud-Dawa, a UN blacklisted charity considered a front for LeT.
Despite a relative decline in high-profile attacks, there has been a recent surge in bombings in the northwest blamed on the Taliban and their accomplices.
"We have been contacted by several banned organisations that want to sit and talk. If they want to give up militancy we will talk to them as we are revising the list of proscribed organisations," Malik said.
He did not identify any group but said that the government had "even offered the Taliban to give up militancy and join the federation".