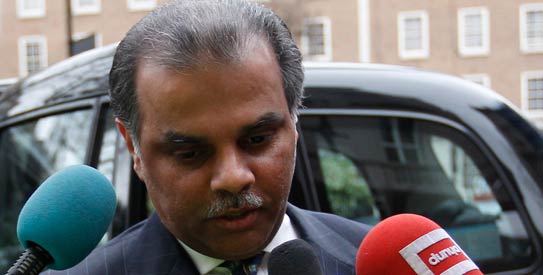 ISLAMABAD: Central character of the memogate scandal Mansoor Ijaz on Thurday reiterated that there was a serious threat of military coup in Pakistan after the May 02 operation last year, DawnNews reported.
The commission, formed by the Supreme Court to investigate controversial memogate scandal, has released a 39 page recorded statement of the US businessman.
Ijaz, however, refused to give away 'secrete' information about the Abbottabad operation on May 02 last year by the United States, which killed al Qaeda chief Osama bin Laden.
The American businessman was being cross-examined via a video link from the Pakistani High Commission in London.
Pakistan Muslim League-Nawaz (PML-N) chief Nawaz Sharif's legal counsels Mustafa Ramday and Rasheed A Rizvi are in London for this purpose.
While, Hussain Haqqani's counsel Zahid Bukhari and Ijaz's counsel Akram Sheikh are attending proceedings at the Islamabad High Court.
Ijaz said that there was a serious threat to the government of a military coup and DG Inter-Services Intelligence (ISI) Lt-Gen Shuja Pasha met with rulers of different countries to gain their support on the matter.
Mansoor Ijaz further revealed that he recommended actions against the "dual policy" of Pakistan in the article he wrote a day after the Abbottabad operation which was agreed by the former Pakistani ambassador to US Hussain Haqqani. However, Haqqani refused to publically support his views, he added.
Ijaz also told the commission about his meetings with President Asif Ali Zardari after May 2009. He said that he is a US citizen, he is neither an agent of any country nor he worked on payroll of Pakistani government.
He also revealed that the US pilot and Pakistani air traffic control were in contact with each other before the Abbottabad raid.