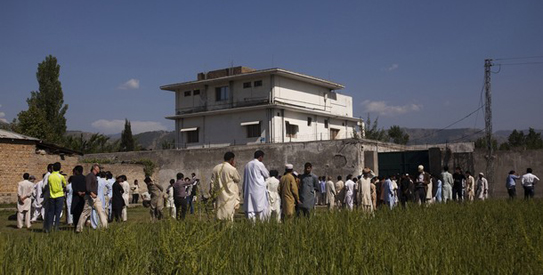 KARACHI: Mid-ranking Pakistan Army officials may have known that Osama bin Laden had a safe house in the country, leaked material appears to indicate.
According to the BBC World, the claim was made in emails allegedly from US-based security think tank Stratfor, which were published by the whistleblowing website WikiLeaks.
Stratfor warned ahead of publication it would make no comment on whether the emails were authentic or inaccurate.
The Pakistani government and military have denied knowing Bin Laden's whereabouts. The Al Qaeda chief was killed in Abbottabad in May last year in a covert operation by US special forces.
One email from a senior Stratfor employee to colleagues says: "Mid to senior level ISI and Pak Mil with one retired Pak Mil General that had knowledge of the OBL arrangements and safe house."
The messages go on to say that the names and specific ranks of these generals were unknown to the writer, but adds that US intelligence may have that information. The emails allege that as many as 12 officials may have known, but says it is unclear exactly what position they may have had or even if they were retired personnel.
The information was allegedly obtained from material taken from the compound last May, according to the email exchange which took place in the weeks after Bin Laden's death.
It is unclear if the information was passed to the Pakistani government but the employee is quoted as saying: "I would not pass the info to the GOP [government of Pakistan], because we can't trust them."
Stratfor's computers were hacked by the activist group Anonymous in December. Stratfor boss George Friedman said at the time anyone looking for signs of a vast conspiracy would be disappointed.
"Having had our property stolen, we will not be victimised twice by submitting to questioning about them," Stratfor said in a statement on the publication of the emails by WikiLeaks.—Dawn monitor