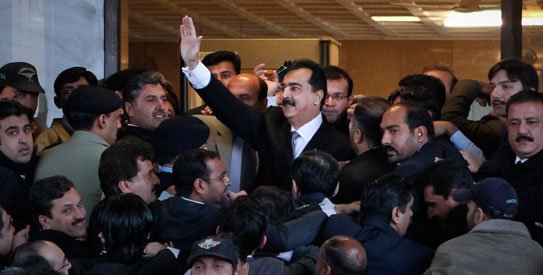 ISLAMABAD: Attorney General Maulvi Anwarul Haq submitted to the Supreme Court on Thursday evidence relating to the contempt of court case against Prime Minister Yousuf Raza Gilani.
The documents comprised 469 pages in four volumes. But there was no list of prosecution witnesses.
The documents will be formally displayed before a seven-judge bench headed by Justice Nasir-ul-Mulk on Feb 22 in the absence of prime minister's counsel Barrister Aitzaz Ahsan.
The attorney general submitted the evidence as a prosecutor in compliance with the court's Feb 13 order in which the prime minister had been formally indicted for committing contempt of the court by not pursuing $60 million graft cases against President Asif Ali Zardari in Switzerland.
Barrister Ahsan will submit his list of witnesses, evidence and documents in defence of the prime minister on Feb 27 and will be produced before the court on Feb 28.
The evidence filed by the attorney general contains 43 documents mainly consisting of different court orders -- Dec 16, 2010, NRO verdict, Nov 25, 2011, SC judgments in the NRO review petition and NRO implementation case from May 24, 2010, to Feb 16, 2012, in Ahmed Riaz Sheikh and Adnan A. Khawaja cases.
Talking to reporters, the attorney general said there was no need to provide a list of witnesses in the case against the prime minister because it was not one of criminal contempt, adding that the evidence submitted had the status of witnesses.
"Usually there is no need of any witness when the case is of a civil nature," he said, adding that the proceedings in the NRO case were of civil nature.
The documents also contain an application on behalf of the attorney general seeking permission to submit the documents and an affidavit assuring that he had submitted the documents that he had been able to collect so far.
He said he would plead before the court at the next hearing that its order asking him to act as prosecutor in the case was not applicable, though he would be bound to abide by any court direction in this regard.