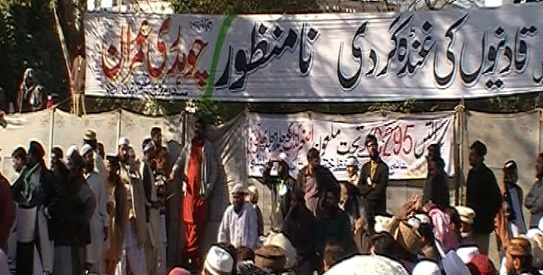 RAWALPINDI:  Worshippers at Ewan-e-Tauheed, which is the main worship site for Ahmadis in Rawalpindi, fear that the building will be demolished because of the recent propaganda embroiling Ahmadis and their religious practices, alleged Saleemuddin whilst taking to the reporters of Dawn.com
Saleemuddin, spokesperson of Jamaat Ahmadiyya Pakistan, whilst speaking to Dawn.com alleged, " The conspiracy started in the May of 2011, however the situation deteriorated in September and we were asked to pack up and leave the town as it was a 'residential area' where a place like 'a site to worship' could not operate."
The first rally was organised on January 29, 2012 which was attended by various religious clerics. During the rally, a deadline of one month was given to the administration of Ewan-e-Tauheed, to wind up their activities.
"One of the people who presided from the session said that we will not let Ahmadis pray on the next Friday. Closing down Ewan-e-Tauheed will be a huge victory for us and will be another step closer to extraditing them from Pakistan," he further alleged.
Saleemuddin claims that along with him, other Ahmadis have also contacted the Punjab and Federal government, which motivated the Punjab government to instruct the local law enforcing bodies to stay active and protect the site and the worshipers.
"So far we have not received targeted threats, however, we know through sources that the perpetrators plan to demolish this site like 30 others which have been demolished in the past," said Saleemuddin.
"According to the Constitution of Pakistan, we have a right to worship and profess our religion. We are not allowed to construct new mosques and now we are being threatened not to worship as well. We request the government and Pakistan Muslim League (Nawaz) to look into the matter and help us before the situation blows out of proportion as has happened in the past," he added.