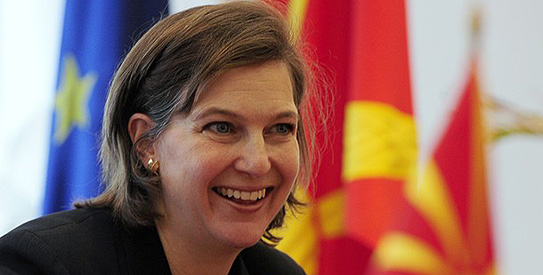 WASHINGTON: The US has urged Pakistan to "really lead and conduct a dialogue that takes the Balochistan issue forward", says the US State Department.
State Department spokesperson Victoria Nuland addressed the issue in a "twitter-briefing" that the department holds every Friday, allowing people from around the world to tweet their questions to her.
"This was a very popular question on our feed, so we wanted to make sure that we answered it today," said Ms Nuland who focused on the violence plaguing Balochistan instead of tackling political issues raised in most of the tweets.
"The United States is deeply concerned about the ongoing violence in Balochistan, especially targeted killings, disappearances and other human rights abuses," she said.
"This is a complex issue. We strongly believe that the best way forward is for all the parties to resolve their differences through peaceful dialogue."
The State Department official noted that the US took the allegations of human rights abuses very seriously and had discussed these issues with Pakistani officials. "And we also urged them to really lead and conduct a dialogue that takes this issue forward," she concluded.
While her answer may not satisfy Baloch nationalists who had sent most of the questions, it would still irk Pakistani authorities who do not want the Balochistan issue to be discussed at international forums.
Washington-based Baloch nationalists are hoping that Ms Nuland's response would set an example and encourage other governments and international organisations, such as the United Nations, to address the issue.
The question that Ms Nuland responded to came from Pakistan from a person who identified himself only as "Cadet 1081" and asked: "Pakistan is committing genocide of the Baloch nation, why does the US not intervene in Balochistan and make us get our freedom?"
While Ms Nuland confined herself to addressing the issue of human rights violations, other respondents did not. "Pakistan is not killing Baloch people. Only the followers of Balach and Hyrbyar want freedom," wrote Mr Spirit 110.
"Pakistan is killing innocent Baloch people and the world is blind. It is our right to be free," wrote Behuman.