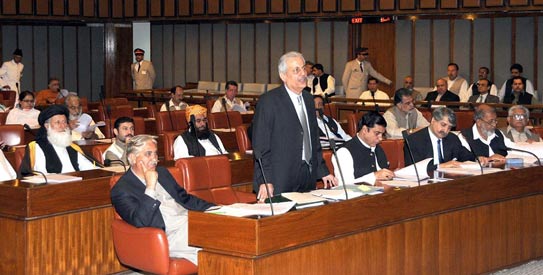 ISLAMABAD: The Upper House of the Parliament on Monday unanimously passed two landmark pro-women bills aimed at protecting women from the negative customs and traditions and seeking severe punishments for the violators.
The bills already passed by the National Assembly were moved one by one by Senator Nilofar Bakhtiar. Both the bills seek to amend the Pakistan Penal Code, 1860 and the Code of Criminal Procedures, 1898.
An Anti-Women Practices bill consisting of five clauses seeks to penalise evils such as the so-called marriage with the holy Quran, forced wedlock and depriving women from inheritance.
The statement of objects and reasons of the bill said that were several practices and customs in vogue in the country which were not only against human dignity but also volatile human rights. Such customary norms, which are contrary to Islamic injunctions, should be done away forthwith and the persons continuing such practices be dealt with severely by providing penal and financial liabilities.
The bill recommends punishment for giving female in marriage or otherwise in 'badla-e-sulh', wani or swara. It says, "Whoever gives a female in marriage or otherwise compels her to enter into marriage, as 'badla-e-sulh', wanni, or swara or any other custom or practice under any name, in consideration of settling a civil dispute or criminal liability, shall be punished with imprisonment of either description for a term which may extend to seven years but shall not be less than three years and shall also be liable to fine of five hundred thousand rupees."
Besides the bill proposed prohibition of depriving woman from inheriting property, prohibition of forced marriage and prohibition of marriage with the Holy Quran. The violators will be handed over either imprisonment or a fine of five hundred thousand rupees for each crime.
The other bill which is aimed at preventing incidents of throwing acid at women recommended that whoever hurt by corrosive substance shall be punished with imprisonment for life or imprisonment of either description which shall not be less than 14 years and a minimum fine of Rs one million.