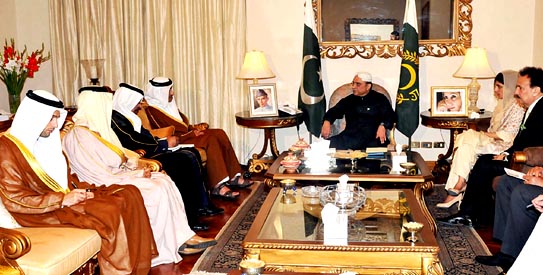 ISLAMABAD: The United Arab Emirates has dived into troubled Pakistan-US ties in a desperate effort to prevent them from unravelling and avert an immediate eviction of the Americans from the Shamsi airbase whose control they enjoy.
UAE Foreign Minister Sheikh Abdullah bin Zayed Al Nahyan arrived in Islamabad on Monday on an unscheduled trip and met President Asif Ali Zardari and Army chief Gen Ashfaq Parvez Kayani.
In both meetings, the UAE minister pleaded against pushing too hard for getting the airbase vacated.
During his meeting with Sheikh Nahyan in the Presidency, President Zardari is reported to have turned down a UAE request to extend the 15-day deadline set by the Defence Committee of the Cabinet for vacating the airbase in Balochistan.
"The one-on-one meeting of the UAE foreign minister with the president was followed by a delegation-level meeting," Mr Zardari's spokesman Farhatullah Babar said.
According to media reports, Pakistan handed over the Shamsi airbase to the UAE in 1992 for hunting expeditions, but its authorities sublet it to the US for carrying out drone attacks.
The UAE delegation was apprised of the DCC decision, which also stopped Nato supplies passing through Pakistan into Afghanistan.
A statement issued by the ISPR said: "The visiting dignitary (Sheikh Nahyan) remained with the COAS (Gen Kayani) for some time and discussed matters of mutual interest."
Besides strong diplomatic ties with Pakistan, the UAE has strong influence in Islamabad's corridors of power. President Zardari is known for being too close to its royal family and WikiLeaks last year confirmed that perception.
According to one of the leaked cables, Mr Zardari had requested UAE President Sheikh Khalifa to allow his family to live in the Emirates in the event of his death.
The military also has strong relations with the UAE. It was at Gen Kayani's request that the UAE government had last year launched quick impact projects in Swat.
Some analysts believe that in view of the kind of influence the Emirates enjoy in Islamabad it would be 'very difficult' for the Pakistani leadership to say 'no' to them.