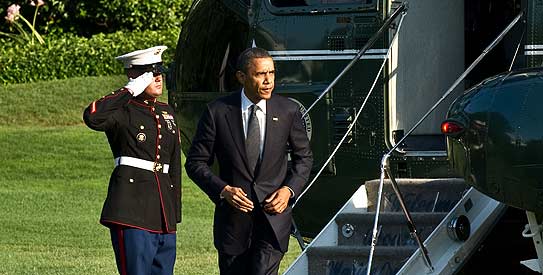 WASHINGTON: President Barack Obama will lay out a new plan Monday to slash trillions of dollars from government deficits, but is already drawing charges of "class warfare" from Republicans over his tax plans.
Two weeks after proposing a dollar 447 billion jobs plan to tackle 9.1 per cent unemployment, the president will say how he will tame government debt with a mixture of cuts in spending and revenue increases through raised taxes.
Obama will suggest to a 12-member congressional supercommittee mandated with finding up to dollar 1.5 trillion in spending cuts by November that it go much further, in a bid to secure fiscal security for years to come, officials said.
But his plans to close tax loopholes enjoyed by corporations and to raise taxes on the richest Americans, including a new levy on millionaires, have already run into trouble with Republicans.
And although the White House has signaled that will not bite into the Social Security pension scheme, his fellow Democrats are still nervous about possible cuts to social programs.
Obama will lay out his "vision for a balanced approach to reducing our deficit and living within our means" in the ceremonial surroundings of the White House Rose Garden at 10:30 am (1430 GMT), his office said.
Aides said Obama would include a new tax on those earning a million dollars or more, to ensure they contribute to the public purse at a proportionately similar level to lower earners.
The plan would be called the "Buffett Rule," a reference to an objection by billionaire investor Warren Buffett that the richest Americans generally pay a smaller share of their income in federal taxes than middle-income workers.
Some millionaires enjoy the lower rate because investment gains - such as capital gains, dividends and "carried interest" compensation paid to investment managers and hedge fund partners - are taxed at a lower rate than wages.
But Republicans decried the proposal as "class warfare," reflecting the febrile political atmosphere in which Obama's deficit plan will land on Capitol Hill as the 2012 election looms.
"We don't want to stagnate this economy by raising taxes," said Mitch McConnell, the top Republican in the Senate.
Senator Lindsey Graham, a Republican from South Carolina, dismissed the Buffett rule as "just a political move by the president."
The tax code should be reformed for one purpose - generate jobs. When you say we'll tax one percent of the economy, that's class warfare," said Graham.
Representative Paul Ryan, chairman of the House of Representatives Budget Committee, said the administration's proposal was "going in the wrong direction." Class warfare... may make for really good politics but it makes a rotten economics," the Wisconsin Republican said on "Fox News Sunday."
We don't need a system that seeks to divide people. We don't need a system that seeks to prey on people's fear, envy and anxiety."
But as he cranks up his reelection campaign amid a dismal economic climate, Obama is seeking political gain by arguing that the rich should shoulder more of a burden for rescuing the economy than those who are worse off.
"There are folks in Congress who have been fighting pretty hard to keep tax breaks for the wealthiest Americans," Obama told supporters in North Carolina on Wednesday.
"You need to tell them they need to fight just as hard to help middle-class families. Tell them to pass this jobs bill."
Obama has also announced that he will seek to fund his jobs bill by curtailing itemized tax deductions for individuals earning dollar 200,000 and families earning dollar 250,000 a year.
Republicans, who control the House of Representatives, have rejected that idea and also came against Obama's plan to close tax loopholes for energy firms, saying his policies would slow the economy and harm jobs growth.
House Speaker John Boehner, who sparred with Obama over a bruising deal to raise the government's debt ceiling above dollar 14.2 trillion earlier this year, has said tax increases are off the table.
The White House's Office of Management and Budget has meanwhile projected that the annual budget shortfall with reach dollar 1.3 trillion, down from the dollar 1.65 trillion estimate issued earlier this year.